Ahead of December's VR Creative Summit, Broadcast highlights ten genre-defining pieces of virtual reality content.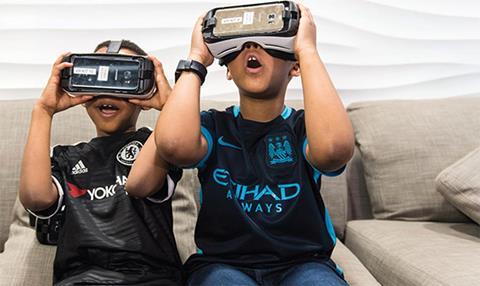 2016 has proved a watershed year for the emerging format, with major broadcasters and dedicated production companies focusing on the space.
Broadcast has selected 10 of the most ambitious projects which give an indication as to the potential of these immersive experiences.
To explore the rapidly evolving area further, Broadcast publisher Media Business Insight will be holding a VR Creative Summit at London's Picturehouse Central on 6 December. Tickets are now available at vrsummit.co.uk
These 10 films will form a third of Media Business Insight's Top 30 VR Creative Selection, which is being curated byBroadcast along with its sister brands, Screen and Shots. A selection of the experiences will be showcased at the event on 6 December.
Anthony Joshua: Becoming World Champion
Surround Vision partnered with Sky VR in the build-up to Anthony Joshua's world heavyweight title fight against Charles Martin in April. The four-minute film, overseen by senior producer Richard Stegmann, was released as a Facebook 360 video and generated over 3m views in two days. Sky has included the film as one of the top three in its VR app with plans to continue to follow Joshua as he prepares to fight Wladimir Klitschko in December.
Great Barrier Reef with David Attenborough
The 20-minute experience, created by Alchemy VR, enables viewers to join Sir David Attenborough and reef expert Professor Justin Marshall as the pair explore the Great Barrier Reef aboard state-of-the-art submersible Triton. As well as a team of specialist divers, viewers come face to face with beautiful fish, coral and sharks. The full experience was made available exclusively at the Natural History Museum, London.
Home: A VR Spacewalk
An immersive VR spacewalk experience developed by production agency Rewind with BBC Science, BBC Learning and BBC Digital Storytelling, the 15-minute experience casts users as an astronaut floating 250-miles above earth. Aspiring Tim Peakes can move their gloves to grip objects as they are plunged into an emergency situation as they boost back to the International Space Station. A rumbling chair provides additional vibrations, while a biometric system monitors users' heartbeats during the mission.
Easter Rising: Voice of a Rebel
Developed in association with Crossover Labs and VRTOV, the BBC Oculus title recounts Willie McNieve's memories of the 1916 Easter Rising. Produced by Catherine Allen and Katy Morrison after a tape cassette containing audio of his experiences was unearthed, the viewer is taken on a 12-minute artistic CGI journey.
The Simpsons
To celebrate the 600th episode of The Simpsons, the long-running cartoon series called on Google Spotlight Stories to help create a virtual reality experience called Planet of the Couches, a parody of The Planet of the Apes.
Available on both Android and iOS, it can be watched with a Google Cardboard device.
Other Space
This collaboration between Jaunt and director Paul Feig places the viewer at the centre of a comedy sketch.
With the viewer surrounded by a suspicious crew, the three and a half minute video is a great example of the importance of well-crafted 360-degree audio – in this case mixed in Dolby Atmos - in helping to shift a viewer's attention.
Henry
This Emmy-award winning production by Oculus Story Studio is a 12 minute long narrative experience that tells the story of a hedgehog who ends up alone on his birthday.
Narrated by Elijah Wood and developed with some of the creative talent that worked on Pixar's Brave and Toy Story 3, it scooped the Emmy Outstanding Original Interactive Program.
Reggie Watts
Watts is a performer who blends beatboxing, music and comedy into improvised live performances.
He teamed up with software firm AltspaceVR to create this live social VR experience for the debut of AltspaceVR's FrontRow technology that provides a virtual space for events and performances.
Giselle VR
Sky partnered with the English National Ballet (ENB) for this two-minute piece in which lead principal dancer Tamara Rojo performs around the viewer in 360-degrees leaving behind a 3D trail of light and dust to show the course of her movements.
Produced by Factory 42, Giselle is one of the first videos available as part of the launch of Sky's VR app.
Formula E backflip
Little Dot Studios scooped two Broadcast Digital Award for their coverage of the motorsport, spearheaded by this ambitious stunt promoting the emerging Formula E motor racing series. The high-octane film features former gymnast Damien Walters backflipping over a speeding car. The stunt demanded a 30-strong production crew, three tracking cameras, drones and a 360-degree camera mounted on the car.