SATURDAY: BBC1's new driving format The Getaway Car spluttered on the starting line, as The Voice UK lost more than half a million viewers.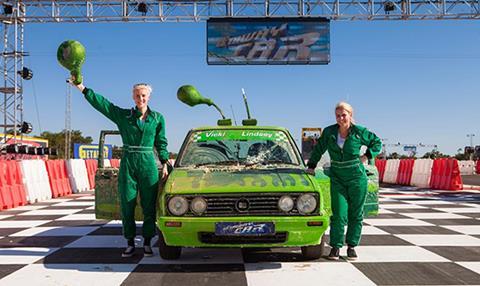 The Getaway Car (BBC1) 6.50pm-7.45pm
4.1m (20.3%)
Dermot O'Leary's in-house show features couples competing in a series of driving challenges, culminating in a battle with Top Gear character The Stig.
It was well below BBC1's slot average of 5.8m (31.2%) for the past 12 months, according to overnight Barb figures supplied by overnights.tv.
The Getaway Car also failed to compete with last year's warm-up for The Voice – archive magic show Now You See It. The Objective show pulled 4.7m (23.7%) viewers out of its hat in the equivalent slot last year.
BBC1's driving show was also beaten by Ninja Warrior UK, which entertained a series high of 4.3m (20.7%) over the 7pm hour.
Potato's format was ITV's top performing show of the night, trumping Take Me Out's audience of 3.7m (16.9%) from 8pm to 9.20pm, according to Barb data provided by overnights.tv.
The Voice UK (BBC1) 7.45pm-9.05pm
6.4m (29.5%)
Things did not improve for BBC1 later in the evening. After a below-par launch of 7.1m (32%) last week, The Voice UK lost another 700,000 viewers.
The Talpa Media show was down more than 2m viewers on the equivalent episode last year, when it performed to an audience of 8.5m (38.5%).
Live Boxing (Dave) 9pm-11pm
1.3m (6.6%)
Dave's live coverage of David Haye's comeback against Australian Mark De Mori performed well – despite the fight ending inside just one round.
The contest peaked with 3m (14%) at 9.52pm and smashed Dave's slot average of 249,600 (1.4%) for the past 12 months.