Genre has tended to be rather samey but new formats are intriguing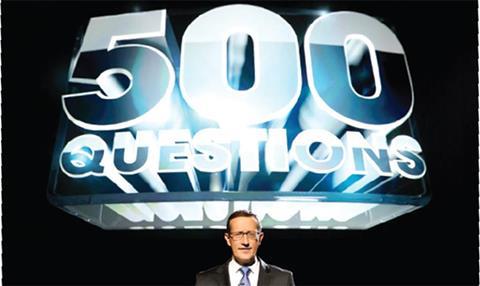 After an overtly dramatic start to the year, with Sherlock, Beowulf, War & Peace and Deutschland 83 all competing for eyeballs (including mine), I'm quickly thinking about the prospects for entertainment in 2016 – given the genre's travails in recent times.
First up is BBC1's attempt to find a successor to Total Wipeout in the form of Stellify Media's 10-part Can't Touch This. TX details haven't been confirmed, but it could launch as early as the end of January.
The scale of the show is its most obvious feature. The set, built in Belfast, is about 40,000 sq ft, and the show culminates with the winner climbing up to a platform six metres off the ground and jumping off, attempting to touch a car (to win it) on the way down.
The bigger-is-better mantra is also behind Channel 4 and Twofour upping the ante for the return of winter sports format The Jump. The producer has constructed a purpose-built ski jump on the side of a mountain for the third series, which is also slated to air at the turn of the month.
Twofour is also behind one of two rival driving shows for 2016. Drive, a five-parter for ITV, will pit celebrities against one another in a series of challenges, culminating in a Formula 4000 race.
It will inevitably be compared to BBC Production's The Getaway Car, featuring Top Gear's The Stig. It will swap famous faces for pairs of contestants, such as married couples, but is also based around a series of challenges.
The similarity between the two shows is one of the issues facing entertainment. Compared with the constant inventiveness of new drama, it tends to feel rather samey, but the BBC's Alan Tyler seems open-minded about his desire to increase his pipeline and has pledged to be brave.
Perhaps that bravery will manifest itself in another attempt at a primetime gameshow for BBC1.
Prized Apart didn't do the business, and recent hits in the genre have tended to be quirky or daytime favourites rather than mainstream blockbusters – I'm thinking Only Connect and Pointless.
All of which means Wall to Wall's remake of US gameshow 500 Questions for ITV is one of the shows I'm most intrigued by in 2016.
There was a bit of a collective groan from British development execs when the show was ordered, given its prominence, but it feels like a hit quiz show might break the shackles, wherever it comes from.
It has challenging questions, a tight time limit and a simple premise based on consecutive answers. It was stripped in the US and it will be interesting to see how ITV schedules its four-episode series this summer. Now, where's my application form?