A vivid title sequence that evokes the sex, death and religious fervour of the HBO show and links images of Americana with scenes of lonely and stark places.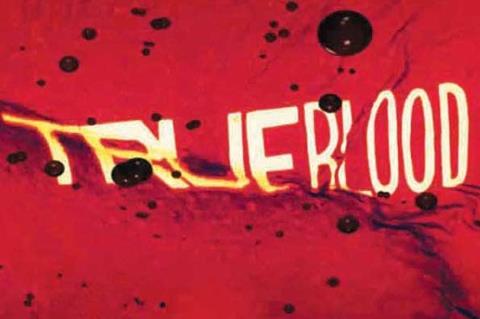 Creative Digital Kitchen (US)
Client HBO
Brief Create a vivid title sequence that evokes the sex, death and religious fervour of the show.
How it was done Digital Kitchen gravitated toward the point of view of a supernatural, predatory creature observing human beings from the shadow. It was felt that this would convey a feeling of bloodlust, together with a vivid hyperreality.
In the interests of the raw mood, Digital Kitchen deliberately steered the project away from computer-aided effects, opting instead for live action footage and striking physical transition effects involving Polaroid photographs.
The transition effects have an eerie, tactile quality because they were created with Polaroid transfers, water, and airguns. The resulting transitions feel almost like scorched skin.

The Polaroid transfer technique uses chemicals to separate the emulsion in a Polaroid from its backing. The resulting image has the quality of thin plastic wrap, which is then placed on a wet glass plate, then is blasted with canned air and water to create a violent effect.

The titles themselves are rendered in an original font created by Digital Kitchen. Some of the fonts were created using an exacto knife and other hand tools. The font for the show credits is based on southern-style road signage.
This very literal "hands-on" approach also took the Digital Kitchen creative team on a four-day Winnebago odyssey through Louisiana, during which they shot footage of anything and everything they felt would be appropriate to the True Blood mood.
Watch it On C4 now