SpaceCrate, the purpose-built audio recording and mixing facility in a shipping container, is working on its first production – a feature film being shot in a variety of UK locations, including Shepperton Studios.
A portable, sound-proofed space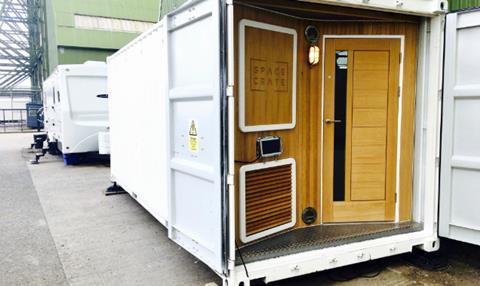 The only SpaceCrate currently in existence, which was completed just a few months ago, has been brought in by the film producers to provide a properly-spec'd studio space for Audio Dialogue Replacement (ADR) on location.
SpaceCrate is a portable sound-proofed professional air-conditioned studio space housed in a standard 20-foot marine shipping container. The plug-and-play nature of SpaceCrate enables productions to quickly and straightforwardly add high-end recording and editing facilities when required.
It was designed and built by Ben Nemes, ex-Avid pro audio sales manager, AKA Design's founder Guy Wilson and systems integrator Absolute Cad's Mike Watson.
Broadcast visited SpaceCrate during a gap in the filming of the feature film, to film an interview with Nemes back at SpaceCrate HQ in Wood Green, North London (see below).