Swedish firm Vidispine's VidiXplore software can index and organise video on both desktops and in the cloud. Co-founder Erik Åhlin explains how it works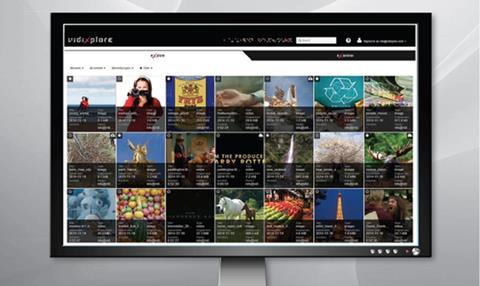 A little more than year ago, Stockholm-based Vidispine was awarded a patent for technology that can tag metadata contained within individual video frames. The team working on the project came to the conclusion that there was a gap in the market for a 'Dropbox for video' application, so they set to work building VidiXplore, which finds, indexes and organises video on desktops and in the cloud.
VidiXplore works via a locally installed agent that indexes images, video and documents. Data is then mirrored to a web-based, shared service, while the original copy stays on the local hard drive. The metadata technology at the heart of VidiXplore automatically turns subtitles, manual tags, speech-to-text, face and logo recognition into a time-based, WebVTT-format.
Users of the software can also share video to social media sites or proxy links via email and download full versions from the cloud.
Vidispine co-founder Erik Åhlin says that while cloud-based DAM systems such as Wiredrive and MediaSilo offer content sharing, he has yet to come across a system that takes VidiXplore's approach of indexing assets before proxies are handed to the cloud. "I think the reason is that to do that you need a transcoder to create a proxy locally and just send the proxy and metadata. It doesn't seem like any other cloud DAM solutions have that."
Åhlin says that Vidispine's transcoder technology gives it greater control of assets and allows it to apply additional plug-ins or algorithms to content.
"We are looking to cloud-based APIs to provide enriched metadata for everyone from IBM to small start-ups, because we won't be able to invent every image analysis algorithm on the planet. There is tremendous innovation at the moment in automated video and audio recognition, which we want to leverage," Åhlin says.
One example is French firm Vocapia, whose speech-to-text technology is incorporated into Vidi- Xplore. A transcript editor will be available at launch and the company is also starting a VidiXplore Innovation Partner programme to add further plug-ins and extensions.
Cloud buckets
VidiXplore was shown to a handpicked audience at last year's IBC before a closed beta test took place ahead of a wider test phase that began in December last year.
A full launch will take place at NAB, where the ability to index Amazon S3 buckets will be shown for the first time. A free version will be available, while a single user licence will cost ¤39 (£29) a month. The company is also working on indexing content in other 'cloud buckets' from the likes of Dropbox and OneDrive.
While larger media organisations such as ITV and Sony are likely to have already solved their asset-management problems, there has been interest from "lightweight" departments within broadcasters, such as marketing teams, Åhlin says. But most interest in the media sector has come from production houses, freelancers and ad agencies.
"We spoke to a news provider in March that wants to share content with sites on a different continent. It has to complete all transcripts and subtitles itself or use a third party, which is expensive. But with VidiXplore it can do rough speech to text and then a quick transcript. It's not 100% accurate but it does make content instantly searchable."
Vidispine was set up in 2009 by Åhlin and Isak Jonsson, who were among the co-founders of Ardendo, a Swedish company that was acquired by Vizrt in 2006. While Ardendo set out to solve the conundrums posed by the shift from tape to file, Vidispine was set up to address the problems faced by media organisations that were coming to terms with a file-based world.
"We saw that the whole media asset management [MAM] thing was getting commoditised, with less innovation and more competition," says Åhlin. "With Vidispine, we wanted to create a commoditised MAM back-end, so that all the difficult parts of video, such as formats, large files, metadata and codecs, should be super easy – you have a programmable media repository and build things on top."
The company's main target users are developers. "We are not looking at building a DAM or selecting one storage vendor to build a tight relationship – we want to support any of the under lying DAM engines, storage solutions and databases," says Åhlin, who describes the firm's eponymous content management platform as a "toolbox" for others to build on. Early adopters include Ericsson and SintecMedia, which in 2011 launched OnMedia, an "all-inone, next-generation MAM".
One of Vidispine's local systems integrators is UK-based NMR, which it worked with on ITV's Content Delivery Modernisation project to automate linear, catch-up and archive content delivery.
For that particular project, Telestream's Vantage transcoders were selected for catch-up processing, Nativ's Mio operates as the orchestration engine and Vidispine's media asset management capabilities were paired with Cantemo's Portal.
About a year and a half ago, Åhlin and Jonsson decided to extend their reach beyond the media landscape to B2B cloud operations and large corporates. At NAB, they will position Vidispine as a platform as a service (PAAS) offering to tap into this market.
Åhlin says: "You will soon find a full-blown Videspine back-end that is used by large corporations available for a monthly fee from Azure or Amazon, with everything spun up and ready to rock. It is super accessible," he says.
The reason, Åhlin says, is that large firms such as Tesco or Coca Cola (pictured) have ever-increasing requirements for handling video. While they don't have broadcast requirements, they still have the "chaos" of multiple formats to deal with and logistical issues associated with moving content across various environments.
"From a technical point of view, the challenges are similar," Åhlin says. "Corporations are much more comfortable ordering this kind of technology from the likes of Microsoft, IBM and Amazon."
The opportunity to organise video for such companies is "a thousand-fold" compared with the broadcast industry, he adds. "We will take our broadcast know-how and apply it to an enterprise environment."
Sweden's lively media scene
Vidispine wasn't the only company to emerge after Ardendo was incorporated into Vizrt. Åhlin lightheartedly refers to several Ardendo "drop-outs" who set up companies that now sit at the heart of the Swedish media technology community.
Anna Söderström, another co-founder of Ardendo, founded workflow backbone software firm Mayam with former Ardendo chief executive Jonas Engström. And former Ardendo bid manager Parham Azimi set up asset management firm Cantemo.
"There is a lively media and broadcast environment in Sweden. On a broader spectrum, I would say the whole video-based software environment is lively, from companies that are unrelated to broadcast such as Videoplaza [an ad technology firm acquired by Ooyala last year] to Skype [the site's video support was developed in Sweden, where the company was founded]."
Another example is Codemill, an IT company that specialises in asset management systems and describes itself as a firm of "global agile developers".
Codemill is a "key partner" for Vidispine, where all 11 employees – besides Åhlin – work in R&D. Codemill has helped Vidispine build prototypes and also build and customise systems for clients, which it is doing at the moment in the US.