Peter Thompson, the president of the Vision Charity, has been awarded a Broadcast Special Recognition Award for his work over more than 40 years in raising funds for blind children.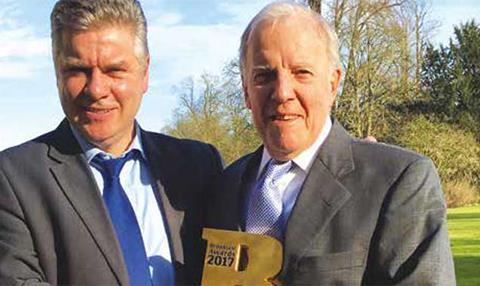 Thompson is the former managing director of Vision Broadcast, the video production and distribution company that was one of the founding members of the Association of Professional Video Dealers (APVD) in the mid-1970s.
The association, led by Thompson, created the Vision Charity which saw blind and sight impaired children to benefit from its annual Vision Ball which was launched in 1976 and ran until 2012.
He said, "We wanted to benefit a charity and our research showed that at that time there was relatively little for blind children".
Along with the Vision Ball, the charity went on to run a variety of fundraising activities supported by broadcast manufacturing companies including Avid, JVC, Panasonic, Sony, Phillips and Arqiva.
The success of Vision led to the creation of a Scottish Vision and Scottish Vision Ball which took place annually in Glasgow for 15 years, alternating between Glasgow and Edinburgh.
Other charity activities that supported Vision included the Soho Fun Run, sponsored by Avid, and the funds raised by several London Marathon runners.
Steely determination
Broadcast magazine was the charity's media partner for many years, supporting Vision through the Broadcast Fives and events at the Broadcast Awards and Broadcast Digital Awards.
The charity raised £4m over the years, donated to a wide range of schools and organistions to help blind, visually impaired children and also young people suffering with dyslexia. Buses, cars, guide dogs, technology and leisure activities have all been paid for by funds raised by Vision.
Conor Dignam, chief executive of MBI, Broadcast's parent company, presented the award to Thompson at a lunch held in his honour and said: "There are thousands of children both in the UK and other countries that have been given an opportunity and an experience that they wouldn't have had without the work of the Vision Charity - and Peter's quiet but steely determination to make it happen and help change people's lives for the better."
Earlier this year it was announced that Vision is to merge with the Royal Society for Blind Children (RSBC) which will take over Vison's activities.
Thompson, along with Vision's long serving chairman Bill Vestey, and treasurer and finance director Richard Morgan, MBE, will all retire from the charity as a result of the merger.
Bill Vestey told Broadcast: "Peter is an inspiring leader and on the many visits to charities it was clear that he was held in high esteem by them. It has been an honour and pleasure to work with him for over 10 years. The next chapter in the life of Vision is very exciting as the RSBC takes over Vision and ensures that Peter's legacy lives on to the benefit of blind, visually impaired and dyslexic children."