Sports indie hires technical director and senior producers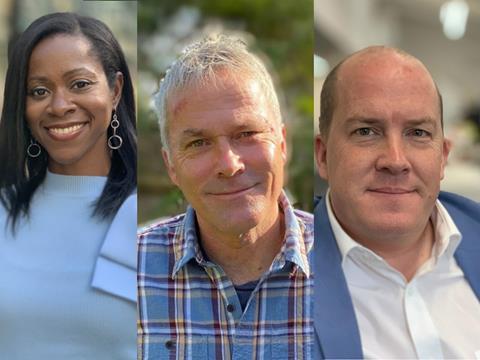 Whisper has hired a technical director and two senior producers as Jake Humphreys' outfit continues with its large-scale expansion.
The sports and live events indie has signed former BBC Sports Personality of the Year and Premier League technical lead Jon Fay (pictured centre, above) as technical director, while sports producers Jemma Archer (pictured left, above) and Rob Williams (pictured right, above) join as senior producers.
Fay has worked on the BBC's annual awards event along with the likes of the Rugby World Cup, Champions League fixtures and the European Golf Tour. He kicked off his career with the BBC as a cameraman and has since worked with Sky, ITV, Canal+ and NBC.
Archer has worked for a similar spread of broadcasters, covering the FIFA World Cup and Olympics. Williams' specialism lies in cricket and he recently led on England's victorious Cricket World Cup final coverage for Sky and Channel 4.
Whisper chief executive Sunil Patel, who runs the business with Humphreys and David Coulthard, described the trio of signings as "exceptionally strong talents".
"As we continue to grow, it's important we maintain strength and depth across the team so we can continue to over deliver on all our high-profile sport productions, as well as unscripted and brand projects," he added.
Whisper's expansion has involved recently moving into the entertainment and specialist factual game and expanding into an umbrella company.
The outfit is currently eying an exit from Channel 4's Growth Fund.