Yahoo Sport Presents…Tailgate aims to be the home for the UK fanbase of American major league sports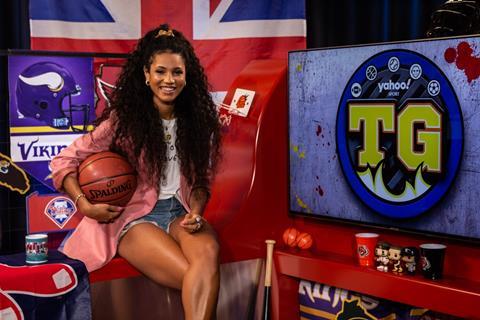 Yahoo Sport UK has launched a new platform focused on American sports, called Yahoo Sport Presents…Tailgate.
Tailgate is a collection of "premium video content, with fans at the heart of the experience," says Yahoo.
It's presented by TV and radio personality Vick Hope (a contestant in last year's Strictly Come Dancing) who "will tap into Yahoo's deep knowledge, talent and heritage in American sports reporting to deliver premium content, including interviews and insights from players, pundits and UK fans."
Yahoo Sport Presents…Tailgate will focus on the National Basketball Association (NBA) and National Football League (NFL) and will also explore the US Sports fan experience in the UK.
Yahoo says it wants the site to be the home for the UK fanbase of American major league sports.
The Tailgate videos will be filmed in Verizon Media's UK studio on a set specially built to look like the tailgate of a truck.
Head of Yahoo Sport UK, Raj Mannick, said: "With the rapidly increasing interest in American major league sports in the UK, we are excited to launch Yahoo Sport Presents…Tailgate. We're confident Yahoo Sport will provide a full and rich fan experience, and that the bold and distinctive look of Tailgate will attract new followers to join the existing dedicated fanbase."
Vick Hope, added: "I've always been a huge fan of American sports, particularly American football. I've thoroughly enjoyed seeing this sport cross the ocean and grow to what it is now within the UK. I'm thrilled to be taking part in this show and look forward to connecting fans closer to the sport they love."
Yahoo Sport Presents…Tailgate is available through the Yahoo home page and the Yahoo Sport UK app.