IBC 2016: Adobe introduced Team Projects, an option for Adobe Premiere Pro CC, After Effects CC, and Adobe Prelude CC that will be included in the next release of Creative Cloud.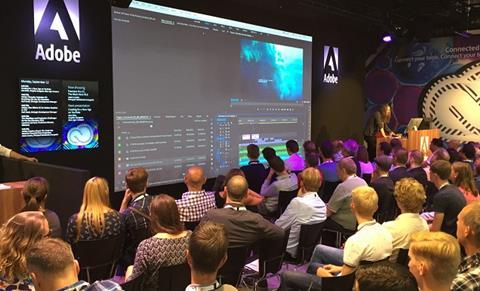 Team Projects is a hosted collaboration service that allows editors and motion graphics artists to work simultaneously in shared team projects.
The data in Team Projects is hosted in the cloud and media files referenced by Team Projects can be locally stored source files, or lightweight proxies shared via Creative Cloud.
Speaking at IBC, Adobe senior product manager Patrick Palmer explained more about the addition to Creative Cloud.
He said: "Through Adobe Anywhere we provide enterprise class collaborative workflows, but people have said to us that while they like the idea of collaboration they might not have a media asset management system or have a need to do the things that relate to the core set up of Anywhere, so we looked into ways of making [collaboration] possible for anyone. The result is Team Projects, which we are showing for the first time at IBC.
"Team Projects is a hosted service, so the project lives in the cloud. That in itself enables a user to work with anyone they would like to invite to the project and from there on, the project will be shared.
"It has check ins and check outs, but most importantly it has versioning and a full history so you can return to the day you started a project. That can be really important if you do a lot of nitty gritty, detail work across any kind of media, whether it is short form, commercials, episodic TV or features.
Palette for Premiere Pro
On display at the Adobe stand was a modular and configurable control surface from Canadian firm Palette.
Launched at the end of last year, the USB-powered controller is made up of sliders, dials and buttons that can be used to create a customised layout.
It is compatible with applications including Adobe's After Effects, Audition and Photoshop, while Premiere Pro and Apple's Final Cut Pro are in beta.
"Adobe users could have collaborated before by sending a project file to someone, but that will require relinking or sending proxy files or a link to the cloud or original media. With Team Projects, you still do that, but you only do it once for the entire duration of the project.
"If there is a conflict users will be notified. It includes smart conflict resolution where you can attend just to what isn't working, such as one editor thinking that a clip should be three seconds and another editor thinking a clip should be four seconds long.
"Also, earlier this year we introduced proxy workflows. That in itself is meaningful enough when you look at the new production reality of cameras that are capable of shooting more resolution and dynamic range than what is required for most outputs. You might need that detail and information for archive or perhaps to create the final output but it is not necessary to have while in the editing or motion graphics process.
"It's super to have that as part of Team Projects because you can keep the online where you intend to have the final output, and everybody else who is contributing ideas can work with the proxies. Media can also by synched via Creative Cloud but the benefit of not making that mandatory is that it is your choice."