New titles for the comedian's Channel 4 chatshow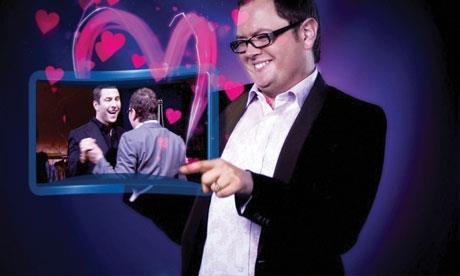 Titles: Jump Design
Client: Open Mike
Brief: Reflect the values of the show; cheeky, funny, youthful, fresh and must include a variety of clips of guests who have appeared on the show, working in unison with the current theme tune of the show.
How it was done: The design team wanted Carr to appear as a master of 'the interview' and to interact directly with clips of guests, appearing to cause reactions and action within the VT windows. After extensive clip research, storyboards were developed depicting Carr's interactions with the clips.
To get a sense of timing and the physical possibilities of the interactions, we set up a test green screen shoot in the office from which an animatic was created. This was invaluable on shoot day as it really gave Carr an insight into the virtual space he was to occupy and enabled him to improvise naturally around the shot list.
The sequence was shot on Red camera by DOP, Paul King,edited in Final Cut Pro and composited in After Effects.The 3D logo was modelled and animated in Lightwave.
Designer Lee Jacobs did the After Effects work and animation alongside Kat Fietz. Keith Livingstone did the 3D.
Watch it From 20 June on C4