Tributes pour in for former director of television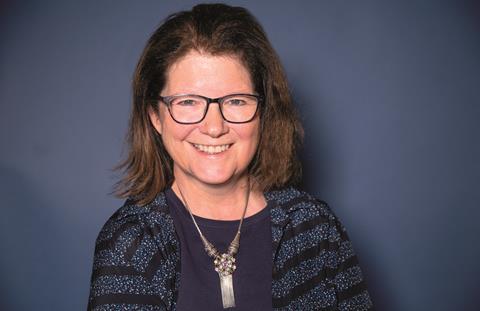 A series of contemporaries have led the tributes to Jana Bennett, a pioneering influence for women in public service broadcasting and a major figure in the modern era of the BBC.
Bennett, who died earlier this week, was the BBC's first female head of science and editor of the Horizon strand and rose to become its director of television over two spells at the corporation.
She was crucial in it embracing the digital revolution via the launch of BBC3 and other channels in the early 2000s and was one of the most important figures in the development of specialist factual as a genuinely popular TV genre.
A recurring theme among peers was Bennett's skill as a creative leader and manager.
Lorraine Heggessey was her lifelong friend after the pair joined the corporation together as trainees in 1979. The former BBC1 controller said: "Jana always encouraged others to be more ambitious in their thinking, and never sought glory for herself. Her contributions were often invisible, other than to the many people who benefited."
Among those who worked with and for Bennett were Danny Cohen, Pat Younge, and Jane Tranter.
Cohen, who she hired as controller of BBC1 in 2010, described Bennett as a "genuinely kind and warm-hearted person, and a great boss".
He added: "Jana was an outstanding creative who also knew how to produce the right conditions for others to thrive. She believed fundamentally in the BBC and knew it was at its best when creativity was flowing from lots of different people."
Former drama controller Tranter's memories chimed with this sentiment: "Jana was the most generous of bosses and a good friend to many. She had a brain the size of a planet but used it to listen, as well as to talk. She gave us the space to make mistakes and learn and allowed the BBC to be fun. She is a huge loss."
Broke the glass ceiling
Younge was brought back from the US by Bennett to run BBC in-house production. He said: "Jana believed in public service broadcasting and the importance of in-house. She felt we hadn't had a fair crack of the whip and did all she could to help us raise our game.
"She was one of the women from our generation who broke the glass ceiling in television, and she was a big supporter of diversity. She knew some of the challenges I faced coming through as a black man because she had faced similar ones as a woman, a few years before. She was kind and funny and has gone too soon."
Heggessey explained that Bennett had been "a trailblazer for women who tended to be pigeonholed in terms of working in education or children's. Jana proved women could run the big gun departments".
Bennett was one of just five women on the BBC's executive team when she was appointed director of television in 2001 and was a former chair and major supporter of Women in Film & TV. She was presented with the organisation's Contribution to the Medium Award in 2012.
The organisation's chair Liz Tucker said she had been a hugely influential figure: "With charm, wit, razor sharp intelligence and editorial judgement, Jana made such an immense contribution to the TV industry and will be hugely missed. She was my first boss in TV in London when she was the first female editor of Horizon and was always approachable and thoughtful. Her humanity shone through everything she did."
Former WFTV chief executive Kate Kinninmont added: "Jana was always pushing to do more for women in the industry and full of fizz and ideas to achieve that. She should have been the first woman DG of the BBC. Despite her achievements, we're still waiting."
Heggessey added that Bennett's creative credentials should not be overlooked. She highlighted her groundbreaking decision to commission Walking with Dinosaurs and said Bennett was able to achieve the perfect balance of public service broadcasting.
"Jana had a great intellectual curiosity that she brought to viewers, who she never underestimated, and she transformed how television produced specialist factual – taking the most complex subjects and making them accessible."
Jane Root, former BBC2 controller agreed that Bennett had "transformed" television. She said: "The TV we work in today has her DNA right through it: from primetime science to BBC3 and much, much more. She did all that and was an amazing boss and great friend. Be a little more Jana, television industry! That's the way to remember her."
Other tributes to Jana Bennett
BBC director general Tim Davie
"Jana Bennett was one of the most talented television producers of her generation and a formidable champion of public service broadcasting. She was a trailblazer who rose to the top of the industry, tirelessly championing upcoming talent, as well as having the foresight to bring together television and digital services. She was a brilliant and gifted colleague and is a big loss to the television industry."
Former DG and ex New York Times chief executive Mark Thompson
"Jana was creative to her fingertips. She was a pioneer who led the reinvention of science programming in the 1990s. She was of the first women to break into top creative leadership at the BBC and spent the rest of her career inspiring and helping other women to do the same. She was a top executive whom no one ever mistook for a suit. She always thought big. She was one of freshest and most unexpected thinkers I've ever come across. In what can be a cold and instrumental industry, she stood out for her kindness and care for others. She was a wonderful friend."
Former Channel 4 chief executive and Wonderhood Studios founder David Abraham
"Jana understood how to take creative risks and have fun doing it. I remember her encouraging me to take the leap to work in America and then being equally positive about coming back to join UKTV. A confident and instinctive creative leader from whom I learned a lot about how to blend the best of PSB and commercial TV.
Paul Buccieri, president & chairman, A+E Networks
"All of us at A+E Networks deeply mourn the loss of our friend and colleague Jana Bennett. She had an extraordinary career in media and her contributions to the A+E Networks family are too enormous to count. She was a groundbreaking, game-changing, generous and beautiful person. She will be terribly missed by all of us, and especially by me. Our thoughts and prayers are with her family at this time."
Ex BBC2 controller Janice Hadlow
"Jana was a warm and wonderful colleague, and a good and generous friend whom I will miss enormously."
Former BBC head of specialist factual Martin Davidson
"Jana was a humane and approachable boss, but it was her passion for science as a force for good in all our lives, and in television's ability to help deliver that good, that made working for her so exhilarating."
Former BBC comedy controller and Yellow Door Productions founder Lucy Lumsden
"Jana was my boss at the BBC and was hugely progressive, kind, loved comedy, supported women and was thrilled by the explosion of the digital age. Super smart Jana, you will be missed""