Culture secretary calls time on funding method that has served corporation for 76 years
The licence fee will be scrapped as the BBC's funding method in 2027, according to culture secretary Nadine Dorries.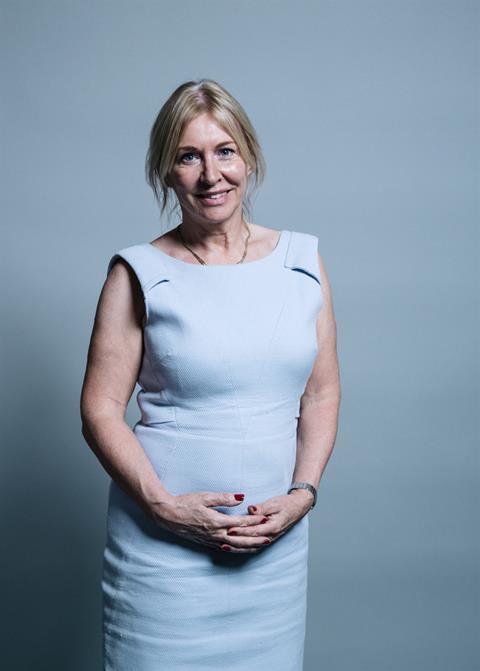 She retweeted a Mail on Sunday story this morning which postulates that the licence fee will be frozen for the next two years and replaced when the Royal Charter concludes in five years' time. Work on establishing the new funding method could begin as early as next week.
Re-posting the article, Dorries said: "This licence fee announcement will be the last. The days of the elderly being threatened with prison sentences and bailiffs knocking on doors, are over. Time now to discuss and debate new ways of funding, supporting and selling great British content."
The article itself, endorsed by Dorries on the social media platform, goes even further.
In it, an ally of the MP for Mid Bedfordshire states: "'There will be a lot of anguished noises about how [the strategy] will hit popular programmes, but they can learn to cut waste like any other business.
"This will be the last BBC licence fee negotiation ever. Work will start next week on a mid-term review to replace the Charter with a new funding formula.
"It's over for the BBC as they know it."
The next general election is due to be held in May 2024, three years ahead of the conclusion current charter.
Elsewhere in the article, the day's of "state-run [sic] TV are over", which could have implications for of the future ownership of Channel 4. The goverment's decision over the preferred ownership model of the broadcaster is due shortly.
BBC director general director Tim Davie wrote a passionate defence of the licence fee in The Times on 2 January. He pledged that the BBC, which celebrates its centenary in 2022, will "work tirelessly to offer every single household outstanding value for the licence fee."
Moving away from a universal licence fee would almost inevitably mean a significant reduction in the corporation's income. In the year 2020/21 it received £3.75bn from the licence fee, which is currently set at £159.
Both the Mail on Sunday and the Sunday Times are reporting this morning (16 January) that it will be frozen at that level for the next two years, before rising in the final three years of the settlement. The initial freeze would mean a significant real terms cut, which could require savings of circa £2bn over the remainder of the charter.