Topped a shortlist that also included BBC4, CBBC, Dave, E4 and Sky Atlantic
Click for all the winners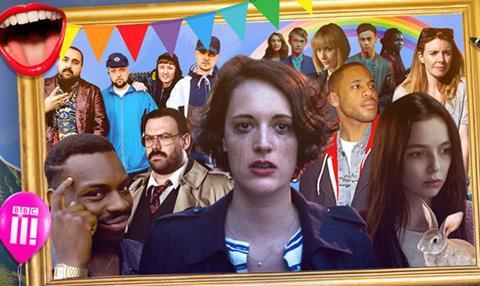 BBC3 has been named Channel of the Year at the Broadcast Digital Awards, 18 months after it became an online-only service.
The channel, led by Damian Kavanagh, proved those who predicted its post-linear decline wrong by snatching the accolade away from last year's winner E4.
However, the Channel 4 youth-skewing channel was judged Best Entertainment Channel.
BBC3 came out on top from a shortlist that also included BBC4, CBBC, Dave, E4 and Sky Atlantic. It triumphed thanks to a slate that featured scripted shows Thirteen, Murdered By My Father and Fleabag, supported by a series of innovative shorts such as Things Not To Say…, Unsolved and Drugs Map Of Britain.
The channel's Tiger Aspect-produced Murder In Successville was named Best Entertainment Programme for the second consecutive year, while Swan Films' American High School topped the inaugural Best Documentary Programme category.
In the new Best VR Experience category, BBC Taster's We Wait (Aardman Animations) won for its emotionally charged depiction of a displaced Syrian family.
It saw off competition from BBC experiences including Home: VR Spacewalk and Easter Rising: Voice Of A Rebel, as well as the Science Museum's Space Descent With Tim Peake, Sky's Giselle and The Guardian's 6 x 9: A VR Experience Of Solitary Confinement.
Overall, the BBC picked up six gongs – the most of any broadcaster – including Best Factual Channel for BBC4 and Best Digital Children's Content for CBBC's Secret Life Of Boys.
Another two-time winner was E4's Retort-produced comedy Chewing Gum, which was named Best Scripted Programme for the second year in a row.
Refugee, CTVC's 12-minute fi lm for TrueTube about people forced to fl ee a war zone, was named Best Scripted Online Short, while Channel 4 News' Inside Aleppo (ITN) took the Best Unscripted Short prize.
Best Original Web Channel went to Barcroft TV after it passed 2.5 billion views, taking the crown away from three-time category winner Vice.
5 Star's Crackit-produced Sex Pod held off strong competition from shows including Viceland's Hate Thy Neighbour to win Best Popular Factual Programme.
Broadcast Digital Awards 2017 winners
Best Entertainment Programme
Murder in Successville
Best Sports and Live Event Coverage
BT Sport - UFC 205
Best Specialist Channel
Sky Arts
Best Popular Factual Programme
Sex Pod
Best Programme Acquisition
Legion
Best Social Media & Digital Marketing Campaign
Humans
Best Digital Video Platform / Services
ITV Hub
Best Documentary Programme
American High School
Best Digital Children's Content
Secret Life of Boys