BBC Studios and Post Production (BBC S&PP) took Broadcast on a tour of Television Centre (TVC) to see the progress being made in the redevelopment of the west London site.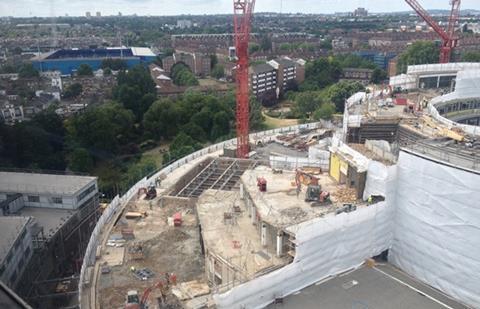 The BBC, including its subsidiary BBC S&PP, moved out of TVC in 2013 after the west London site was acquired by property developer Stanhope.
Stanhope is turning the bulk of the site into 950 homes, a new branch of private members club Soho House, offices, restaurants and other shops but some TV production facilities will be retained and operated by BBC S&PP.
BBC S&PP will return to the west London site in 2017, where it will operate three studios (TC1, TC2 and TC3) and offer production space and edit facilities.
After consulting with its production clients, BBC S&PP has set out to retain some of the site's original features while making much of the site more flexible.
The lower ground floor has been reconfigured to accommodate some redesigned green rooms and dressing rooms. These include four 'Superstar' and four group dressing rooms, as well as 37 'Star' and 'Standard' dressing rooms.
BBC S&PP is also installing five permanent edit suites. When they are all in use, a handful of production rooms close by could also be used as temporary edit suites. The technical specifications for the post operation will be finalised later this year.
On the ground floor a new Stage Door reception area is being built. Beyond Stage Door will be a 'hub' area for productions and crews with seating areas, tables and catering.
A storage area will accommodate deliveries and set and prop storage, with access to the inner ring road and each studio door.
The three studios that will be managed by BBC S&PP are: TC1, which is 10,250 sq ft; TC2, which offers 3,500 sq ft of space and TC3 which is 8,000 sq ft.
The old audience rostra in TC1 has been removed following feedback from clients that the orientation and capacity wasn't suitable for large scale entertainment shows.
Each of the studios will have live TX lines as well as direct physical access to make up, wardrobe, production and technical storage.
The first floor galleries for studios 1, 2 and 3 are the same size and in the same location as the 'old' TVC.
Direct access to the studio floor from the galleries has been retained, while four new production offices next to the galleries have been built. As with the post-production operation, technical fit of out the galleries will take place later this year or in early 2017.
The second floor will house BBC S&PP offices, as well as more rooms that could be used by productions in need of additional space.
And the two viewing galleries overlooking TC1 and TC3 are being made into meeting rooms for use by BBC S&PP.