Proof-of-concept test allows users to watch action from any angle or zoom in for a detailed view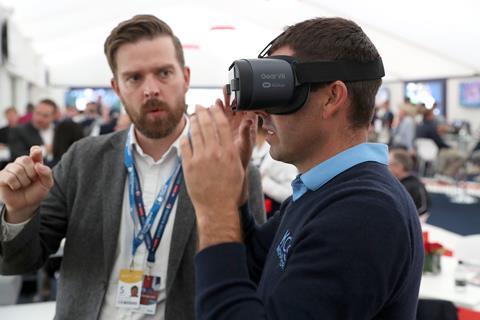 Pictured above: Tata's Martyn McKenna shows golfer Charl Schwartzel a live 8K, 360-degree view of the 18th hole
The British Masters golf tournament in Walton Heath last week was the setting for a proof-of-concept trial of 8K VR.
Wearing a VR headset, viewers could move around a live 8K, 360-degree view of the 18th hole and watch the action from any angle. While this is all par for the course with VR, the ultra-high resolution of the 8K images meant viewers could also zoom in to any part of the picture for a detailed, close-up view.
The 8K footage was captured on a six-lens, 3D 360-degree VR camera from Chinese immersive technology specialist Kandao. This sat on top of a post at the end of a grandstand right next to the course, putting the viewer at the heart of the action.
Event organiser the European Tour worked with Tata Communications on the tech trial. Tata head of delivery, media services, Martyn McKenna explained: "Live 8K images from the camera are sent to a cloud-transcoding engine where they are transcoded for multiple devices. The images are then delivered back to us for viewing on the VR headset. We're running the proof-of-concept on the Oculus platform, on an S9 phone inside the Samsung Gear VR."
The 8K VR trial is part of a broader move towards enhancing golf coverage through the use of technology. The European Tour has already singled out a number of potential practical applications for the 8K immersive content.
European Tour chief technology officer Michael G Cole told Broadcast: "We're trialling the technology, then we will review how we want to take that forward. The 8K creates compelling content – it's an opportunity for fans at the venue or at home to observe different aspects of the course. There are parts of the course that are difficult for conventional TV, such as the dog leg on the 17th hole, and we could offer fans a unique viewpoint of these through immersive 8K 360.
"It could also potentially be used by remotely located referees to adjudicate at different points along the course," he continued. "Another application is for coaching players within the 360-degree environment. It could also be used for health and safety and monitoring crowd behaviour from different viewpoints."
Cole said the trial is part of a move towards the digital transformation of golf. "We're seeking to learn from our partnership with Tata Communications and its adoption of technology in other sports, including F1 and Moto GP. We're looking at how we can apply these to golf.
"Technology has a role to play in bringing in new fans and creating captivating content. This is just the start and you'll see more proof-of-concepts where we identify different areas where we can innovate."