Writer and director twins on their new comedy series along with their plan to set up a production label
The Witchfinder has been a long time coming for Neil and Rob Gibbons. Commissioned in 2019 and conceived far earlier, it has passed through multiple BBC commissioning editors, been delayed by the success of This Time With Alan Partridge and was stopped in its tracks by the pandemic after just a single day of shooting in March 2020.
Almost two years later, the show TXs on BBC2 next month, with Daisy May Cooper and Tim Key playing the leads in an odd-couple, road-trip comedy set in the 17th century.
Shot entirely on location using vintage lenses, it's far removed from the lurid studio setting of This Time…, the most recent iteration of the Steve Coogan character that has been the Gibbons brothers' staple for the past 12 years.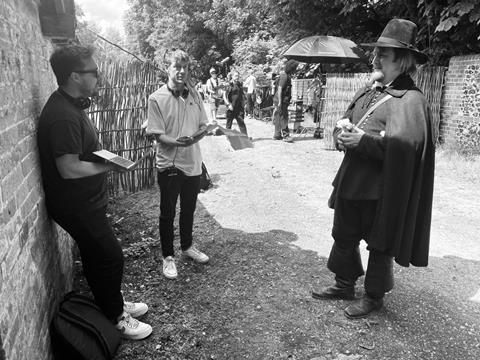 The twins were jobbing comedy scribes when they began writing for the monstrous chat show host. After quickly winning Coogan's trust with their innate understanding of the character, they co-created Mid-Morning Matters as a web series back in 2010 and have been across everything that Partridge does (and says) ever since.
That list includes penning two 'autobiographies', several spoof documentaries, the 2013 feature film Alpha Papa, and writing and directing for two series of the character's triumphant return to the BBC, This Time.
Their relationship with Coogan and producer Baby Cow has been prolific and successful, but there is more to the Gibbons' ambitions than simply focusing on Norwich's finest presenter, and The Witchfinder is a key step in terms of broadening their repertoire.
The show was originally conceived as a comedy feature film, off the back of the success of Alpha Papa, but was put on the backburner in favour of various Partridge projects while the pair sought a window to write and shoot it.
By October 2019, the concept had morphed into a 6 x 30-minute series commissioned for BBC2, and production finally began in March 2020 – which was spectacularly bad timing.
Neil and Rob thought they'd be back shooting within a month or two (they weren't alone), but it was more than a year before principal photography resumed. When it did, they filmed over the summer in glorious locations, attempting to combine the beauty of the English countryside with a narrative that is comically dark.
Cooper plays a straight-talking but innocent woman accused of being a witch and Key (a long-term collaborator via Partridge) is a low-level witchfinder desperate for recognition. The story develops as he attempts to take her cross-country for trial.
"It touches on current tropes without feeling like a lecture," says Neil. "We dialled down the modern parallels a bit, but they're all there: privileged people who think they know it all, selling snake oil to those who are weaker than them. Witchfinder is about power and status and those who kick out against it."
Rob reveals they were keen to avoid comparisons with the pinnacle of period comedy, Blackadder. He says: "We didn't want to go anywhere near a studio, and it took a bit of explaining to HoDs and commissioners. We gave them drama references, and Wolf Hall was the look and feel we were heading towards.
"We shot almost entirely on location, almost entirely during daytime, so it was naturally lit, and used vintage lenses. The best modern lenses are so crisp and clear that, paradoxically, it feels less like you're actually there, and a few imperfections were like a little nod to the Witchfinder General film."
Twin process
The pair did plenty of research, including reading a book by Malcolm Gaskill, an academic who specialises in witchcraft. They were so impressed they drafted him in as historical consultant (a role he has performed previously for the likes of The League Of Gentlemen) and he helped refine a story that is about pricking pomposity.
"This is a period when government had almost broken down after the civil war, and whoever could shout the loudest was in charge," Neil explains. "Most people wouldn't have challenged that, and lived in fear of persecution, but there were others who must have said, 'Hang on, say that again?'."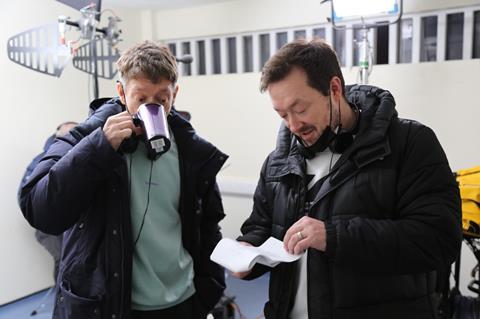 The show was developed via a creative process in which the twins' relationship is important, but not over-riding. They were born in Sandbach, Cheshire, but Rob has made south London his home, while Neil splits his time between the capital and Stockport.
They spend plenty of time together at the start of a project, fleshing out ideas, and come up with a scene-by-scene plan, before dividing the show up and writing separately. They then exchange work, and offer each other (rather direct) feedback.
"There's a shorthand between us, obviously, but the most important thing is not that we have the same ideas, but that we share the same taste," Rob says. "Being a director is really about making a million little decisions. Whether it's the colour of a tunic or a choice for the soundtrack, it's all judgements based on [our shared] taste."
As they enter pre-production, Rob tends to focus on practical and directorial issues, while Neil hones the script. All the while, they are having what Neil calls "quick, blunt conversations".
"We know we're not going to terminate our relationship – we've still got to have Christmas together at Mum's," he says.
"We're thirsty for brutal notes. If someone thinks the second half is shit, or a big set-piece doesn't work, we want to know"
Neil Gibbons
Unusually, the duo wish there was a little more of that directness in external relationships, too.
Neil explains: "We're constantly seeking out notes – not because we're uncertain of ourselves but because it makes sense to get plenty of opinions. It can be frustrating when people tiptoe around writers – we're thirsty for brutal notes."
That seems bonkers, but he warms to the theme. "They [the notes] don't even have to be constructive, to be honest. If someone thinks the second half is shit, or a big set-piece doesn't work, we want to know."
That is partly because the Gibbons now have wide-ranging authorship of their projects, combining writing and directing duties.
It suits their style well. Writing Partridge is so immersive that they were already involved in the minutiae – Where would Alan buy glasses? What would be on his desk? – and directing seemed the next logical step.
Setting up a label
It's with that in mind that the brothers are keen to set up a scripted comedy production label later this year to house their own work and that of others.
They quickly explain that working with and for Baby Cow has been fantastic, and that Steve Coogan has been remarkably open-minded and supportive, but they have a huge appetite now to write and direct something new.
"Hopefully we'll do that under our own label," says. Rob "We're talking to a few parties about umbrella-ing us and we feel ready, like we've got enough under our belts."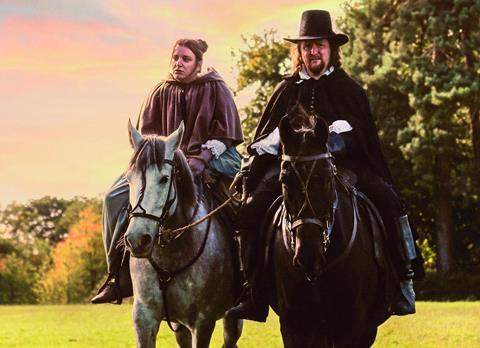 Those conversations are progressing and they're also minded to partner with an experienced producer to oversee the business side, citing the relationship between Phil Clarke and Sam Bain and Jesse Armstrong at VAL.
"We're on the lookout and are very open to anyone who'd want to do that with us," says Rob, adding that they hope to mine an underserved niche in the shape of writer/directors. "The stuff we like best tends to have come through that route, but it's not always an area you hear so much about – there tends to be more noise around the writer/performers."
Neil picks up the argument. "It does feel like Live At The Apollo or Mock The Week are the way into getting a sitcom on TV. I understand why that is – they're a known quantity for the audience so they're over the main hurdle already – but we tend to enjoy, I hate the word, but more 'auteured' work."
They cite Will Sharpe's output (Flowers; Landscapers) and Nida Mansoor's We Are Lady Parts. Neil explains: "There's a different flavour to things that are writer/director-led – the voice just pops that little bit more."
They're also keen to ensure that writers are "knitted" into broadcaster relationships and the commissioning process. "Loads of writers will know the frustrations of being two or three removed, and there can sometimes be an element of Chinese whispers. We want writers to be fully part of the conversation," says Neil.
The brothers are aware of the intense competition in the indie sector and know it will be tough, but believe the pedigree they have shown in more than 10 years of Partridge output should open some doors.
Alan isn't going away for the Gibbons. The character lends himself to reinvention and next up is a series of state-of-the-nation docs provisionally titled And Did Those Feet?, but the brothers are excited to demonstrate what more they have to offer. The next phase of their careers will be about life after Alan.