Making a splash in the world of TV gameshows
Production company Potato
Commissioners Kevin Lygo; Peter Davey
Length 10 x 60 minutes (nine contests and a compilation)
TX Saturday 2 September, ITV (time tbc)
Executive producers Michael Kelpie; Martin Scott
Series editor Eve Winstanley
The Malta Film Studios in Kalkara has welcomed Hollywood stars from Brad Pitt to Tom Hanks in recent years, its vast open-air water tanks doubling for the Aegean Sea of Troy and the Indian Ocean in which Somali pirates captured Captain Phillips.
Potato managing director Michael Kelpie had other ideas. "I want a tattooed fattie flying through the air, preferably in budgie smugglers," he told Kevin Lygo – and lo, ITV's Cannonball was born.
Talpa's format is a hit in the Netherlands and a second version has been filmed, though not yet aired, in Australia.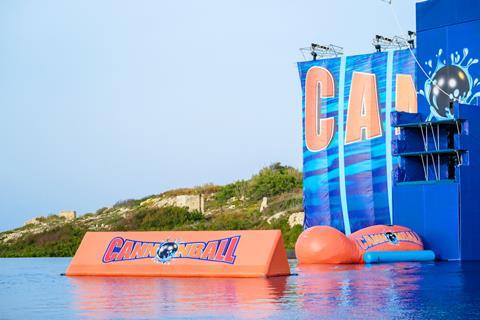 Having made Japan's Ninja Warrior a hit on these shores, Kelpie and ITV are betting on their own supersized version of the aquatic gameshow, with 24 contestants each taking on four challenges (one of which is new for theUK) in every show.
Instant gratification
"The Dutch and Australian shows are a bit too slow for our audience, which expects lots of instant gratification," Kelpie says.
His desire for the show to look sunny ruled out the UK, and the Dutch site, and after scouring more distant shores from Australia to California, a European fixer helped Potato settle on Malta.
Looking out to the two sea-bordering saltwater pools as drones whiz around filming test runs, Kelpie reflects: "Normally, people use the tanks and make it look like the sea. This is the first real TV production here and we wanted to use all of it, including the space around the edge of the water."
The set came down at the end of the summer, but the ambition, Kelpie says, is to potentially create a hub for other territories.
"It already looks like it should be one, but ITV has put up all the money for us to do it because they want the scale," he says. "It's a risk for ITV, but Kevin and Peter Davey have an aspiration to try new shows.
"For about five years now, I've been saying we're at the point where talent shows will start to give way to gameshows. Our audience expects shows that look like we've really gone for it. Britain's had lots of mid-tariff Saturday night gameshows, but the likes of Getaway Car and Can't Touch This didn't make their mark.
"In entertainment, there's nowhere to hide and you can have very public failures. But Ninja Warrior worked, thank God, and I think we'll see more of these."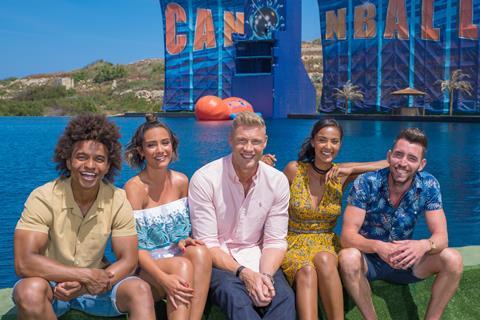 The success of that show also taught Kelpie to accept that it's fine not to be the one to come up with the ideas – but don't think of him as a producer-for-hire.
"We are creative producers and we want to be able to take a core idea and do things the way they should be made," he says. "It's a risk for Talpa because we've changed it quite a bit, but the format is at an early stage in its life span.
"I'm paid to create hits, but I'm not so arrogant as to think it's all up to us; if something comes along that I'd like to make and watch, that's what I'll pick up on. Of course, there are times on Cannonball when I wonder, 'why didn't I think of that?', but I get over it and just make the show."
It's about playing the long game, he says. "If broadcasters know we can deliver something like this, hopefully they won't have doubts when I come up with a big, silly or expensive idea," he reasons.
"In the UK, there are maybe four or so producers who can walk into any broadcaster with a big entertainment idea and have the commissioner believe they can pull it off."
As for what made Cannonball leap out from Talpa's catalogue, Kelpie says simply: "I wanted to have a go on it."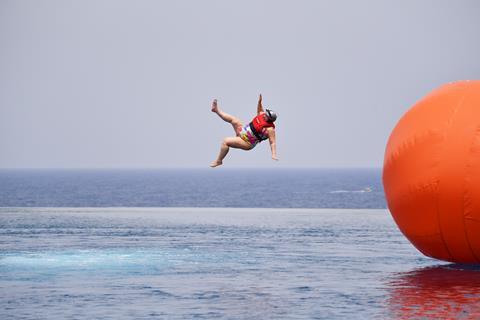 'Fun' was Kelpie's watchword throughout development – big, splashy, silly, waterpark fun in which neither physical skill nor body shape could be an advantage. Ninja Warrior requires considerable physical fitness; here, simply being able to swim is enough.
Among the 216 contestants, there are 18-year-olds, 60-somethings and everything in between – "literally all shapes and sizes", he says.
"The casting team has done a brilliant job," he says. "It's quite hard to get women to apply for physical gameshows, but we're about 50/50.
"Diversity was a big issue too, and around 25% of our contestants are non-white. There are some hilarious people – some you hope are going to do well, some just make you laugh, and some give you great soundbites."
ITV ordered the show with no talent attached, which enabled Potato to bring in some new faces.
"It's quite hard to get women to apply for physical gameshows, but we're about 50/50. Diversity was a big issue too, and around 25% are non-white"
Michelle Kelpie, Potato
Alongside Andrew 'Freddie' Flintoff as the main anchor, there are four presenters positioned around the course: singer Frankie Bridge, Irish comedian Ryan Hand, MTV and 4Music presenter Maya Jama and Blue Peter's Radzi Chinyanganya.
"It's hard to bring new talent onto a primetime show, but we thought the format was so big that people would tune in for the fun of it anyway," Kelpie says.
"All four have different experience on camera and their own personalities. For so many presenters, getting a primetime gig is years away, even when they're doing loads of TV and radio. By the time these guys got off the plane, you'd think they'd known each other for years. They're grafters, who realise it's a big opportunity."
The show will come to life in the edit, where there will be flexibility about who to follow. The cameras will go "wherever looks most fun", rather than watching everyone take their turn, says Kelpie. "You try to keep the beats and rhythm so that the audience never knows exactly what's coming next."
Behind the scenes, Potato has tried to use local talent wherever possible, from a line producer to runners, audience organisers, riggers and the team of testers who ran through the challenges.
If all goes according to plan, there'll be more work for them next summer. "I regard this series as a prototype of what Cannonball can be," says Kelpie. "I'm already thinking about what I'd do differently for series two."
THE GAMES
Each episode of Cannonball features four challenges, completed over the course of the day, before the top three players return the next evening to square off for a final in front of an audience.
KNOCKOUT
In this Potato-created challenge, contestants enter a zorb and roll down a slide towards 10 inflatable bowling balls, with the aim of scoring a strike.
JUMP
Two contestants hurtle down a 40ft slide, each holding onto a bodyboard. At the bottom of the slide, they let go of the board, and the one who lands furthest from the slide wins. Lengths of up to 25 metres are expected, landing in 11-metre deep sea water, with an aeration system pushing them back up to the surface.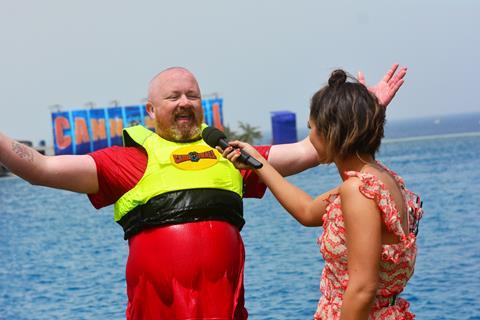 SKIMMER
The bottom curve of the Jump slide is flattened out to 40cm above the surface of the water. Holding on to their bodyboards, contestants 'skim' towards a finish sign 40 metres away.
THE BLOB
Contestants climb onto a long bowling-pin shaped inflatable and sit on the neck. From a neighbouring 7ft platform, two 'blobbers' - with a combined weight 2.5 times that of the contestant - jump in tandem onto the inflatable's base, propelling the player into the air. The highest altitude wins.
FINAL: SWING TO WIN
From a second, higher platform above the Blob, contestants swing with a giant rope. With three swings each, they have to hit moving targets projected onto a huge circle in the water filled with 150,000 ping pong balls.