Right-wing news SVoD to launch on 17 September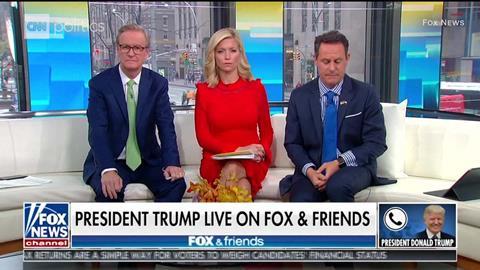 Fox News is to return to the UK next month as an international subscription streaming service.
Fox News International is planned to be in 20 territories by "early 2021", with the direct-to-consumer service first launching in Mexico this month before debuting in Spain and then the UK and Germany on 17 September.
The Fox News Media-owned SVoD will provide live streams of the linear channels Fox News and Fox Business and a catalogue of opinion programmes such as Tucker Carlson Tonight and Hannity available on-demand.
Priced at $6.99 (£5.36) per month, Fox News International will be available on mobile, tablet and other streaming devices.
Fox News was previously carried on Sky but was dropped in 2017, with then-owner 21st Century Fox pointing to low ratings of just a few thousand per day. The channel was rapped several times by Ofcom for breaching impartiality rules.
Fox News Media is part of Fox Corp, the business the Murdoch family established after selling their entertainment assets to Disney for £71.3m in 2018.