C4 News veteran calls on web giants to pay producers for content  
Channel 4 news anchor Jon Snow has taken aim at Facebook, accusing the social media giant of failing to invest in content while fanning the flames of fake news.
Snow used his MacTaggart lecture at the Edinburgh International TV Festival to attack Facebook founder Mark Zuckerberg for building a platform that "feasts on our products and pays all but nothing for them".
While the veteran reporter acknowledged that C4 News was a beneficiary of the "miracle of Facebook's reach", he slammed the tiny revenues generated.
"I'm not a fan of playing fast and loose with the products that we generate at great expense"

Jon Snow on Facebook
Clips from ITN News' daily bulletins, which air on C4 at 12pm and 7pm, have clocked up three billion views on Facebook since the beginning of 2016, making it the best-performing broadcast news provider in Europe.
"For us, it has been invaluable in helping us to deliver our remit – to reach young viewers, to innovate and to get attention for some of the world's most important stories," said Snow.
"[But] while the reach of Facebook video exceeds that of conventional broadcasting, the revenue doesn't even come close. Facebook themselves have provided publishers with the most nominal of sums and certainly not the rate of the job."
He issued a call to arms to the industry and urged governments and the EU to force the web giants to "pay more to carry professional journalism".
"I'm a fan of Facebook but I'm not a fan of playing fast and loose with the products that we, in this room, generate at great expense," he added.
Fake news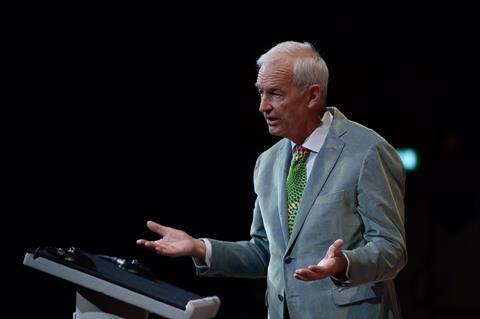 Snow called out Facebook's "dark, cancerous side", which facilitates the spread of viral fake news stories due to its "miracle reach".
"That same algorithm that prioritised many amazing reports of ours… the scale of which we never dreamt we could ever reach…also prioritised fakery on a massive scale," he said.
He added the Silicon Valley giant is not doing enough to confront this "terrible tyranny of untruth".
He highlighted one incorrect story published during the US elections which reported the Pope had endorsed Donald Trump's candidacy for US president and was read by more than a million people.
"Facebook's lack of activity in this regard could prove a vast threat of democracy," Snow warned. "Its principals are seldom explained in detail and can change overnight at Mr Zuckerberg's whim."
He questioned the tech entrepreneur's promise to "invest and establish quality journalism", given its failure to back existing providers.
"[Zuckerberg] says he cares about news, but does he really? Or does he care about keeping people on Facebook?".
Rather than securing the future of quality journalism, Snow claimed Facebook and search giant Google have contributed to its decline.
"The duopoly of Facebook and Google has decimated the market in digital revenue that many hoped would sustain quality journalism for years to come."