PSBs must be forward-facing in their approach to on-demand
To audiences accustomed to Netflix's box sets, the experience of visiting BBC iPlayer or ITV Hub only to discover the first two episodes of the latest 'must-see' show are no longer available is a major frustration.
That's why ITV's move to extend its catch-up window from 30 days to ensure that all episodes are available while a show is on air should be applauded. But this is a half-step that its PSB peers are also guilty of taking.
It is almost as frustrating to be prevented from binge-watching the most exciting new show because the broadcaster has opted not to make episodes available until after they have played out on linear TV. It's an outdated approach that does not have viewers' best interests at its heart.
"The world is moving towards an easy-access, on-demand model and the faster the broadcasters embrace this, the better for audiences"
Delayed gratification, for better or worse, is over. Disruptive 'start-ups' like Amazon and Netflix, with their relentless focus on their subscribers, clinically reject such an approach for their own originals. These operators, steered forensically by the data produced from their customers, are setting the tone.
The world is moving towards an easy-access, on-demand model and, outside of the odd knockout format, the faster the broadcasters embrace this, the better for audiences.
The BBC tinkers with making complete series of some shows available following the TX of the first episode, from Peter Kay's Car Share to forthcoming factual opus Civilisations.
But the unpredictability of what is going to be available makes for a disjointed, confusing and, at worst, disappointing experience – box sets of Taboo, Gunpowder and Hard Sun were all stacked up from the start, but not the latest Saturday night drama, Troy: Fall Of A City.
At last year's Edinburgh International TV Festival, a senior BBC source admitted that the corporation is still making up its mind as to the best way to tackle the trend.
But as it moves towards making iPlayer "the front door" (copyright: Tony Hall), the BBC knows what is required: make all episodes available on-demand up front and let people choose when they watch.
Subscriber-centric Sky has already largely taken the plunge, transforming Sky Atlantic into a box set-only channel. For ITV and C4, the potential to trade lucrative linear audiences for digital 'pennies' remains a concern, but should start to be offset as ad-serving technologies enable profi table targeting of viewers.
But the wider industry is yoked to an old way of thinking, hobbled by an unfit-for-purpose measurement system.
As the BBC's James Purnell acknowledges this week, measurement through a linear lens creates linear organisations, not forward-facing innovators.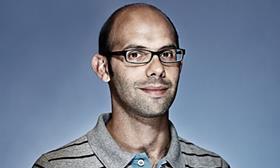 Alex Farber is the news editor of Broadcast