It will renew its deals with Sky Sports, BT Sport, and Amazon Prime Video without an auction.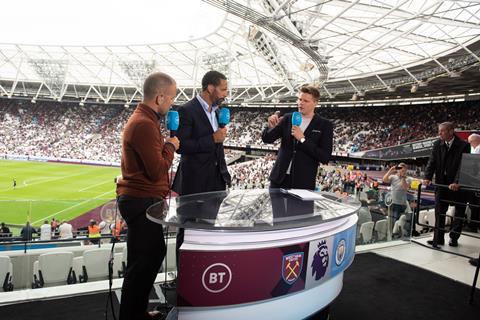 The Premier League has agreed with clubs to roll over its broadcast deals without an auction for the 2022/23 until 2024/25 seasons.
It had previously been revealed that the Premier League was aiming to do this, but there were doubts over competition law as it hasn't happened since a 2006 European Comission decision stopped the organisation selling rights to only Sky.
It is now awaiting final approval from the government, which has already been agreed in principle thanks to the effects of Covid-19. The approval would be in the form of an Exclusion Order under the Competition Act 1998.
Sky Sports, BT Sport, Amazon Prime Video, and BBC Sport have all agreed to roll over their live and non-live deals.
The league has agreed to send larger contributions to lower divisions in return for being allowed to extend its current broadcast deals without its usual auction, with an additional £100 million being sent to lower divisions, the Football Foundation, and women's and girls' football.
BT consumer division CEO Marc Allera said in reaction to the news: "Throughout this difficult year the Premier League and broadcasters have all worked together to find pro-active solutions to ensure the Premier League, and the lower leagues, have a safe and secure way out of the pandemic.
"This in-principle renewal of our broadcast rights is great for our viewers, but also helps to provide vital support for the broader football community that relies on the Premier League.
"The fantastic news for our viewers is that, once the deal is concluded, they can continue to enjoy the Premier League alongside the UEFA Champions League and UEFA Europa League exclusively live on BT Sport."
BBC Sport director Barbara Slater also welcomed the deal: "We very much welcome this agreement in principle from the Premier League. As longstanding partners we've worked with the Premier League during difficult times and none more so than in the last year. We believe the certainty that the renewal would bring for both football and our TV audiences in the UK would be of huge benefit as we emerge slowly from the coronavirus pandemic."
This news comes after Serie A struggled to agree a new broadcast deal at a lower price, and Ligue 1 had to accept a significant cut in revenue when Mediapro dropped out of a deal. It is unlikely to be popular with broadcasters who had been hoping to gain rights in an auction, which would possibly include the likes of DAZN.