NAB 2015: Canon has unveiled a 4K version of its popular C300 camera and launched a new compact 4K device.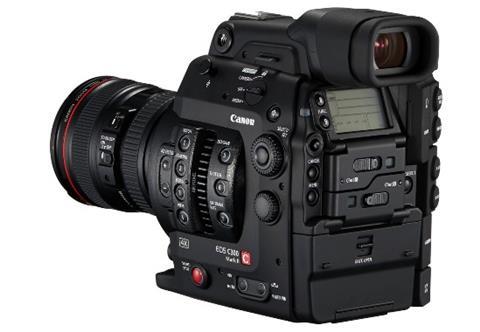 The EOS C300 Mark II captures 4K video with 15-stops of dynamic range at high bitrates to internal CFast 2.0 cards.
Canon has also launched the XC10, a compact camcorder that also shoots 4K video.
And it has added to its range of 4K reference monitors with the DP-V2410, which has been designed for use on-set or on-location in broadcast and cinema productions.
C300 MKII
Canon described the MKII, which will be available from September for £11,299, as a more rugged device than its predecessor which was launched in 2011.
The EF-mount camera is powered by dual Digic DV5 processors and records 10-bit 422 files internally at up to 410Mbps in 4K, or 10/12-bit 444 files in 2K/Full HD, with up to 15 stops of dynamic range.
It records 4K in both broadcast (3840 x 2160) and DCI cinematic (4096 x 2160) resolutions.
The EOS C300 Mark II can record 4K files internally to dual CFast 2.0 media while simultaneously recording 4K RAW files to an external recorder.
Canon said a new Super 35mm CMOS sensor and an increased ISO range up to ISO 102,400 would deliver "exceptional" low light performance, and that the camera's sensor read-out speed is twice as fast as the original EOS C300 which would help to reduce rolling shutter distortion.
The EOS C300 Mark II supports BT.2020, the Canon Cinema Gamut and DCI-P3.
The camera is also the first Cinema EOS model to feature new Canon Log2 technology, which enables the 15-stops of dynamic range, which Canon said is significantly wider than previous Cinema EOS cameras.
It also supports four-channel audio recording in 16 or 24 bit and 48 kHz.
New codec
Canon's new XF-AVC H.264 codecs have been designed to be compatible with standard non-linear edit systems. The range features XF-AVC intra for 4K, and XF-AVC Long GOP and Proxy options for 2K/Full HD recording, both of which utilise the H.264 codec.
C300 MKII users will be able to select the resolution and codec type that best suits their production, with the EOS C300 Mark II capable of shooting at up to 30P in 4K or up to 120P in 2K/Full HD.
The XC10 (see below) also captures footage in the XF-AVC H.264 codec.
XC10 camcorder
The XC10 is described as a "compact and lightweight" video and stills camera that has inherited some of the Cinema EOS range's features.
Available from June for £1599, the XC10 has a DSLR-esque form factor and is targeted at independent film makers or for use as a B-camera in larger productions.
It houses a 1-inch CMOS sensor and Canon's new Digic DV5 image processor.
The XC10 has an ISO of up to 20,000 and 12-stops of dynamic range.
It uses a fixed 10x optical zoom lens which offers a 27.3-273mm focal range and can record UHDTV standard (3840 x 2160) 4K footage to an internal CFast 2.0 card at up to 305Mbps, or Full HD (1920 x 1080) footage to an SD card at up to 50Mbps, with 422 colour sampling.
A rotating grip supports a range of shooting styles and it includes an adjustable 7.66cm touchscreen LCD.
The XC10 is wi-fi compatible, enabling remote control of key features via a browser, smartphone or tablet.
DP-V2410 monitor
Canon's latest reference monitor joins the DP-V3010 in the manufacturer's line-up of 4K displays.
It offers 4096 x 2160 resolution and supports the DCI-P3 cinema standard, the ITU-R BT.2020 broadcast standard and Aces Proxy v1.0.
A new IPS panel with RGB LED backlight system enables a 2000:1 contrast ratio.
The DP-V2410 is equipped with 3G/HD-SDI and HDMI interfaces, plus a built-in debayer, and is able to show native 4K RAW footage direct from compatible Cinema EOS cameras.
Monitoring functions including a 4K-capable wave form monitor and vectorscope and the monitor includes 1D/3D-LUTs and an audio level meter.
The DP-V2410 is expected to be available in Europe in Q4.