Tories lodge Ofcom complaint and hint at review of broadcaster's PSB licence over 'provocative stunt' prompted by PM's snub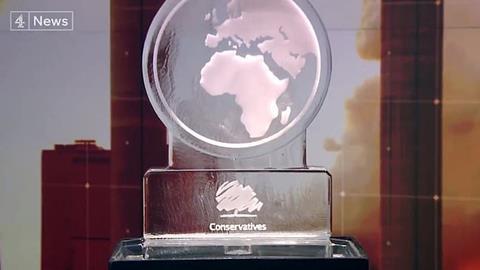 Relations between Channel 4 and the government have turned frostier with the Tories threatening to review the broadcaster's PSB licence if re-elected.
The party has also written to Ofcom to complain about C4's 'provocative partisan stunt' of replacing Boris Johnson with a block of ice in last night's C4 News climate change debate.
The war of words, already stoked by C4 scrapping a planned leaders' debate last weekend due to Johnson's refusal to take part, escalated when it emerged that globe-shaped blocks of ice would appear at podiums reserved for Johnson and Nigel Farage, which would then symbolically melt during the 60-minute broadcast.
Farage's Brexit Party had declined to take part on the grounds that the debate would not focus on Brexit.
Conservative spokesman Lee Cain told media that he had written to Ofcom demanding an investigation, claiming the broadcaster had breached the broadcasting code with "a provocative partisan stunt" that constituted "making a political opinion in its own right".
C4 News editor Ben de Pear justified the decision, stating: "These two ice sculptures represent the emergency on planet Earth, not in any human form but are a visual metaphor for the Conservative and Brexit parties after their leaders declined our repeated invitations to attend tonight's vital climate debate."
Cain has accused C4 of a "wider pattern of bias" and in proposals first reported by BuzzFeed News, the government said it would now "look at whether its [C4's] remit should be better focused so it is serving the public in the best way possible". The broadcaster's current PSB remit runs until 2024.
'Slippery slope'
During the 7pm broadcast, de Pear took to Twitter to defend the debate further after Tory chair James Cleverly tweeted: "This is not a presidential election".
De Pear responded: "Then stop behaving like Donald Trump with the press and media. Put your leader Boris Johnson alongside the other leaders and stop playing games. Don't refuse & then threaten our license it's a slippery slope. All the parties complain about us but they're here."
In an attempt to ensure a government presence on the debate, Johnson dispatched Michael Gove, accompanied by his father Stanley Johnson, to appear in his place. De Pear put the proposition to rival leaders, who declined to allow Gove to take part, as they were participating on the proviso that it would feature only party leaders.
At the Edinburgh TV Festival this summer, C4 News editor Dorothy Byrne branded both Johnson and Jeremy Corbyn "cowards" for their repeated failure to give "significant" interviews on TV. Days later, C4 News reporter Matt Frei was invited to interview Johnson at the Biarritz summit, but was turned away.
Corbyn and Liberal Democrats leader Jo Swinson both took part in the debate. Host Krishnan Guru Murthy later gave short shrift to Gove's assertion that the pair had "refused to debate a Conservative".
Guru Murthy responded: "Michael used to present comedy on C4 called A Stab in the Dark - and I'm afraid this is what he was doing while the rest of us were holding a leaders debate. Mr Johnson was invited and chose not to come. I wish he'd joined what was a very good prog."
The C4 News presenter said Gove would be welcome to appear on another edition.
"I'm pretty sure (not being the editor) that we'd be delighted to talk to Michael Gove at length about climate change and other things tomorrow on C4 News. Or Boris Johnson. I do hope one of them is available," he tweeted.
Johnson has also caused ruffles at the BBC having so far refused to commit to Andrew Neil's series of one-to-one interviews with party leaders. The BBC said it was in ongoing discussions with his team but had not yet been able to fix a date.
C4 News' special was watched by 850,000 (5.2%) over the hour.