Broadcast's sister publication Screen International has joined Not 4 Sale, our special campaign warning of the dangers of privatising Channel 4 for both viewers and the industry.
The campaign has received the backing of more than 100 high-profile figures in the independent TV production sector, with many more individuals and companies expected to follow suit.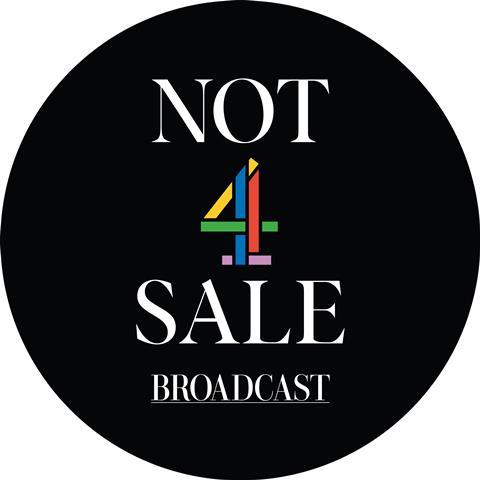 Screen says it has added its voice to the Not 4 Sale campaign for all the same reasons that Broadcast has outlined in the statement you can read here – fundamentally, that Channel 4's remit to champion unheard voices and tackle difficult subjects marks it out as a unique entity in the UK broadcasting space.
For the last 40 years that remit has supported an independent community of producers creating robust and challenging work. To remove Channel 4 from the PSB ecology could be devastating to the groundbreaking voices that the channel has supported over the years.
Screen says it has an extra motivation for throwing its full support behind the Not 4 Sale campaign: the channel's filmmaking division Film4, a longstanding pillar of the UK independent film industry that over many years has provided invaluable development and production support to some of the most distinctive writers, directors and producers working today.
While modest in financial terms compared to the deep pockets of studios and streamers, Film4's annual budget has been invested in new talent, unusual stories and edgy visions, as well as supporting some of our most acclaimed filmmakers in the challenging arena of raising finance.
An amplifier of bold visions and voices, it works in parallel with the BFI and BBC Film and has allowed for a flourishing of provocative, innovative features that travel far beyond UK shores to reach all corners of the globe.
It is, of course, unclear at this stage what privatisation of Channel 4 would mean for Film4. During David Kosse's two-year tenure as Film4 director (2016-2018), he guided the division down a more strategic path, securing a larger budget from the parent channel and seeking to carve out more substantial returns for Film4's investments.
It's a strategy his successor Daniel Battsek has continued to pursue, and since 2016 Film4 has invested more than £100m in 56 UK features – unlocking a total of £450m invested in those films and filmmakers.
Launched in 1982 (initially as Channel Four Films), projects supported over the years range from My Beautiful Laundrette and Trainspotting to Three Billboards Outside Ebbing, Missouri, 12 Years A Slave, The Favourite and The Father.
More recently, Prano Bailey-Bond's Censor, Rebecca Hall's Passing, Nick Rowland's Calm With Horses, Rose Glass's Saint Maud and Eva Husson's Cannes 2021 title Mothering Sunday were all backed by Film4. New productions from Jonathan Glazer, Yorgos Lanthimos and Martin McDonagh – phenomenal talents backed by Film4 over the years – are all being completed this year.
As its execs point out about the division's filmmaker-led ethos and backing of new directors early in their careers, "If you don't make Steve McQueen's Hunger, you don't get 12 Years A Slave or Widows; if you don't back Shallow Grave, you don't get the Danny Boyle of today; if you don't support Martin McDonagh's first short Six Shooter, you don't get Three Billboards Outside Ebbing, Missouri".
Film4's phenomenal track record in backing projects and filmmakers has made it an invaluable and trusted partner on the international stage. While it's feasible that a new Channel 4 owner operating under a non-PSB remit would leave Film4 untouched, switching from the current publisher-broadcaster model that favours working with independent producers to an in-house production model – a potential outcome of any sale – could put pressure on Film4's own budget, and ability to continue operating in its current form.
A new owner could also feasibly be interested only in backing the "commercial" projects in Film4's stable (an inexact science as any industry practitioner knows), and less keen on financing the development groundwork that goes into nurturing new talent. Having the rug pulled out from under Film4 is something no one in our industry will want to see, and that's why Screen is adding its vociferous support to the Not 4 Sale campaign.

Click for more information about Broadcast's C4 anti-privatisation campaign Not 4 Sale
If you would like to join email not4sale@broadcastnow.co.uk indicating whether you are joining in a personal capacity or signing up your business, to enable Broadcast to highlight each area when publishing the results.