The X Factor proved an unlikely catalyst in unlocking the emotional core of the plight of a woman on Death Row, writes Steve Humphries.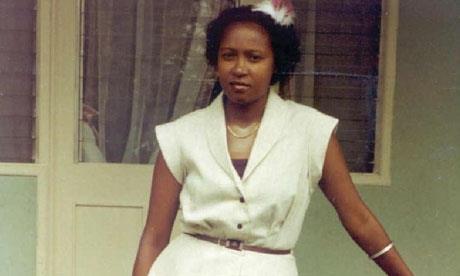 Fact File
The British Woman on Death Row
Production company Testimony Films
TX Channel 4, 8pm, 28 November
Commissioners David Glover, Anna Miralis
Producer/director Steve Humphries
Editor/director Nick Maddocks
Additional director Jamie Balment
Graphics Burrell Durrant Hifle
Post house Films at 59
Summary Documentary aiming to raise awareness of the case of Linda Carty, a British woman who has been on Death Row in Texas for almost 10 years.
Steve Humphries
Producer/director
Almost two years ago, I told Channel 4 commissioner David Glover the story of a British woman on Death Row who had always proclaimed her innocence. Linda Carty will be the first British woman to be executed since Ruth Ellis in 1955. We hatched a plan to make a film that would shine a light on her case.
Three months later, I was in Houston, Texas, filming emotional interviews with Linda's daughter, her sisters and her mother. I also filmed with American appeal lawyer Michael Goldberg, who believed that Linda's trial was the most outrageous miscarriage of justice he'd ever encountered. Then I made the six-hour journey to Death Row in Gatesville to film Linda.
I've spent my entire adult life interviewing people but this was filling me with dread. It could only last for one hour and had to be done through a glass screen with armed guards present. Linda's alleged crime was horrific: murdering a young woman who lived next door to steal her newborn baby.
Linda is a 52-year-old grandmother, a British citizen by virtue of the fact that she was born on the Caribbean island of St Kitts, then part of the Commonwealth. She was a model pupil at school with a superb voice who'd sung for Prince Charles on a royal visit.
Later, she became a schoolteacher. But her life changed after she was sacked for having an illegitimate baby. She left the island with her daughter Jovelle to go to Texas in search of the American dream. In Houston, tragedy struck again when she was raped, had another daughter as a result and gave her away for adoption.
She began working for the Drug Enforcement Agency as an informer in a murky underworld of violent drug gangs. She has always claimed that she was framed by the gang that actually carried out the crime.
Prior to leaving for Texas, Clive Stafford Smith, director of campaign group Reprieve, met David and I and made a passionate case for Linda. We are both huge admirers of Clive, going back to his iconic 1987 Death Row film Fourteen Days In May, and we wanted to help Reprieve with its campaign. The main aim, we all agreed, was to get British people to care about her plight.
A few days later, after watching The X Factor, I imagined filming Linda singing on Death Row and it becoming a worldwide YouTube hit. That would be certain to bring attention to her case. So when I wrote to Linda telling her the questions I wanted to ask, I mentioned that maybe she could sing something too. I suggested Amazing Grace.
The prison itself is all barbed wire, high walls and turrets manned by guards. As we walked into the room where we had to film Linda, my mind blanked out. These were the most hostile conditions imaginable to conduct the kind of intimate and emotional interview I needed if I was to get anyone to care about Linda's plight.
Linda, however, looked surprisingly healthy and relaxed for a woman who'd been in solitary confinement on Death Row for almost 10 years. She told me the dramatic ups and downs of her life story – and moved me with a beautiful rendition of Amazing Grace. Her singing – and her story – made it a national news item when I got back.
We have worked on the film for more than 18 months and, over time, we've become aware that the evidence against Linda is stronger than we first imagined. Even though she was badly let down by her defence lawyer, this certainly isn't a clear-cut case of innocence.
There have been many twists and turns in the evidence, interviews and footage we have turned up. Almost every week, we seem to change our mind as to whether Linda is guilty or not. But what is beyond doubt is that Linda didn't get a fair trial and doesn't deserve to be on Death Row.
Linda will be killed by lethal injection in an execution chamber watched by her family. Her execution date is soon to be announced, with 90 days notice. We hope our film will be seen in the US, where the only man who can pardon Linda is the governor of Texas, Republican presidential candidate Rick Perry. He is a hard-line supporter of the death penalty, but there is perhaps still an outside chance that this film may just sway him to show mercy – if only to help win some more votes.
My tricks of the trade
Never give up on an epic documentary idea
Make everyone on the production feel loved - especially the people you film
Don't be scared to ask difficult and emotional questions
Get a brilliant editor. It's in the cutting room where the film is really made
Taking sides
Nick Maddocks
Editor/director
The premise for the film was straightforward: raise awareness of the plight of Linda Carty and in doing so, try to help save her life. Achieving that goal in the cutting room has been a different matter.
I was well aware of the constant debates in the office – is she guilty or not? Everyone had their own theory. But as I sat in the edit suite, it suddenly struck me that if we were going to make a balanced and honest film, I would have to get to know this case inside out, and make up my own mind.
There's a wealth of material: more than 70 hours of filmed interviews, six hours of police interrogation videos, piles of crime scene photographs and 30 large volumes of trial transcripts. Linda's legal team has spent the past six years getting to grips with this stuff; I had six weeks.
The trial wasn't filmed, but we had some strong news footage, good location shots and moving documentary sequences. Graphic wizardry would help with the rest.
In the first rough cut of part one, we tried to skirt around the details of the crime – for the first eight minutes, we didn't even say what the crime was.
On the face of it, some of the evidence against Linda is very strong but we'd originally imagined this as a campaigning film. So all we ended up with was a series of talking heads telling us how great she is and how she couldn't have been involved – frankly, it was boring.
It became obvious that for this to be both a campaigning film and gripping television, we would have to tell the full truth as we saw it – no matter how uncomfortable that might be. So that's what we've done.
My hope is that by the end of the film, the viewer will think: "I'm not sure if she's guilty but she didn't get a fair trial and she doesn't deserve to die."