Big Talk's six-part series was a genuinely funny and moving piece of work that "subverted expectations", according to one judge.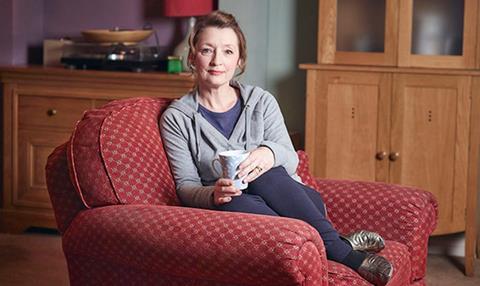 Big Talk Productions for BBC Two
Stefan Golaszewski's first comedy series since his BBC Three hit Him & Her wrapped in 2015, Mum subtly balanced hysterically funny moments with a poignant sadness as main character Cathy grappled with the grief of losing her husband.
Set entirely in her 1930s semi, the series followed Cathy over the 12 months after her husband's funeral as she tackled life alone but surrounded by challenging family members whose behaviour ranged from ditsy to cruel and insensitive. Judges said it was one of the stand-out comedy series of last year.
Mum debuted to 1.4 million (8%) in the 10pm slot and was watched by a consolidated average audience of 1.3 million (7%) across its six-part run in the spring – ahead of the channel's 1.2 million (7%) slot average.
A second series is due this year.
Judges were blown away by the bittersweet tenderness and authenticity of the drama that ran through the sitcom.
One praised the show for the "utterly beautiful and honest performances" of a cast led by Lesley Manville and Peter Mullan.
Another described it as "real, funny and moving", adding that it was "refreshing to see characters like this" in a sitcom.
SHORTLISTED
CAMPING
Baby Cow Productions for Sky Atlantic
Writer-performer Julia Davis was hailed as "a women at the top of her game" by one judge who was awestruck by this "dangerous and edgy" comedy. The realism and authenticity of the world Davis created in Camping was often challenging – one judge was reduced to watching from behind the sofa – but all agreed that it was relentlessly compelling.
CATASTROPHE
Avalon, Merman and Birdbath Productions for Channel 4
Sharon Horgan and Rob Delaney's off-beat relationship sitcom returns to the shortlist, having won the category with its first series last year. Their rare on-screen chemistry and razor-sharp jokes were met with unanimous acclaim from the judges, who once again praised the warmth, intelligence and pace of this hit series.
Michaela Coel's semi-autobiographical debut series impressed the judges with its "particularity of vision" and brilliant performance by Coel as Tracey. It shunned the usually bleak representation of a stereotypical London estate to give an original voice to the vibrancy and positivity of innercity life, creating a show that provided "something unique".
FLEABAG
Two Brothers Pictures for BBC Three
Phoebe Waller-Bridge's stylish stand-out comedy series wowed the judges with the complexity of its main character and her ability to deftly transition between warmth and monstrosity. One judge said it was "one of the few times I've found myself bingewatching a comedy", while another remarked on the smart way that the series developed.
MURDER IN SUCCESSVILLE
Tiger Aspect for BBC Three
The judges loved Murder In Successville's ludicrously original setting, populated by homicidal, caricatured alter-egos of the famous, and were won over by the show's combination of murder mystery, daft impressions, celebrities clowning around and good old-fashioned hysterical improvisation.