With their adaptation of Joseph Heller's classic novel about to air on Channel 4 as a six-part series, George Clooney and Grant Heslov tell Gabriel Tate why the story is still relevant
Production companies Anonymous Content; Paramount Television; Smokehouse Pictures
C4 executives Nick Lee; Simon Maxwell
Length 6 x 60 minutes
TX June, Channel 4
Executive producers George Clooney; Grant Heslov; Richard Brown; Steve Golin; Luke Davies; David Michod
Directors George Clooney; Grant Heslov; Ellen Kuras
Producers Barbara A Hall; Ellen Kuras
Writers Luke Davies; David Michod
Post houses DNEG TV (VFX); Company 3 Post (video); Warner Bros (sound)
It all began with Miss Cobley, back in 1979. Luke Davies, a future Oscar nominee for his screenplay for Lion, was 17 and his teacher had just given him his first ever perfect score for an essay.
It was on Catch-22, Joseph Heller's peerless satire of war, bureaucracy, capitalism and human frailty. A lifelong enthusiasm was born. "I was super-obsessed," Davies says.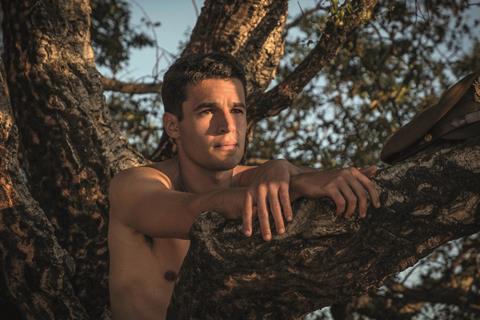 Decades later, after a meeting with fellow Australian and Animal Kingdom screenwriter David Michod and executive producer Richard Brown, who had just finished series one of True Detective, Davies threw in one final thought: why had no one done an adaptation of Catch-22 since the 1970s?
After Brown discovered that the rights were available, Davies spent "a year of hell" pulling the notoriously dense and kaleidoscopic novel apart and reassembling it chronologically.
He then fine-tuned the second drafts with Michod's assistance "to allow the darkness and hilarity to stand on their own", rejected the idea of a voiceover to glue it together, addressed the "terrible, sexist" portrayal of women in the novel and made cynical WWII US bombardier Yossarian the sole focus as he fights to stay alive while Germans and superior officers alike try to have him killed.
Now a name with real clout was needed to get the ball rolling.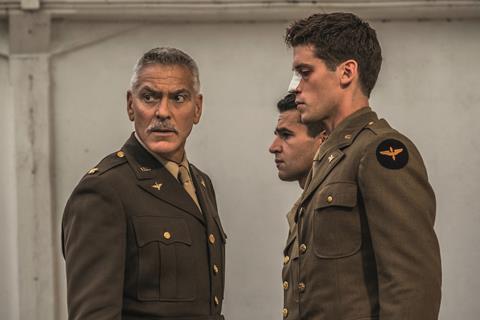 "I got a call from Paramount asking if I wanted to do six hours of Catch-22 and I said, 'absolutely not'," recalls George Clooney. "There's a reason it hasn't been done in decades.
"But then I read the scripts. If you're going to take a year-and-a-half out of your life for a project then it has to be worth it, and those scripts were different. I don't care about the medium, I just care about the quality of the work, and the beauty of being able to tell this story in a longer form is why we wanted to do it."
With Clooney's long-time collaborator Grant Heslov also on board, the project was greenlit.
"I've always loved the book," says Heslov. "George said he'd act in the show to help us get it done quickly, and financing was easy, as far as these things go."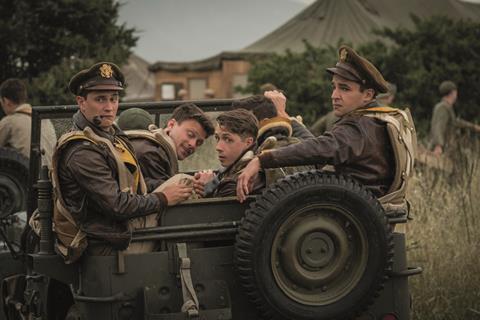 Clooney took on the role of parade-obsessed popinjay.
General Scheisskopf, having been forced to hand the bigger role of Colonel Cathcart to Friday Night Lights' Kyle Chandler to lighten his considerable workload.
Alongside Heslov as Yossarian's confidant Doc Daneeka and Hugh Laurie as enigmatic Major de Coverley, they are the four elder statesmen of the cast. The rest are an array of relative unknowns, many of them British. Heslov reserves his greatest praise for his leading man, Girls' Christopher Abbott.
"We read a bunch of people for Yossarian but when Chris came in, we knew," he says. "That part is so difficult – the character is an antihero, and he does dastardly things in every episode. You have to like him in spite of what he does, and Chris is a very likeable guy."
Abbott bore the brunt of a 'cross-boarded' shoot, in which scenes from several episodes were filmed by three directors during any one day – a technique that saved time and money but brought complications, says Ellen Kuras, who both produced and split directing duties three ways with Clooney and Heslov.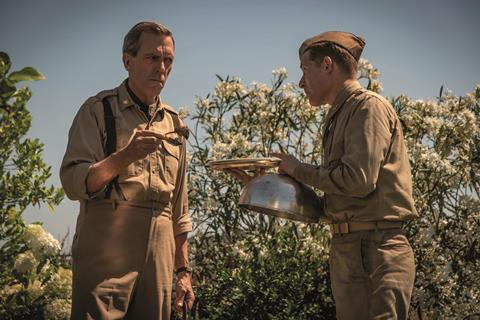 "Normally, each director would shoot two episodes and cross-board those, and then a new director would come in," says Kuras."This was tricky for Chris in particular. Each episode has a different emotional trajectory, and he is in almost every scene.
"But as directors, it was amazing to be able to see what each other was doing. We could make it more like a movie with a much more seamless trajectory."
"The logistics were massive," adds Heslov. "Explosions, planes – there was a lot going on."
The planes were central to the authenticity of the project, with two Mitchell B-25 bombers flown from Ohio and California respectively to the set in Sardinia to add impact to the aerial combats.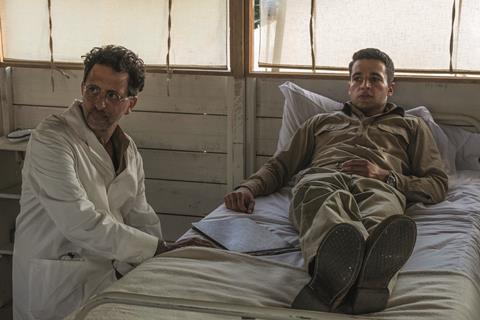 "There were no breakdowns," says Heslov. "The planes were in great shape." Initially, the ambition had been to film the interior shots in the planes themselves, to create a sense of claustrophobia akin to Das Boot, but ultimately they were too cramped, so soundstages were used instead. Other filming choices related to a desire to create familiarity.
"We shot [2005 film] Good Night, And Good Luck in monochrome because we only remember Edward R Murrow in black and white, and similarly, we only remember the war from footage that looks like The World At War," says Clooney.
"Therefore, we wanted Catch-22 to look like 16mm, with a lot of rack focuses, longer lenses and zooms. It was a specific style choice that helped it look a little more real than if we'd shot it really clean."
Kuras says building the series' look was "a matter of finding the right colour and grade to give a warmer quality rather than a cooler quality".
"The book is a classic because the basic tenets remain true: shit rolls downhill, authority is to be made fun of and war is insane"
George Clooney, Executive producer/director
Filming in Sardinia, Italy, brought its own natural warmth and was certainly a better fit for the material than Cornwall, the original location suggested. Perhaps the only downside was a surfeit of Mediterranean extras when the team was searching for blond-haired GI types.
Overall, the experience was satisfying for the producers and underlined the novel's continuing relevance.
"Almost all entertainment is about something else than it was 20 years ago," says Clooney.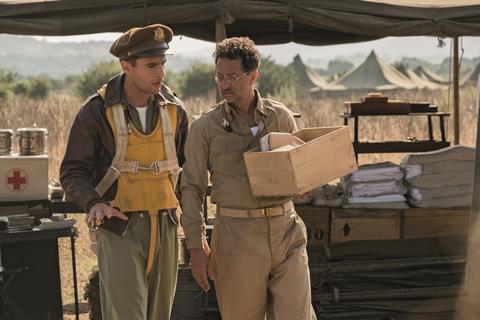 "Sometimes it dates film and TV, sometimes it refreshes them. The book is a classic because the basic standard tenets remain true: shit rolls downhill, authority is to be made fun of, red tape and bureaucracy always exist and war is insane. Catch- 22 would play as well in ancient Rome as it would in the future."
"We all wake up every morning in this condition of shared global anxiety, this anxious powerlessness in our daily lives," adds Davies. "This novel is a prophetic distillation of that anxiety condition. It's the origin story."
Miss Cobley, you suspect, would be proud.
PLAYING THE BOOK'S ICONIC CENTRAL CHARACTER
Christopher Abbott, actor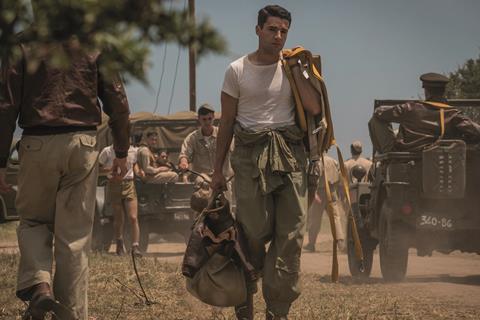 I did think about the iconic status of Yossarian and the Catch-22 novel, but of all the pressures I put on myself, I didn't want that to be one. You're not going to make everyone happy; I just had to play truth, whether that's farcical, heightened or more dramatic.
The truth for Yossarian came from the idea of him constantly looking up at the sky and trying to dodge the lightning bolts, while they hit all his friends around him. He's an existentialist at heart and has a beautiful lust for life. He's not afraid of death, but more of who gets to take his life.
It was nice working with guys who will be fresh faces to a lot of people.
In film or TV, you have to make friends fast and here it happened very naturally because we were in a beautiful place with a group of guys who were perfectly cast. We all got there 10 days before shooting began and stayed in the same hotel, so we went out for dinner, to bars, played sports and exercised together.
I don't usually complain about work, but the cross-boarding made it difficult to keep track of everything. Even so, I think we did a good job of adapting it.