A deliberate ploy of putting women front and centre, both on and off screen, makes this Abi Morgan drama about marriage, family and relationships unique, says Lucy Dyke
Production company Sister Pictures
Commissioners Piers Wenger; Charlotte Moore
Length 6 x 60 minutes
TX 9pm, Tuesday 24 April, BBC1
Executive producers Jane Featherstone; Abi Morgan; Katie Carpenter
Producer Lucy Dyke
Director Jessica Hobbs
Creator Abi Morgan
Writers Louise Ironside; Jane Eden
Script editor Clare Batty
Designer Candida Otton
Casting director Beverley Keogh
This was a rare production from the outset. Abi Morgan had written an extraordinary first draft of The Split – a portrait of a modern marriage and a study of the legacy of divorce in families.
It was about siblings, mothers, daughters, absent fathers and present husbands – and at its heart were four female characters.
The Split is Jane Featherstone's first production from her new company Sister Pictures and it is deliberately female-led. Jane brought me and director Jessica Hobbs on to the project much earlier than is usual, with just one episode written at the point of greenlight.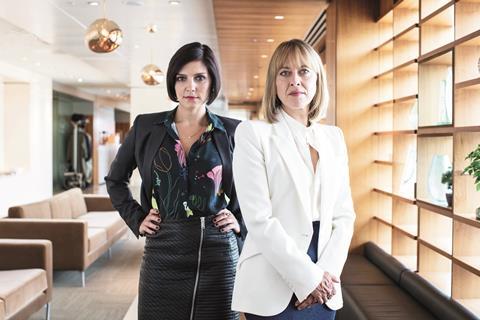 That way, we were able to truly become a part of the DNA of the show. You love and care for it in a completely different way, and you can bring it to life with a true understanding of what it is and needs to be. It was a brilliantly collaborative approach.
In September 2016, Abi, Jane, Jess, Clare Batty (script editor), Louise Ironside and Jane Eden (who wrote on two episodes), exec producer Katie Carpenter and I trekked to a remote countryside pub to storyline the series.
Over three days, we invited prominent female lawyers and barristers to join us and tell us their stories. We shared our own experiences of relationships and family, and we laughed a lot.
Over the next few months, we developed five further scripts and put together our team of heads of development. We interviewed widely, and organically more than 80% of the candidates were women.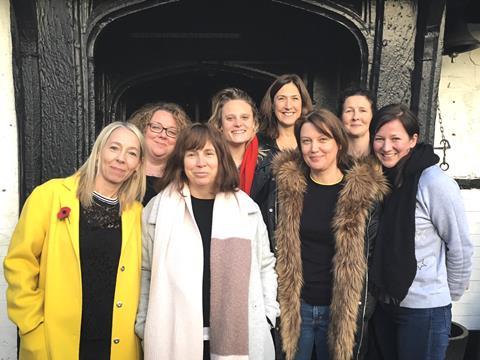 A question we've been asked a lot is: with all these women everywhere, how were we going to make a show that didn't alienate men? (I'm not sure that question has ever been asked the other way around).
The answer? Because of the subject and the writing. Abi hasn't written the male characters as the token 'wives and girlfriends' that female characters are often portrayed as in male-led shows. They're complex, truthful characters with proper lines and proper problems to explore.
It is drama that mines human nature – an invitation into the complexity and intimacy of marriage and relationships. It shines a light on the questions we as men, women, humans, spend our lives trying to answer.
One of the biggest production challenges was finding offices for the law firm, Noble and Hale. London is the divorce capital of the world and lawyers deal with hugely expensive cases – upwards of £10m.
We visited several high-end firms and their offices were invariably affluent, stylish and nearly always had floor-to-ceiling windows with spectacular views of central London.
But finding a similar, empty office in central London with a great view that didn't require a year-long tenancy was nearly impossible. Our designer Candida Otton drew plans for a studio build using translights and green screen. But what we could afford didn't properly reflect the world we were in.
Early on in our research, we'd visited Olswang on High Holborn, a media law firm familiar to many production companies, where Jane and Dan Isaacs had recently signed the paperwork to set up Sister Pictures. On the visit, they mentioned that the firm was planning to move in May 2017 – and our shoot was scheduled to start in July.
Lucy Dyke - My tricks of the trade
It never runs smoothly. Accept that and you're well on the way.
Communicate. As producer, you hold all the secrets – share them.
My secret weapon: at the start of the shoot, I buy a big plastic bucket and keep it filled with Haribo and Cadbury Heroes. You cannot underestimate the nutritional and morale-boosting value of a jelly baby three hours before the end of a long, cold day's filming.
Remember, it's only telly. That one goes a long way.
With a little bit of luck, much generosity from Olswang chief executive and founder Mark Devereux and a lot of holding our nerve, our location manager Antonia Grant managed to secure these real-life, high-end offices with a fabulous roof terrace, the coveted floor-to-ceiling windows and real traffic and people on Holborn below, right in the heart of London's legal profession.
One of my favourite moments of filming there was when Mark, who oversaw the original design of the building, shot a scene with us.
It would be the final time he set foot inside and it was extraordinarily emotional for all of us when he left; his building was being immortalised in our show, as our runner escorted him out for the last time, via the goods lift.
This is a show like no other I've worked on, nor like anything else on telly at the moment. We didn't plan it this way, and it isn't a conscious response to anything that's happened over the past few months, but I'm thrilled to have made a show that puts women at its heart – both in front of and behind the camera.
FINDING THE PERFECT CAST
JESSICA HOBBS - Director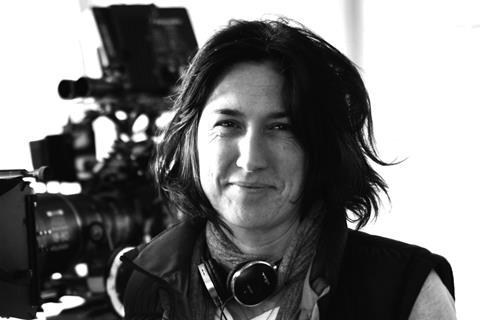 Casting for a new show always has its challenges: subjectivity, prior experiences, putting the right combinations of actors together. For some roles the right choice was immediately clear, for others, there were many options.
Jane Featherstone, Abi Morgan, Lucy Dyke and I, along with our tireless casting director Beverley Keogh, had discussions that were robust, heartfelt and blunt. We ended up with a fantastic troupe of authentic, funny and chaotic actors, who were open to surprising each other, and us, at every given opportunity.
We began with our lead. Nicola Walker's read was smart, funny, truthful and unafraid – here was our Hannah. The search was then on to find her sisters. Fiona Button sent in a tape so unapologetically funny that it was clear she was Rose.
Annabel Scholey was next. With such a mix of insouciance and sadness, she was the missing piece, Nina. We were all fans of Deborah Findlay, and she became their mother, Ruth.
Onto our male leads. We needed actors to match Nicola, who would embody the two different men in Hannah's life; it was vital that an audience buy into Hannah's conflict about them. We wanted to be able to love them both.
Brilliantly funny
Stephen Mangan was always high on our list for Nathan, Hannah's husband. We knew he was brilliantly funny and a great dramatic actor, witty and real, but who could we find that would be a challenge to him, as Christie?
Our casting director Victor Jenkins suggested Dutch actor Barry Atsma. His test arrived and we immediately offered him the role. Barry then wrote us a beautifully considered letter explaining why he couldn't do The Split – for scheduling reasons – but we'd found our Christie and weren't letting go.
I'll always love Jane Featherstone for saying: "You and I both know that Barry is the right way to go and I would rather push the entire production than not cast the right person."
Some of our cast were new to us – Chukwudi Iwuji, Rudi Dharmalingam, Kobna Holdbrook-Smith and Ellora Torchia – and some more well known: Stephen Tompkinson, Meera Syal, Mathew Baynton, Ruth Bradley, Anthony Head… the list went on.
These actors made the world of The Split their own and we will forever love them for it.