Our priority was finding brilliant actors who could explore the shifting dynamics of Torvill and Dean's relationship – so skating ability had to take second place, says Emma Burge
Production company DSP
Commissioners Polly Hill; Victoria Fea
Length 1 x 100 minutes
TX 25 December, ITV
Executive producers Emily Dalton; William Ivory
Director Gillies Mackinnon
Producer Emma Burge
DoP Damien Elliott
Writer William Ivory
Post house Ka-Boom Belfast (with funding support from NI Screen)
It was when listening to Jayne Torvill and Christopher Dean's Desert Island Discs back in 2014 that DSP executive producer and managing director Emily Dalton first had the idea for a film telling the story of the world-famous skating duo.
Both had been brought up near Nottingham in the '60s – Jayne's mother worked in the Player's cigarette factory and her dad at Raleigh bicycles, while Chris came from the mining town of Calverton, where his dad worked in the colliery.
Emily soon brought writer William 'Billy' Ivory – also from Nottingham – on board. With several biopics under his belt, including Burton And Taylor and Bert And Dickie for BBC4, plus the highly successful film Made In Dagenham, Billy was a natural fit and the film was commissioned by Polly Hill and Victoria Fea at ITV.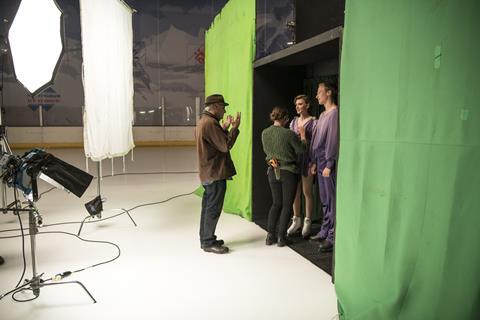 Billy spent a lot of time with Jayne and Chris separately and together, rigorously researching the archive of their work. Gillies Mackinnon was brought in to helm the film, with me as producer.
With a dearth of old-school ice rinks in England (and Nottingham's long since replaced with a modern arena), we turned to Northern Ireland, where the Dundonald Ice Bowl still thrives.
DSP had recently set up a fantastic team in Belfast, and Northern Ireland Screen came in to finish the finance on the film, enabling the production to shoot entirely in the city.
We had a short prep, trying to catch a wave of crew from the extremely busy and expanding (though maybe not quite fast enough) Northern Ireland talent pool. We found some amazing people but had to import quite a few too.
With the heavy responsibility of representing the incredible talent of Torvill and Dean, Gillies's initial thought was to cast excellent skaters, who were also actors, in the leading roles. He could see all the potential problems of breaking down scenes to cope with the physical skill set ice dance demands.
"The contenders in Dancing On Ice have five months to prepare for the show. Our young leads had just five weeks"
But Billy's script emerged not so much as a sporting story about two young athletes striving for success, but more an exploration of the dynamics and shifting chemistry between a highly pressurised male/female partnership. We needed the very best actors to achieve this, so skating ability had to take second place.
After some anxious weeks, we found two fabulous young actors – Will Tudor and Poppy Lee Friar – and they began intensive training both on the ice and in the ballet studio, alongside rehearsals. Just to put their achievement into perspective, the contenders in Dancing On Ice have five months to prepare. Will and Poppy had just five weeks.
We tapped into the trusty Nottingham-based Television Workshop for our younger versions of Chris and his mate Aidy (Mason Hart and Daniel Price) but eventually found a young Jayne (Danielle Hadfield-Easton) skating around the National Ice Centre rink in Nottingham.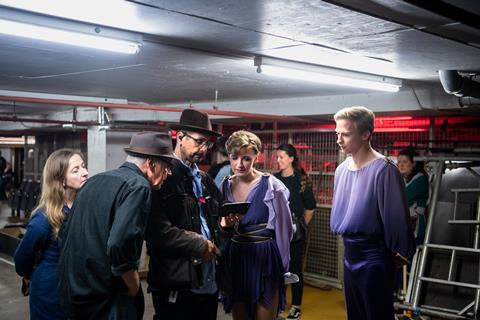 A lovely supporting cast joined us, including Stephen Tompkinson, Mark Benton, Christine Bottomley, Jo Hartley, Jaime Winstone and Anita Dobson.
We were also exceptionally lucky to have the assistance of Penny Coomes and Nick Buckland, current British ice dance champions and Olympians, who trained with our skating actors and doubled for Will and Poppy in the film.
They were brilliantly supportive and incredibly inventive throughout the gruelling two weeks of night shoots at the rink (the daytime schedule at the rink could not be disturbed).
As ever, time and budget were tight, with the five-week shooting schedule fit to burst for a 100-minute film. We had to rationalise locations and join things up.
Emma Burge - My tricks of the trade
Think carefully about your response to your first read of the script – the feeling.
Listen to the writer – they will have spent a long time thinking about every nuance.
Pay attention to detail and be specific. Try not to let creative input be generalised or homogenised.
Time and money constraints can be the mother of invention, so take a parallax view.
You can't please all of the people all of the time.
When things get tough, remember that feeling you had when you first read the script. Keep pushing forward to make sure you deliver on its promise.
The bulk of the film takes place in either the changing rooms or on the ice rink and one big challenge for director of photography Damien Elliott was to find interesting ways to light the stark, vast space (see box below).
Production designer Julian Nagel's fabulous, colourful designs helped to lift the feeling in the drab locker rooms, aided by the wonderful ice dance costumes designed by Marion McCarthy. This all made Chris and Jayne's world a place where viewers will be happy to spend time.
We had to approach the skating sequences in many different ways, according to actors' skating ability and our schedule. Thankfully, our grip Alfie Wentzel came forward with many great ideas and wonderful low-tech, ice-ready dollies and gizmos constructed in his garage.
All through the prep and the start of the shoot, Gillies was looking for a magic moment to enhance the end of Billy's script and it came from first AD Mark Fenn as a solution to a serious practical difficulty we had with the ending.
At these moments and under a lot of pressure, it's great to collaboratively find a simple but beautiful answer to a problem. For me, it's one of the things that elevates a production.
OVERCOMING THE CHALLENGE OF SHOOTING ON ICE
Damien Elliott, director of photography
The ice-skating scenes were shot in two weeks at the Dundonald Ice Bowl in Northern Ireland. Camera movement, gripping and keeping up with two pro ice-skaters, Penny Coombes and Nick Buckland, were among the biggest challenges and none of my camera team had shot on ice before. I had – but for just half a day several years ago.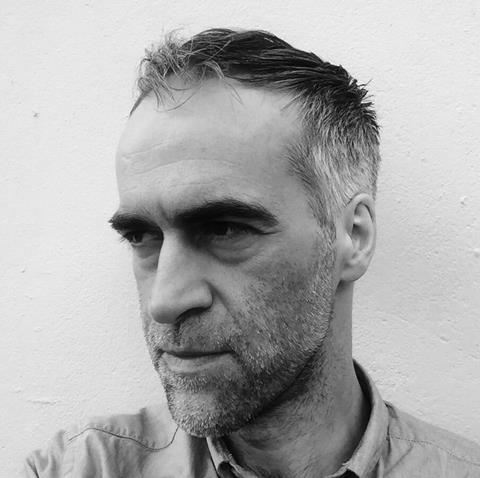 Two weeks before the shoot, I didn't have a key grip – the usual suspects were busy. I've been based in Northern Ireland for 10 years and seen it get busier and busier production-wise – this is DSP's fourth drama out of Belfast.
That's amazing but can mean crewing in some departments is difficult, and we were shooting at the same time as the last series of Game Of Thrones.
Our production manager Carlene Marshall-King recommended UK-based South African grip Alfie Wentzel. Alfie has an engineering background (and is also a black belt in Aikido – best not to get on his bad side), so he was immediately generating great ideas about moving the cameras and building rigs.
He made an 'ice dolly' from an old Vinten flatbed dolly, the wheels of which he replaced with ice blades.
We shot lots on the ice with another rig he made – a bazooka with low-friction feet that slid easily. We put the Movi Pro on this, controlled by Alpha Wheels, so I could operate comfort ably from the monitor. Sometimes the grips pushed this – our male double Nick even took a turn for a few shots.
HIGH-SPEED SHOTS
We also enlisted an ice-skating camera operator, Joseph Harvey, whose background was in rollerblading and shooting with gimbals, mainly using smaller camera builds than ours. The Alexa Mini on a Movi Pro isn't lightweight and Joe preferred short fast runs without any support rig.
He gave us some fantastic shots at high speed and only took one spill on the ice, but even that looked graceful.
The cold would creep up our legs if we stayed still for too long. I had a great team in key grip Alfie, first AC Clare Connor and gaffer Adam Slater but as is so often the case, it's not more or better equipment that you crave but simply more time.