Conceived in 2013 and set just after the end of World War II, it took six years to get this epic political thriller on screen – but it feels more resonant now than ever, says Eleanor Moran
Production companies Twenty Twenty Productions; 42
Commissioners Simon Maxwell; Beth Willis
Length 6 x 60 minutes
TX 9pm, 17 February, Channel 4; Netflix globally later in 2019
Executive producers Eleanor Moran; Rory Aitken; Bash Doran; Tim Carter; Emma Willis
Directors Dearbhla Walsh; Alex Winckler
Producer Rhonda Smith
Creator Bash Doran
Writers Bash Doran; Tracey Scott Wilson; Emily Ballou
Post house Gorilla
It began with a slightly stale chocolate brownie. Bash Doran, award-winning playwright and writer of shows like Boardwalk Empire and Masters Of Sex, was meeting me for a chat and I was decidedly nervous.
General meetings – basically a blind date for drama producers and writers – are something I dread, let alone those with a writer with such an incredible track record.
So to break the ice, I offered her half a brownie I'd bought with my lunch. It had the desired effect: we got on like a house on fire and I got the chance to pitch her an idea with which I'd become obsessed.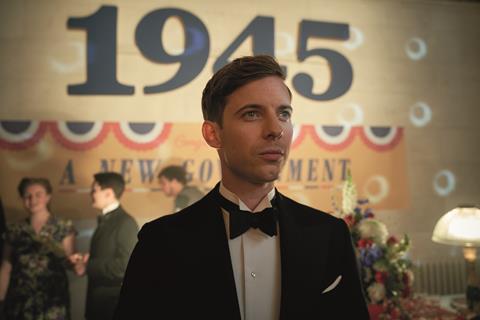 It was 2013 and I wanted to find a way to develop a show in the world of politics, but the contemporary political scene seemed too venal to touch – naive, foolish 2013 me. Was there an alternative time, perhaps one that was defining for women, that would offer an insight into how we got here?
At the time, I was working at Twenty Twenty, which was in production on a factual show, Benefits Britain 1949, in which people lived under the strictures of the benefits system that Attlee's government brought in after World War II.
While many women lost the freedom and opportunities they'd had during the war, the opposite was true of government. Women cabinet ministers and civil servants were key to pulling off the Labour government's ambitious social agenda.
Channel 4 loved the idea but wanted to ensure it wasn't a history lesson. Could it be more House Of Cards? Yes it could. Bash is British but lives in New York, so has a uniquely personal perspective on Anglo-American relations.
As we looked at where the 'Super Powers' sat at that time, we realised that the 'special relationship' was strained after the camaraderie of wartime.
America, Britain and Russia had very distinct agendas, and from that we carved a story of a young civil servant, Feef, who is recruited by an American agent to root out a Russian spy in the heart of government.
I moved to 42 in 2014 to become head of TV, taking Traitors with me, with Twenty Twenty as co-producer.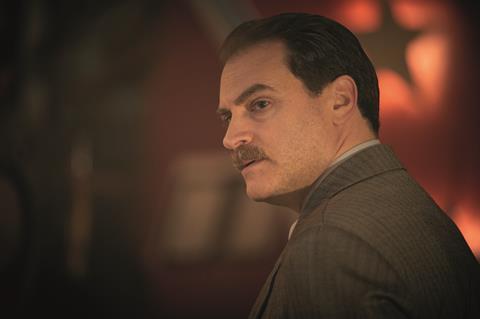 Bash's star was in the ascendant – she juggled the drafts with an executive producer role on The Looming Tower and penning the script for Netflix's Outlaw King – so it took until early 2017 for the green light to come. Weirdly, Brexit has helped us: the nation feels as divided as it did in the aftermath of Attlee's shock landslide victory.
For a period drama as ambitious as this, we needed more than C4 funding and were lucky that All3Media fell in love with the pilot script. With supportive partners in place, we could kick off pre-production in earnest, and All3 netted Netflix as the US partner on the show before shooting began.
We were lucky enough to attract award-winning director Dearbhla Walsh, fresh from Fargo, to shoot the first three episodes, with the back three shot by Alex Winckler.
We auditioned countless actresses to play the part of Feef, but newcomer Emma Appleton stole the show from her first tape, and when she had a chemistry read with Luke Treadaway, who plays idealistic young Labour MP Hugh, we knew they were a match.
When Keeley Hawes read and loved the scripts, we couldn't believe our luck.
Eleanor Moran - My tricks of the trade
Drama's a crowded field. To get the commission, you need both an incredibly clear idea and a real specificity of voice from the writer. I can't imagine Traitors without Bash's unique perspective on that world.
You spend forever developing the first script and addressing endless notes, and then race to write the next in time for production. The more time you can give yourself for the subsequent episodes before production starts, the better. One episode always becomes the problem child.
Drama financing is increasingly complex and a green light isn't what it used to be. We needed to think on our feet to close the deficit.
In many ways, the hardest part of all was Rowe, Feef 's ruthless and charismatic American handler. We had considered the incredible Michael Stuhlbarg early on – Bash had worked with him on Boardwalk Empire – but had been told he was unavailable.
In the end, a flurry of texts between Bash and Michael as he went up to the podium at the Oscars for Shape Of Water's Best Film win persuaded him to juggle his insane roster of movie roles and come to England.
Bash couldn't write all six episodes, and we needed a hive mind to weave complex history into a compelling plot. Later episodes were written by Emily Ballou and Tracey Scott Wilson, an exec producer on The Americans with incredible knowledge of period espionage techniques.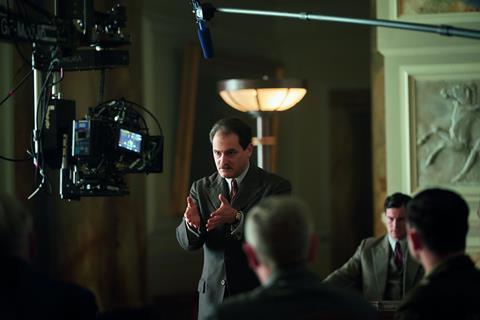 Civil servants, spies and an Oxford professor fed the extensive research.
We built our Cabinet Office in Cardiff, shot elegant London exteriors and took the unit to Morocco to double for the Middle East.
Traitors has been a real labour of love, built off a brownie, and it's a thrill to finally see it landing on screens.
A BALANCE OF INTIMATE AND EPIC
Rhonda Smith, producer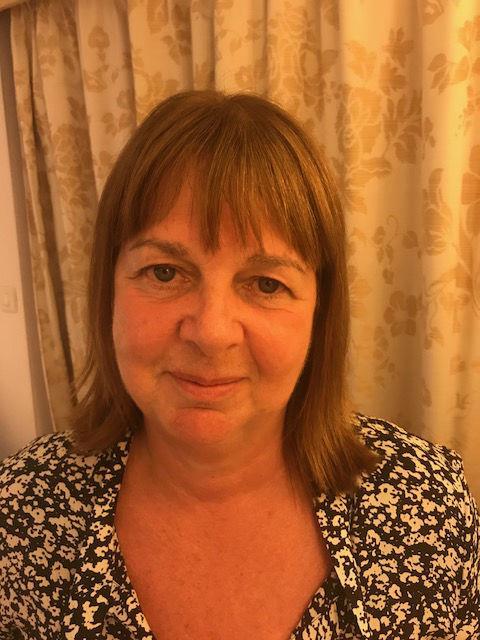 We had always described Traitors as intimate and epic and wanted to make sure this contrast was reflected across the series in both production design and shooting style.
The show is set in Whitehall, which required us to build a Cabinet Office set. Meanwhile, the story is about spying, so it was important to create an environment where the characters had the ability to watch each other's behaviour. This was achieved using internal windows and doors.
Using reeded glass in the corridors added to the tension and helped to create suspicion about who might be watching whom. We had a large number of scenes to shoot in this set, so the other challenge was to think about the movement of the camera.
A steadicam and handheld, along with Dollys and tracks, were used to make the most of the labyrinth we had created. Having ceiling pieces allowed us to hang practical lights, and desk lamps were used when appropriate.
The lighting was an important component and evolved across the series, emphasising the thriller atmosphere as the story progresses.
Authenticity of the period was ensured through costume, set design and make-up. In order to break from convention, the contemporary twist was realised through camera work and score; this included Graham Coxon's Mean Things Happening In This Land, which is used at the beginning of episode one and for our end credit sequence.
We recreated Egypt and Palestine in the Sahara Desert in Morocco. This was a significant challenge as we had to shoot in July, which meant the crew and equipment had to work in temperatures of 50°C.
It was important to create a contrast between the intimacy of the sets and the scale of the exteriors in London and Morocco. Using drones and cranes allowed us to realise what was required from these locations and the contrast from the intimate to the epic.