PBS will look at 10 of the world's greatest empires with Pilot Film and Television's Empire Builders.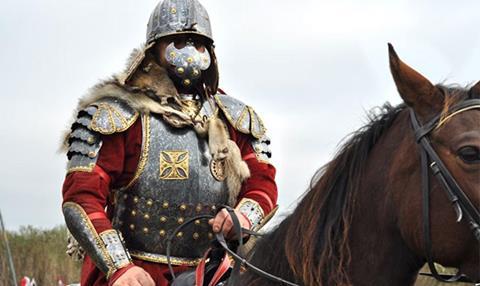 Empire Builders
Distributor Red Arrow International
Producer Pilot Film and Television
Length 10 x 60 minutes
Broadcaster PBS (US)
Set to air on the US public broadcaster in April 2018, each episode will explore a different empire and 10 of its definitive sites.
Empires featured in the series include Egyptian, Greek, Roman and Byzantine, Ottoman, Mayan, British and American. "It's interesting to place the sites chronologically," says Pilot managing director Ian Cross.
Harry Gamsu, vice-president of non-scripted for distributor Red Arrow International, adds: "Profiling these empires through what they created historically is a way to deconstruct them. We all know these sites, so approaching history through that angle gives the series accessibility and scale."
The Egypt episode, for example, begins with the step pyramid of Djoser, the first to be used as a tomb for a pharaoh. The episode ends with the last Egyptian temple built on the Nile, which was later converted into a church by the Christians.
Elsewhere, episodes on the British and American empires will lend a more contemporary lens to the series.
"The American conquests are relevant today," says Cross. "It's not just about robber barons, the Empire State Building and rust-belt manufacturing titans. There is also Silicon Valley and Hollywood."
Rather than rely on presenters, Empire Builders features leading experts who talk and drive the narrative forward. The programme focuses heavily on the architecture of historic sites, and uses CGI to recreate some of the older buildings.
"You switch on and just want to watch all the way through because you see the money on screen," says Gamsu. "There is more content than ever in the factual world, so you need things to be super-visual."
Cross says audiences will observe the commonalities between the great empires: "They all have a similar story. They rise, have a period of grandeur and then they decline, usually because they're running out of money from over-spending."
Pilot produces long-running travel series Globe Trekker, which has aired on PBS since 2001. The company recently secured a green light from US network Travel Channel, Spain's TVE and France 5 for Tough Trucks, a spin-off of Tough Boats and Tough Trains.
For Empire Builders, Red Arrow – which holds worldwide rights excluding the US – will look closely at European markets. "I think the series is broad and big enough to play across free-to-air, but has the scale and ambition to also play on a pay platform," says Gamsu.
As for whether Empire Builders could be formatted, Gamsu says the concept provides "room for more".
"We try to keep it as international as possible for this version, but there's room here to produce further series, and there's no reason you couldn't also focus on specific regions in order to make it more interesting for certain territories. You can definitely sub in your own experts, if a host plays well in that territory."
Red Arrow International's Mip TV formats slate also includes CPL Productions' Channel 4 social experiment The Old People's Home For Four Year Olds, which looks to improve the health and wellbeing of retirement communities by uniting senior residents with preschool children. The programme will debut on C4 in June.
Elsewhere on the slate is entertainment format Global Gladiators. Produced by FischWillWurm Media for Prosieben in Germany, the show flies eight celebrity contestants to a far-flung destination where they play games to test their skills and physical ability.