It might surprise you that Vice Studios produced UKTV's latest gameshow, says Dan Louw
Production company Vice Studios
Commissioner Iain Coyle (Dave/UKTV)
Length 20 x 30 minutes
TX 8pm & 8.30pm, 15 November
Executive producers Yonni Usiskin; Dan Louw; Iain Coyle
Series editor Keith Cotton
Studio director Ben Hardy
Post house Vice
A confession: I have spent much of the last year unsure what the hell was going on. So, if you're wondering exactly how Vice Studios made a quiz show – it is not necessarily they type of content we are most known for – well, I'm not exactly sure I know either. And I was there for all of it.
Beat The Internet – a highly addictive family-friendly quiz where contestants have to guess how search engines might finish sentences, based on the most popular search terms – is about as far from Vice's wheelhouse as you can imagine. It's a world that we had to learn to operate in quickly. We had a great idea for a show, we just had to figure out how to make it.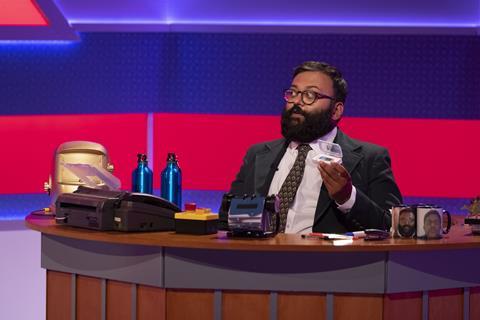 It's to the eternal credit of Richard Watsham at UKTV that he didn't laugh us out of the room last winter when we mentioned that we had a gameshow for all the family. Nothing is ever commissioned 'in the room' these days, but I felt we got pretty close.
Fast forward to six sweltering days in August in south London, where we filmed 20 episodes and almost nothing went wrong. It was only when the crew began to take down the set at the end of the final record that I allowed myself to think: "This is actually happening".
There were several reasons that I think we achieved what we initially set out to do. One, at the risk of sounding pat, was a fantastic team.
Keith Cotton, our series editor, loved the format from our first meeting and strongly believed, as I did, that it was really just a question of putting the show on and staying within the budget. He put together a production team that made the whole weighty operation look like light work.
Two, the channel just let us get on with it. Iain Coyle, our commissioning editor, never lost faith in the basic gameplay and was prepared to trust us that it would turn out okay – or perhaps even better than that, it could be good, really good. "You can't stop playing it," he kept saying.
As long as we never lost sight of the 'play-along' element, everything else would fall into place. Iain let us make big decisions about the direction of the comedy, and when he liked something he was very vocal about it.
My tricks of the trade - Dan Louw
Book a good team and let them do their job.
Get creative with the budget – less money often means higher creativity
Stop what you're doing and listen to people when you are asked a question
Test, test, test and test games.
And then test some more and a bit more after that.
For example, we really wanted stand-up comedian Sunil Patel to be John Robins' sidekick for the show proper, having worked with Sunil on a previous Vice TV show. Iain instantly let us run with the idea that our 'expert' quizmaster and sidekick figure knew literally nothing and, in fact, wasn't even sure what the internet was.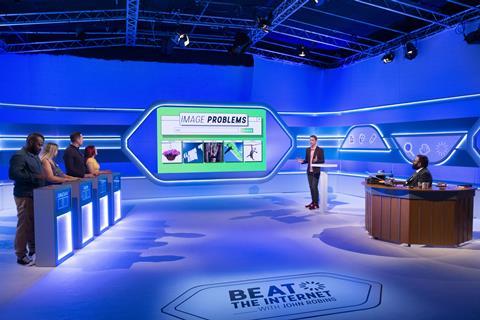 Thirdly, John Robins, our host, is both hilarious and hilariously competitive. I played Beat The Internet with John and his agent in their office and was stunned at how he knew every answer within seconds of the question appearing on screen. "I," he said, "am very good at quizzes." He wasn't lying.
John then came into the office and played the game with a few members of our team. By the end of the first round I knew we had our host. The one bit I was most worried about – establishing a tone that didn't take itself too seriously, while also being a highly playable game – was solved in an instant.
When we ran through the game for the channel against an empty cyclorama wall in south London, I knew we were most of the way there. John ad-libbed a line about Lady MacBeth that only he could have thought of and we had to delay the next question until everyone had stopped laughing.
And finally, it worked because people believed it would.
Another confession: I wasn't initially one of those people. When a colleague suggested that we try and pitch the fun but flawed quiz show idea I had first thought of while playing with my phone in a traffic jam on the North Circular, I was somewhat sceptical. "No one is going to commission a game show from us," I said. "Do you know how hard it is to get those things away?"
When I told Alex Horne, my AP who had honed and crafted the format with me, that there was a plan to do this, he just shrugged and said: "Why not?" Turns out, they were right. Telly still has an infinite capacity to surprise. So does Vice.
COMBINING FUN AND FUNCTION
Keith Cotton, series editor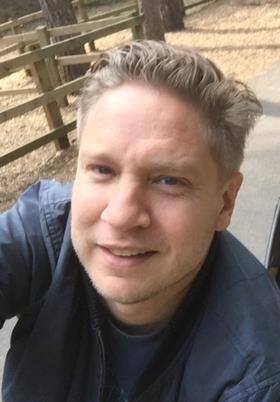 "What are people searching for? The Life Of…" "Brian, Pi, erm… Pablo?"
When you end up playing and enjoying the gameplay during your very first meeting with the exec, you know it's going to be all right. I had faith and a trust in this deliciously playable format 10 minutes into the first meeting. After all, there is a common universality to the game – almost everyone has used a search engine these days.
With budget tight – yawn – and the aim to ultimately record four shows a day (which we achieved), like any good gameshow we needed a fool-proof gameplay system that had to be robust, reliable and adaptable; able to withstand the demands of a 20-show series.
Step forward Richard White's Earth London, which produced a one-stop shop of gameplay systems, titles, stings and graphics. The graphic visual look of the show needed to match the cleanness and unfussy nature of the format; clear readable type, bold block colours and a familiarity of a search engine interface.
The hi-res screen centrepiece was going to be doing a lot of the heavy lifting, being in shot for most of the show. It was a testament to the gameplay graphics that our wonderfully quick-witted presenter John Robins didn't need cue cards. Search questions, question reveals and answers were all easily referenced.
We made the show a happy collaboration between lighting – most of the surfaces were colour-changeable, set and music. Bespoke buzzer noises were composed to fit in with the feel of the show. Everything had to be fun and functional.
A glimpse into the personal search histories for each contestant was a key format point and a successful ruse to the eternal gameshow conundrum of how to know and care about a contestant quickly. This information was seamlessly inserted into the GFX package just an hour before recording.
A half-day gameplay systems testing was incredibly important in the schedule, before any camera shots had even been looked at.