As the Hairy Bikers fulfilled their ambition of riding the iconic US highway, we wanted to capture unexpected moments rather than an endless stream of diners, says Dick Sharman
Production company Twofour
Commissioners Catherine Catton; Max Gogarty
Length 6 x 60 minutes
TX September, BBC2
Executive producer Dan Adamson
Producer/directors Dick Sharman; François Gandolfi
Series producers François Gandolfi ; Dick Sharman
DoP Jon Boast
Camera operator Steven Donelly
Sound recordist Tim Pitot
Home economist Rob Allison
Production manager Lucy Blatch
Post-production manager Antonia Cloke
Assistant producers Rosie Pooley; Kelly Ruane
Production coordinator Ellie Phillips
Runners Leon Moran; Kate Howe
Post house Twofour
The initial idea was for the Hairy Bikers to set out on their most epic and longed-for trip yet: following Route 66 across America. Along the way, they would discover what has made it so iconic and delve into the heart (and stomach) of the country.
We decided to go from east to west to capture the spirit of adventure and opportunity associated with westward travel in the US. But Route 66 isn't the Mediterranean; there are no glistening blue seas lapping up against spectacular coastlines. Instead, the first leg was Illinois: a vast, flat state the size of the old West Germany – in a rather grey spring.
You have to be careful that your Route 66 experience isn't an endless succession of diners and we wanted to capture the iconic and unexpected: a kitsch roadside attraction; a visit to an Amish community; cowboys in Texas; Bosnians in St Louis; a Depression-era burger joint in El Reno, Oklahoma; and an organic sweet potato farm.
Building strong narratives was as important as delivering great locations, characters and food.
It was a huge logistical undertaking. In particular, we needed to transport two huge Harley-Davidson motorbikes for those occasions when the Bikers weren't riding them. Luckily, that was rare because loading them onto a van wasn't easy.
A LIFE-CHANGING TRIP FOR THE WHOLE TEAM
Si King and Dave Myers, The Hairy Bikers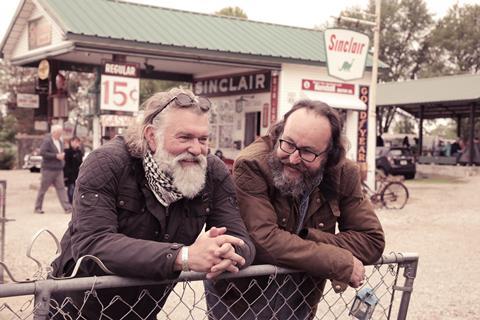 Si King Route 66 is so important in terms of social history, in heading west towards California for fame, fortune and prosperity. That history is the stock and trade of Dave and I, quite apart from the food.
The year before this journey, we did a charity ride through Vietnam, British Columbia and Alberta in the Canadian Rockies – obviously, we weren't filming that, but we were making some money for charity and having a really good time. We've never lost that love of going off together.
Dave Myers When we managed to lose the crew in Missouri, we were still sitting there with a coffee in a truck stop talking rubbish, which we've done for 25 years. It was a magical trip and if anything, it brought us closer together in a funny sort of way.
SK There were a lot of times when there was nothing, just the pair of us sitting in a motel room with a six-pack of beer like we did 25 years ago.
What was great is that we had the dream team on this. We have a team that goes back to Mum Knows Best days, more than a decade ago.
People come and go, but producer-directors Dick Sharman and François Gandolfi and the camera crew have been with us since those days.
DM Obviously, over 10 years, we've had some amazing adventures with these people. When we did Route 66, there was so much passion and excitement, and it was quite special and really memorable. Almost lifechanging for all of us, really.
There was one fateful occasion when a truly biblical storm hit us in Missouri. Dave and Si struggled on until at last they had to concede defeat and pulled in at a service station.
A rescue mission was dispatched to pick up the extremely wet and cold Bikers and take them to the hotel, without their bikes. It was only the next day we realised that there was no way we were going to get those bikes up the ramp at the back of the van – we had practiced this in the UK, but the vans we procured in Chicago were higher at the back.
By sheer luck, a couple filling up a Winnebago saw us struggling and, as it happened, their vehicle was designed to transport two Harley-Davidsons. Karma was working in our favour. Needless to say, we picked up new vans at the first opportunity.
François Gandolfi - My tricks of the trade
Don't turn on your hotel TV. Your valuable time can be used more effectively – for sleeping.
Don't finish everything on your plate. No one wants to see the director dozing off by 3pm.
Show your gratitude to those who show you incredible hospitality. Thanks to our AP Rosie Pooley, we flew over with an eclectic haul of British souvenirs to give to our hosts.
Trust your instincts. Every moment of every day requires a decision. Sometimes there is no time for anything more than instinct.
It's your adventure too. Taking pride in the incredible journey you're on will get you through the longest, hottest and hardest days.
Cooking en route is always a challenge, and Route 66 pushed our home economist Rob Allison to the limit. His finest hour may have been setting up a cook on a remote section of a Texas ranch overlooking a beautiful river valley, accessible only with a 4x4 and plenty of local knowledge.
Rob decided to charm the locals and improvise. His fire pit consisted of the rim of an old jeep scrounged from behind the stables. There was also a little dynamic risk assessment necessary to mitigate the possibility – not mentioned by the cowboys on the recce – of a visitation by rattlesnakes. And wild pigs.
Lost in translation
Then there were the location permissions. Although we share a language with Americans, it isn't necessarily the easiest place to film.
In St Louis, we had recced a great location for a cook – right in front of the Gateway Arch, overlooking the Mississippi River and symbolising the 'gateway to the west'. Perfect. But it slowly became apparent that we'd been granted permission to film at an adjacent spot instead – where we couldn't see the arch at all.
Much consternation and running around ensued, before our home economist found a Mississippi River boat, where the Bikers cooked a wonderful baklava. A river boat and a baklava may sound an odd combination, but thanks to what the Bikers had discovered about this mythological road, it actually made perfect sense.
I flew home with a tonne of amazing memories and my fingers firmly crossed for my co-director François Gandolfi.
SPLITTING ROUTE 66 DOWN THE MIDDLE
Francois Gandolfi - series producer/director
Dick Sharman directed one half of the road trip and I did the other. It's an impossible task for one person and luckily Dick and I have worked together before, so it was easy to split the route down the middle.
Dick's the most British person you can imagine and I'm not. But our different styles work well together. We both agreed that the real US isn't what you see on TV and we wanted to unearth this vast country in a way that was real, pure and honest.
Quite apart from the towns and cities, we found a very quaint way of life deep in America, travelling through Tucumcari, Kayenta, Gallup and Acton, California. We realised we had to film as unobtrusively as possible to capture the very nature of these places and people.
CULTURAL SYMPATHY
It requires a tremendous amount of patience and understanding – and importantly, being sympathetic to the sub-cultures. For example, we carried a small stock of wine for the Bikers' recipes. But we couldn't cross into Navaho territory with any alcohol on board, so we had to pour it away.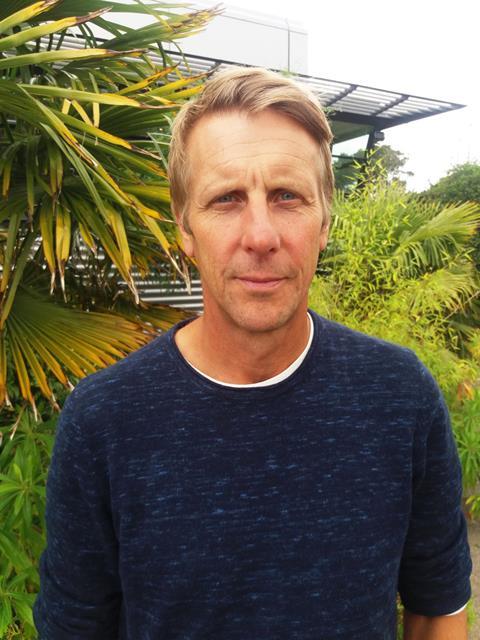 Dick had to rescue the Bikers from ice-cold rain, but a different challenge lay ahead for me: we endured temperatures of 48°C in the Mojave Desert.
That's tough going on a bike, and the guys had to stop every 30 minutes for water and to get some relief from the bikes burning their legs. The focus quickly turned from seeking out stunning landscapes to finding the nearest air-conditioned building.
Logistics became everything: we had to be on top of road conditions, distances, fuel stations and stops. As visa and licence costs had climbed ahead of the shoot, we'd headed out without the luxury of a fixer, which meant the team were under increasing pressure.
Every moment of every day, we were thinking about the looming black clouds and whether we should film the guys riding or press ahead to the next place.
Should we film for longer or move on? We never quite knew what was around the corner so it was a matter of making our best judgement calls.
By the time we stepped onto Santa Monica Pier, I had learned to trust my instincts and open my mind more than ever before.