Enfusing comedy into our reality horror whodunnit in a wet forest in Lithuania was an unforgettable experience, says James Donkin
Production company Tuesday's Child
Commissioner Peter Tierney (ITV2)
Length 5 x 60 minutes
TX Sunday, 27 October
Executive producer Steph Harris
Series editor James Donkin
Series producer Ben Wilson
Line producer Rachael Hankinson
Series director Mike Parker
Post-house Evolutions
Camera and technical Video Europe
Audio Just Audio
Distributor Keshet International
In January 2019, ITV2 commissioned Tuesday's Child to make Killer Camp – a stripped horror reality whodunnit set in a 1980s American summer camp where unsuspecting campmates must expose the killer amongst them, as one of them is brutally 'murdered' each gory night.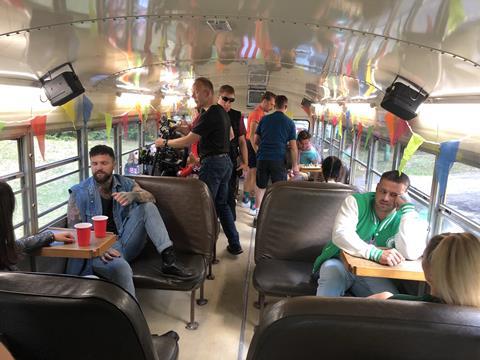 After years spent learning the dark arts of terrifying people in forests with chainsaw-wielding clowns, slobbering German Shepherds (dogs, not farmers) and vomiting twins in our pre-Tuesday's Child lives as producers on Release the Hounds, we set out to create a show that made viewers shriek with laughter as much as they shrieked in fear, with a reality cast in which they could really invest.
We wanted to lure viewers in with the promise of hilarious cinematic deaths and masked serial killers and keep them hooked as the murder mystery, skulduggery and real relationships play out.
Knowing that whoever you are watching might be the killer adds a whole new layer of intrigue. The innocents made friends to protect themselves, while the killer made friends to put them off their scent. The gameplay is powered by winning friends and influencing people.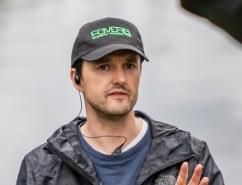 Tricks of the trade – Ben Wilson
Don't overstuff episode one. Give yourself time to tell the viewer what they need to know about the world.
Always have wet weather options for games. Additional to that, 60 towels between 11 contributors is not enough to stay dry.
Invest in top story producers who understand the game and develop a cracking system for keeping on top of who said what, about who and when.
A killer soundtrack goes a long way. It's worth investing serious energy choosing the right tracks; check out our Spotify playlist coming soon.
When dealing with secret identity games, ensure as few people are in the circle of trust as possible.
With encouragement, the contestants adopted the preposterous vernacular of our horror movie world; people weren't voted off, they were 'murdered'; the saboteur amongst them was the 'killer'; and each night campmates really, really didn't want to 'die'. The effect is contributor conversations that were totally natural but could have been a scene in Scream.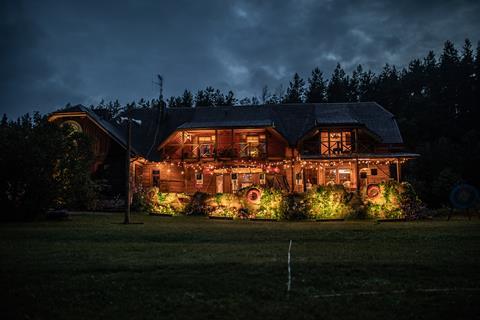 We wanted the experience to be as immersive as possible for both the contestants and viewers, so we created Camp Pleasant, housing the contributors in a beautiful lakeside lodge, complete with its own logo, branded outfits and vintage Americana, in a forest in Lithuania. The art department's attention to detail was second-to-none, helping to deliver real Hollywood bang for our non-scripted reality buck.
"Our contributor conversations were totally natural but could have also been a scene in Scream" - James Donkin
We needed genuine reactions when the true nature of the show was revealed on camera to contestants, well into the first day of filming. That meant that contributors not only needed to be double released, but it also carried the genuine risk that any of them could bail when the 'Summer Camp' they had applied for became the 'Killer Camp' we had created. (We had standbys holed up in a hotel in Vilnius and back in London, to cover that eventuality).
Hiding our 'killer' among the contributors was a cloak and dagger efforts, says Ben Wilson
The cloak and dagger efforts were made trickier when recruiting the killer to hide amongst the cast. We knew we needed to pick the perfect, resilient and most cunning character we could find, who was also not predictable to cast nor viewer.
Sadly, the Lithuanian weather proved hugely unpredictable, turning from sunshine to torrential rain and thunderstorms in seconds, and meaning, with a hugely tight schedule, big calls had to be made in conjunction with executive Steph Harris about moving outdoor games under cover.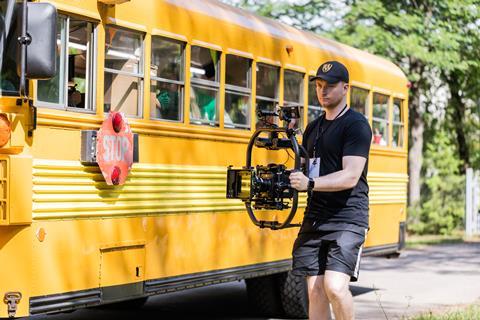 Contingencies were in place but moving entire units from beautiful outdoor locations over several miles at the last minute is always a wrench and required everyone to dig deep as rain-drenched sets were packed onto pickups.
Geography also meant that it didn't get dark until close to midnight – we required night for atmospheric campfire and murder scenes – so filming days started with breakfast at 2pm and wrapped at 2am.
Local crews and language barriers made the days even more intense, but we were fortunate to work with a great first AD who helped to keep us on track – just.
Gory contestant deaths
The cinematic quality also factors into another unique aspect of Killer Camp – the gory contestant deaths. Pete Tierney and Paul Mortimer at ITV trusted us to run with the idea and realise its full gloriously gory potential, while Neil Francis from legal guided in getting the tone of the murders right and compliant. Pete also rightly pushed us to hammer home the format clarity and rules of the game, taking viewers clearly on the journey.
We wanted each of the eliminated contestants to become the star of their own horror movie. We promised over-the-top Hollywood deaths (see box below), but how would these grisly bits of fiction sit within a reality show? We decided our host, comedian Bobby Mair, should narrate the deaths round the campfire like a ghost story.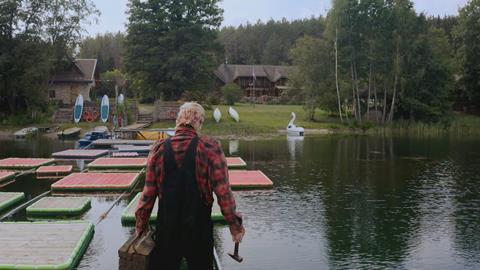 His recounting of their murders distances the death from the reality of the show. We're clearly not actually murdering people, but they are a funny, bloody way to eliminate contestants each night.
The murders are actually carried out by the killer's lumbering psychopath 'Bruce', played by a massive Russian actor, who had a terrifying habit of wandering around set in character. "Has anyone seen Bruce?" became a constant refrain on set.
Speaking of which, look behind you…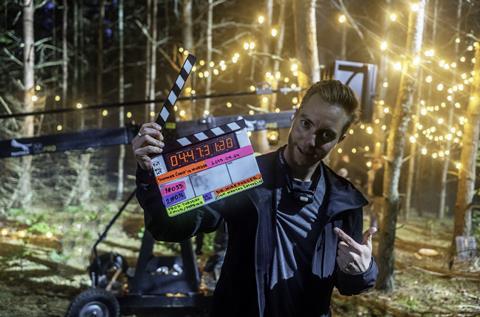 Mike Parker, series director
When I got the call to series direct a project that would combine multi-camera reality, action-packed games and drama reconstructions of five gruesome murders, I jumped at it.
I soon found that making the murder reconstructions feel authentic, scary and believable while delivering Hollywood-level death scenes on an unscripted reality budget would become the biggest challenge we faced.
Filming the murders under the cover of darkness, and being near summer solstice in Lithuania, meant we would only have six hours of darkness to film before sunrise.
Therefore, to make the schedule possible, we had to keep each murder simplistic but at the same time it was imperative not to sacrifice coverage. It was crucial to crack each murder at the storyboarding phase, and so we went into each sequence with a clear vision and each shot was factored into the tight schedule.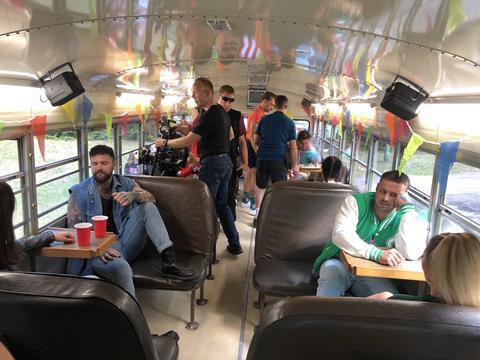 In conjunction with Video Europe, I opted to film the murders with two cameras to give me the flexibly of capturing multiple angles and shot sizes during each take to save time and give options in the edit.
I decided on the Alexa Amira and the Alexia Mini, coupled with Lecia Summilux-c prime lenses, due to their low light capability and cool cinematic look.
Steadicams, jibs and drones delivered cinematic scale and perspective, and, an M90 Arri HMI mounted on a cherry picker gave us a beautiful 9K 'moon' as the main lighting source for the murders.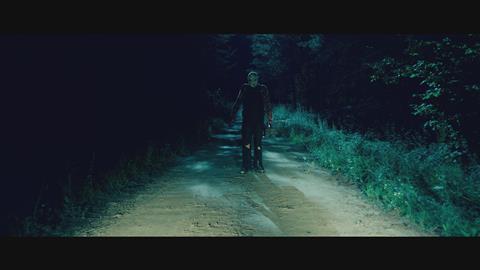 The 'kill' moment
Each murder had its own unique 'kill' moment, which involved special effects, prosthetics and a lot of fake blood. With most of these moments, we only had one or two takes to nail it due to the reset time and cost of each stunt.
As we were using contributors who were not actors, we had to hit the right balance of letting them know what was going to happen and also keeping them slightly in the dark, so we could capture natural, genuine reactions from them.
Once in the edit, we gave the reconstructions anamorphic letterboxing and a cool blue grade to make these murders jump out and give the nod to modern horror movies, maintaining the cinematic feel.