When ITV2 wanted to supersize our six-part reality dating series into a three-week, stripped partner for Love Island, it pushed the format somewhere totally fresh, says David Williams
Production company Keshet Productions
Commissioner Amanda Stavri
Length 15 x 60 minutes
TX 9pm, Monday 2 September, ITV2
Executive producers Ros Coward; David Williams
Series producers Katy Fox; Paul Hepplewhite
Series director Paul DeFreitas
Head of production Marisa Guagenti
Line producer Katie MacKay
Post-house Evolutions
Rig NEP
"Come to Amsterdam – there's a producer there I think you should meet," said my boss Sammy Nourmand soon after I arrived at Keshet Productions.
Better than another wet winter's day in Camden, I thought, and so began an almost two-year rollercoaster ride that culminates next week with the launch of Singletown on ITV2.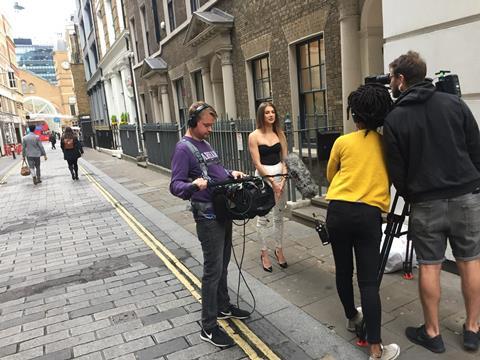 All hopes of a day sightseeing were dashed when we arrived at a Dutch business park in a monsoon, but as we talked with Kirsten Jan van Nieuwenhuijzen, one idea called Single For Six Weeks quickly bubbled to the top.
Kirsten and his colleagues had taken the idea of a 'relationship sabbatical' and developed it into a reality format in which couples knowingly press pause on their relationship and move to a major city to decide whether they are better together or apart.
The idea felt hugely timely, speaking to the digital dating world where singles can always swipe left to see if the grass is greener (#thankyounext).
Once back in the UK, we pitched the idea to Paul Mortimer at ITV2.
Given that in Love Island, the channel already has the pinnacle of dating shows played in a foreign land against blue skies, we wondered if there might be space for a 6 x 60-minute reality dating series that begins with a unique starting point – five couples splitting up – and brings dating into an urban environment: more Sex And The City than Temptation Island.
Paul got the idea immediately and, excitingly, saw the potential to supersize it into a strip and create a perfect partner for Love Island.
So the appetite was there but the challenge had become developing the initial idea into a three-week strip. Led by our Keshet development guru Jamie Ormerod, we spent the next 12 months fine-tuning the format and regularly feeding back to both Paul and commissioner Amanda Stavri.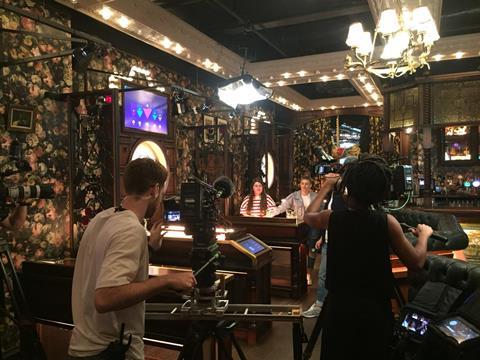 The pair would ask questions such as: could the format work with contributors of all sexualities? Could we add exciting talent into the mix?
Far from complicating the process, responding to each request pushed the show somewhere totally fresh. The chance to make a new kind of reality show that combined the slick, glossy aesthetic of a constructed reality series with the unfi ltered authenticity of a rigged show like First Dates or Big Brother was incredibly exciting.
As we returned to ITV with our updated treatment before Christmas, it felt like we had cracked it, but the idea had outgrown its previous title. "How about we call it Singletown," said Paul, quickly followed by: "How much is this going to cost?"
Impossible task
With a commission tantalisingly close, there was a real possibility of missing out because the show was unaffordable.
Marisa Guagenti, our head of production, swung into action, working with the key suppliers and our location manager to try to find a way through.
Finding a location for our two apartments that allowed them to run from the same gallery and with space for our production office felt at times like an impossible task – and that was before we had to factor in the cost of shooting up to six dates and activities per day at locations dotted across the city.
But early in the new year, we found the perfect location in a beautiful warehouse by the River Thames in Wapping.
David Williams - My tricks of the trade
Having scouted every building in London, we struggled to find a suitable rooftop for our weekly ceremony. The production team spotted a roof terrace on a building through Google Earth that wasn't advertised, but was perfect.
Being on any more than three WhatsApp production groups is the road to madness.
Splitting the senior producer role into location and post-production allows for some fresh eyes and the perfect skill set for each stage.
A Deliveroo rather than on-site catering for the production team every once in a while goes a long way.
The reality gods were smiling and after daily conversations with every upscale estate agent and location library in London, we got the green light from the channel.
With the locations in place, casting began and, thankfully, the lure of three weeks of luxury London living proved appealing to a range of couples, each with very different reasons for wanting to take part.
Filming in London in May didn't bring with it a requirement for the cast to look beach-ready, so we were able to cast broadly, but were determined that each couple would be in a fully committed relationship – Singletown may be a TV premise but the stakes are high and the jeopardy and emotional currency had to be absolutely real.
Almost two years after fi rst pitching, the day finally arrived when five crews filmed five couples saying their goodbyes and breaking up. Once the tears had dried (all from the boys), we took them to Singletown and the fun and games began.
MODERN TAKE ON REALITY
Paul DeFreitas - series director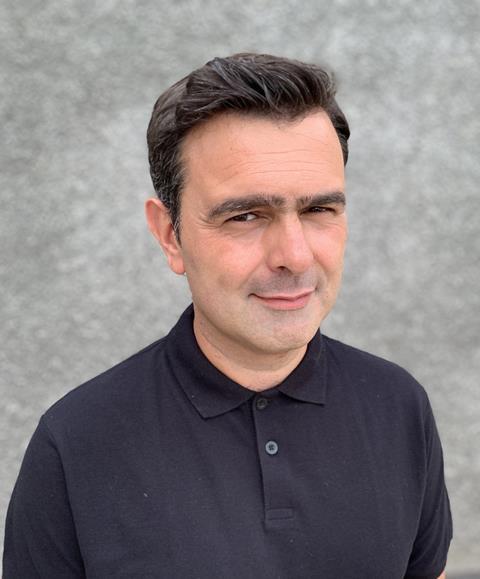 Our plan was to make Singletown feel modern, sunny and aspirational, showcasing the hustle and bustle of London as our backdrop but capturing all the action in the most natural and unfiltered fashion possible.
The main challenge we faced filming in May was the city itself: as great and beautiful as the capital is, it's no LA when it comes to sunshine.
We used tricks such as making our subjects wear colourful clothing to stand out on a grey cloudy weekday; warm, soft lighting; and gold reflectors.We tried to shoot key scenes during the (fleeting) golden hour.
London is a busy, working city, so we had to rely on being quick and flexible, shooting in between moments of sunshine, traffic and mobs of workers.
To do this, each date was shot with three Sony FS7 cameras and a GH5 on a Ronin S, shooting in a 10-bit codec, so that all cameras matched easily in a Baselight grade.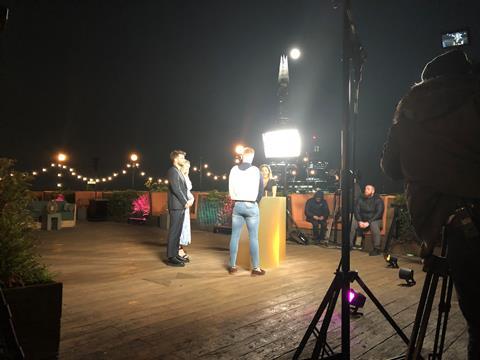 Having enough cameras to follow the action allowed the dates to flow freely; we didn't want to interrupt our subjects, so they could genuinely enjoy their time together – or not.
We made a conscious decision to film from a distance to help capture natural reactions. To do this, we shot on 70-200mm lenses on a 35mm sensor to help our subjects feel at ease and at the same time create a more voyeuristic look that would match the fixed-rig-style apartment reality.