The adaptation of Raymond Briggs' classic was unlike any other TV project, according to the VFX firm responsible for bringing the book to life.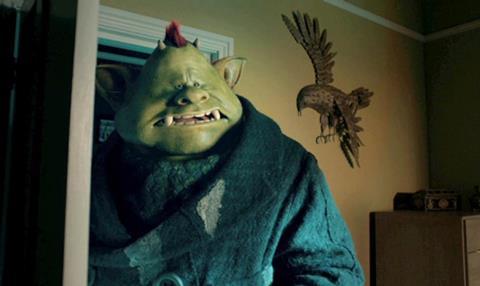 Production companies Sky; Imaginarium Studios
How it was done Sky's three-part adaptation of Raymond Briggs' Fungus The Bogeyman, which combines live action with extensive CG work, was "unlike any show we had worked on before," said DNegTV VFX supervisor Hayden Jones.
"It really pushed the boundaries of what you can do on a TV budget and timescale."
During a test phase of around four months, a headbrace-like tracking rig featuring two bands of metal with rigged-in LED lights was developed to fit within the profile of Fungus' head.
That allowed a composite head of lead character Fungus to be placed over the rig.
"The final show contains around 750 shots, so we needed to create something that was robust and that would work in the dark and in the light, and at distance and in close up. If we had ploughed straight in without the test phase, it would have been almost impossible to complete the show," said Jones.
DNegTV's primary tool was Maya, which is the "backbone" of the company's VFX workflow. Nuke was also used, while Isotropix's Clarisse was the package of choice for rendering and Shotgun was used for shot management.
One of the biggest challenges for Molinare colourist Chris Rodgers was creating the correct "bogey green" colour.
Human skin tones are pivotal in any grade, so scenes with only bogeymen didn't have a familiar point of reference, which meant Rodgers had to relearn how to grade green skin tones.
He worked with Jones to make sure that his work complemented the VFX. Rodgers said that because DNegTV's work was so "incredibly consistent" there was little requirement to isolate or key any of the CG elements.
Rodgers also used the grade to add slight highlight diffusion to soften the digital image, created a vintage film look for one sequence, and added some animated skewing and warping for a dream sequence.
DNegTV constantly referred to the source material of Briggs' work (every artist had copy of the book on their desk for reference at all times, said Jones) to make sure their 3D work an accurate portrayal of the original drawings.
"One of best moments of the project was an email from [Briggs'] agent to say he had seen the first episodes and that he really thought it captured the essence of his work," said Jones.
Watch it Sky 1, Sunday 27 December