Sponsored content
Find out more
Barclays has developed a receivable purchase capability specifically for the TV space
Barclays has had a dedicated media team for more than 30 years and over that time, we have seen the market evolve quite dramatically.
We have progressed from providing straightforward finance against UK broadcaster licences to more complex funding packages involving overseas broadcasters, co-productions, merchandising and tech platforms.
As an institution, we are determined to listen to our clients, understand their challenges and tailor our products for this ever-changing content market.
Rising budget sizes and changing payment terms have driven an increase in the size of a production's potential funding gap. It wasn't so long ago that productions were generally funded in-house, with even a long-form drama budget comfortably under £10m.
New technology has driven consumers' desire for bigger, better-quality dramas (not to mention more of them) and Hollywood talent no longer see television as career suicide. This has resulted in a typical high-end drama project costing as much as £20m-£30m and a typical producer may well be working on more than one project at the same time.
Increasing the amount we can lend on a single production to £25m and working with other lenders for amounts in excess of that is therefore a big focus for us.
"We have developed a receivable purchase capability specifically for the TV space"
With the emergence of Netflix and Amazon, and their subsequent success in original content, the question of how to manage the SVoD model of licence payments after delivery – rather than the long-standing model of payment-on-delivery that has typically cash-flowed commissions – has become a big one.
For a production company, holding SVoD risk for several years on your balance sheet could reduce lending opportunities or be restrictive to your growth or working capital. Therefore, we have developed a receivable purchase capability specifically for the TV space.
Once a piece of content has been completed, delivered and accepted by the counter-party, we are able to purchase the debt from you, assuming the risk and collecting the receipts directly. This in turn removes the liability from the balance sheet and frees up cash for the next production.
Traditional TV revenues are still solid but digital revenues are currently enjoying double-digit growth. There is no doubt that the growth of the SVoDs has been felt by traditional broadcasters, with almost half the population subscribing to at least one platform.
This presents opportunities for broadcasters, producers and platform providers to develop partnerships and create exciting content.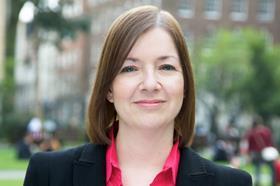 I look forward to continuing to support this sector and, with my team, building on our solutions to help producers make the high-end original TV for which the UK is known and respected.
■ Lorraine Ruckstuhl, head of media, Barclays