NAB 2016: Ikegami has launched a new switchable 2k to 4k camera and is showcasing the 8k camera that it developed with NHK.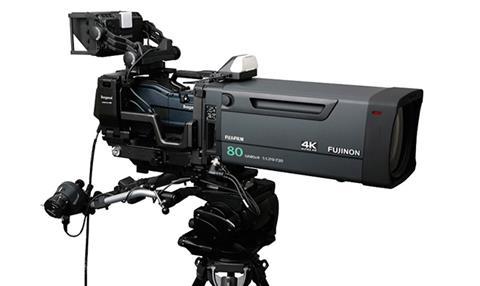 The UHK-430 is the first product in the Unicam XE camera series. Designed for use in either the studio or on location, it features three 2/3-inch 4K (3840x2160) CMOS sensors with 8 million pixels per sensor and RGB prism optics.
Switchable between 4k and 2k formats, it can also output both 4k and 2k at the same time, with the 2k image being cut-out from the 4k picture.
For low power consumption the UHK-430 incorporates Ikegami's new AXII ASIC. It also includes iLog, the Ikegami log transfer characteristic for HDR (high dynamic range).
The 8k camera is the SHK-810 which was developed in conjunction with the Japanese broadcaster NHK. This camera has a 33 million pixel Super 35mm CMOS sensor with PL lens mount, achieving a limiting horizontal resolution of 4000 TV lines.
The camera is considered notable because it is small enough and light enough to be operated in the same manner as current HD broadcast cameras.
Also on show at NAB are two new Ikegami-designed 4k monitors.
The HQLM-3120W is a 31.1-inch broadcast quality monitor that incorporates a 10-bit, LED backlit, UHD LCD panel with a contrast ratio of 1450:1. It has two 4k inputs plus 3G/HD SDI and HDMI.
Also on display is a prototype of an alternative model that has a special panel supporting HDR.
[Stand]
C7825