Patience and diligence were key to capturing agricultural life in our ob-doc, says Mark Beech
Production company CTVC
Commissioner Victoria Noble (Discovery)
Length 10 x 60 minutes
TX 9pm, Tuesday 7 Jan 2020
Executive producers Jeremy Phillips; Caroline Matthews; Mark Procter
Series producer Mark Beech
Lead producer / director Charlie Kinross
Post house Splice
Born Mucky: Life on the Farm is a truly ambitious commission. We wanted to create a series that takes viewers on to farms and makes them feel like they are up close, knee deep in corn, muck or engine oil as the farmers wrestle with the challenges of surviving another make-or-break year.
This would all be delivered as a visual feast in 4K that celebrates the British countryside in all its glory.
Our goal was to find an ensemble cast of characters who lived and worked on very different UK farms. We wanted a mix of archetypal countryside folk, as well as the next generation of farmers who were forward thinking with the kind of bold and ambitious plans that their fathers would never have dreamed of.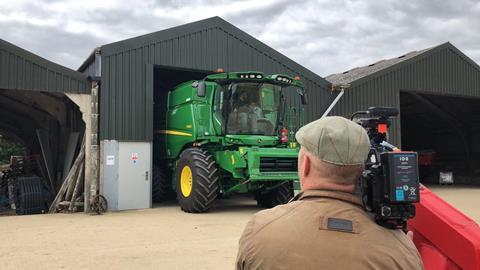 Critical to casting was a willingness to let us pry into their business affairs with difficult questions about their financial struggles and strategy for the future.
As it turns out, many of the farmers we contacted were open about facing economic hardship and were anxiously relying heavily on their next harvest – or their new side enterprises – to pay the bills.
After months of casting we found Ally, Tom, and Ian: three farmers who don't hold anything back and who are naturals in front of the camera. They each run very contrasting farms; one scruffy and sustainable, one impeccable and high tech and one tenant farmer who needs to diversify his income to survive. What they have in common though, is a deep love of the industry and their ancestral farms.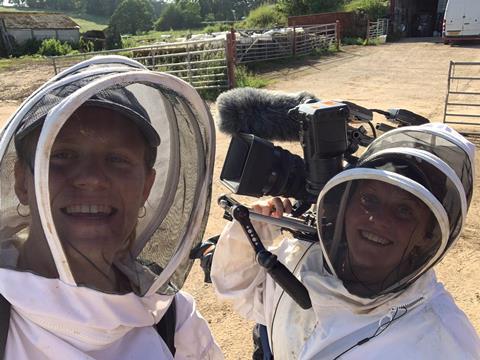 We knew our crews would have to work many hours in the lashing rain, baking sun and freezing cold. They would be tested physically on uneven terrain, around huge machinery and unpredictable animals, so directors were chosen for their proven experience in the field; filming in remote locations for long durations away from civilisation (no offence meant to the farmers, of course).
The decision paid off, especially on one long 48-hour wheat harvest on Tom's farm, which was stopped by a lightning storm. Our director, Charlie Kinross, was still there by the side of the farmer after all those hours, capturing the flash of lightning as Tom jumped out of his exposed combine to the safety of the yard.
To bag unpredictable moments like that, during a long process, takes incredible stamina and patience that is usually honed on shoots in places like Alaska, which our directors had done.
Money saving moments
A farmer's work undulates between busy planning and frantic dashes, interspersed with long periods of waiting. Like any ob-doc, this makes it difficult to schedule crew movements.
We could afford some 'lie-in-wait' filming, but we couldn't rely on that completely as it would have torched our budget before we'd even got to the edit, so we decided to target certain stories.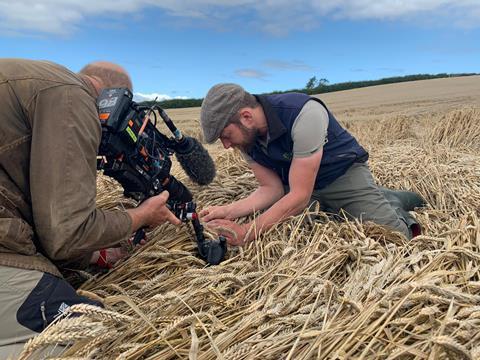 However, if you ask a farmer what they're doing next week, they sigh, then tell you, 'If I knew that I'd have retired by now'. After many inconclusive phone calls, I decided to visit the farms in person to do some snooping.
Spending time with the farmers, family and workers I overheard snippets of information that the farmers had taken for granted; Ally telling his dad he needed to clear "that rusty kit out of the barn", which became the farm machine auction story in episode six; and Tom muttering about 'black grass' – a rampant weed in his wheat, which provided our unexpected story for episode one.
The mixture of both planned and lie-in-wait filming led to us capturing twisters, machine breakdowns, moonlit harvests, bird attacks, a farm machine theft and escapee cattle. The balanced approach was essential for our budget and editorial.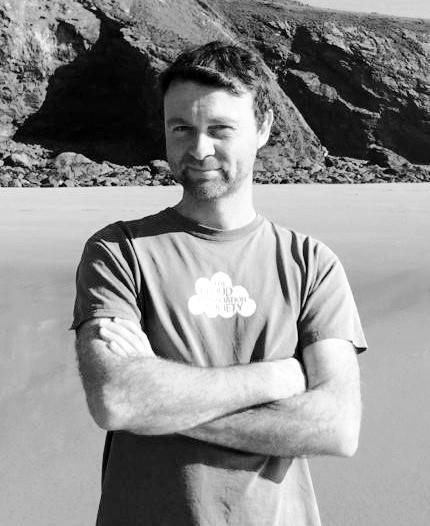 My tricks of the trade: Mark Beech
Live and breathe the filming with the crews. If you've got a team filming at midnight, let them know you're still awake too. Send jokes or ask for a fun picture of the filming. They may know what you're up to, but it still goes a long way.
Edit footage early – it's true of any ob-doc. If the crews need guidance and refining, you want to catch it early.
Involve your editors in the big picture. As a former editor of ten years, I fully understand the immediate stress if they are missing a cutaway, but once they understand what the PDs were up against, they are more likely to work their magic.
Set time aside early on to chat with your camera hire company and ask them about the latest gizmos. They'll be the first to know about a new gimbal, mini camera or lighting accessories.
Be prepared to choose a smaller camera if the directors feel it'll help with location comfort and stamina. With the long filming hours, it was easy for us to choose the manageable FS7.
Your onscreen characters are people, not puppets. If you want someone to get into a tractor for a third time, take time to explain why.
On one occasion, we had two hours to film an essential scene that couldn't be repeated; a farmer completing the build of a new pig hut. We were stood ankle deep in mess and sweating in 30°C heat, when a cow escaped in a field on the horizon.
We had one camera and a stressed farmer, but we really wanted to get that shot of the cow in the moment. It's hard to make good decisions in such expansive situations, even for more seasoned storytellers. For this reason, we encouraged the location teams to share the editorial load.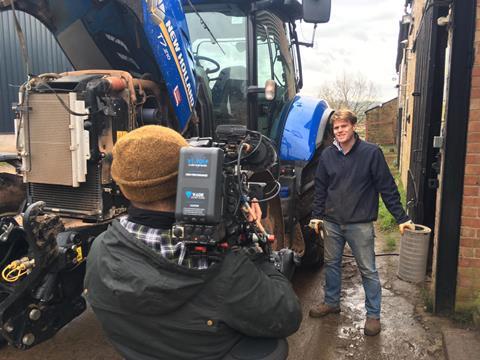 We wanted our PDs to get the opinion of the location assistant, no matter how junior they were, as there was no room for pride to harm great stories.
Junior team members often see things differently to the PDs; they benefit from having watched everything unfold 'for real' and not through a lens. They also see things more like a viewer would, which can sometimes reveal the obvious answer.
Therefore, the team decided: we would film the cow. The right decision was made in my honest opinion.
The funniest part of Born Mucky: Life on the Farm came from our director's wardrobe department. We had sent the crews off to film in the early summer, dressed like typical media types straight from the city.
Three weeks later and there was no telling them apart from the farmers. Clad in wax jackets, wellingtons and flat caps, we thought we'd gained some supporting cast.
SELECTING THE RIGHT RAW MATERIALS TO FILM IN FIELDS
Charlie Kinross
Lead producer / director
Sometimes in TV you have an hour or even a whole day when you remember why you love the job; a moment of creative joy when it stops feeling like work and you can't stop grinning.
On Born Mucky – Life on the Farm these moments were tied up with a piece of kit that became invaluable. The DJI Osmo looks like a toy but gets gorgeous 4K footage.
You can hold it out of the window of a 4x4 and drive on stubble in a field beside a combine harvester and get delicious stable tracking shots of the massive machinery in action.
Harvest is such an important time for our farmers and having the right kit to capture the action and not slow the farmers down was vital. The Osmo gimbal was a gift that kept giving and the FS7s were light enough to move with, just small enough to squeeze into a cab for an interview with, and rock solid all day long in the mud and the barley dust.
We arrived at the FS7 ii after testing it against the F5 and F55 in 4K. The rental house Genesis brought us the three different Sony bodies and a variety of lenses from Canon, Sony, Fujinon and Zeiss to test, and I felt that the FS7 ii gave great, crisp images in the medium, and had by far the best ergonomics for our fast moving, shoulder-mounted show.
We combined them with the new Sony EPZ18-110mm lens, which held up well against the more expensive glass tested; didn't bust the budget; and enjoyed the advantages of native E mount compatibility.
The wide spread of focal distances meant we wouldn't be constantly kneeling in a dusty field changing lenses and introducing the lovely 4K chip to random bits of chopped hay.
We did add a 70-200mm Canon to cover longer shots of elusive pigeons and a 16-35mm wide for interviews in some vehicles where the longer zoom was physically just too big to work comfortably within a tight spot.