Rishi Sunak to boost flexibility and invest £126m into training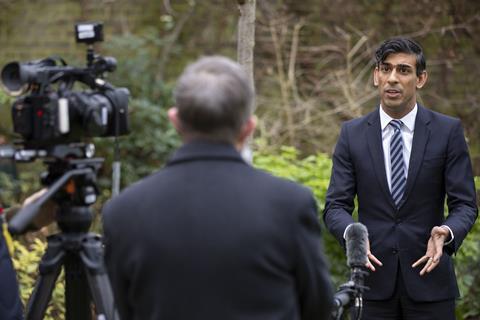 The chancellor looks set to answer trade body and lobbying group's calls to make the Apprenticeship Levy more flexible in this week's budget, while injecting £126m into trainee programmes.
Rishi Sunak's plan, to be unveiled on Wednesday, will enable apprentices to work for a number of different employers in the same sector, via an agency instead of a single employer.
Trade body ScreenSkills already intends to bid for funding from a £7m UK-wide fund to manage the flexi-job apprenticeships, which will commence in January 2022.
The amount paid to each employer who hires an apprentice has also been upped to £3000. It was previously £2,000 per 16-24 year old apprentice and £1,500 for over-25s.
ScreenSkills Chief executive Seetha Kumar said: "We look forward to working with government on making this proposal work to support our world-renowned film, television, visual effects, animation and games industries."
Traineeships
The move is being paired with a £126m investment into funding 40,000 more traineeships across all sectors.
Creative industry groups such as ScreenSkills and Directors UK have long railed at the inflexibility of the Apprenticeship Levy, which doesn't account for the fact that apprentices move frequently between jobs.
The levy takes 0.5% of the salary bill from all major employers who have a plus-£3m wage bill and is meant to pump this money back into training.
But ScreenSkills has previously estimated that 75% of the £20m Apprenticeship Levy available to the screen sectors has remained unspent due to its incompatibility with the industry.
According to Peter Cheese, the head of UK HR body the Chartered Institute of Personal and Development, the levy has "failed on all key measures" since its 2017 introduction.
Elsewhere in the budget, self-employed people may face an increase in National Insurance contributions, according to several reports over the weekend.
Any such move will likely be met with fury from a group of people who have struggled to access support during the Coronavirus crisis.