Industry pays tribute to 'one of TV's coolest and most fun executives'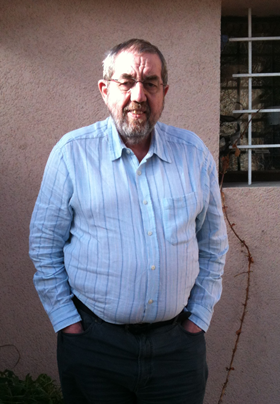 Outline Productions and Field Day Productions chairman and industry stalwart Chris Pye has passed away at age 71.
Pye, who died suddenly of a heart attack on Tuesday night (9 July), has been described by friends in the industry as a "tremendous bundle of energy" and "one of TV's coolest and most fun executives".
Pye began his career in 1969 as an entertainment producer at Granada Television in Manchester, before going on to set up the business' Liverpool operation, exec producing the company's regional output.
"Chris gave me my start in the TV business at Granada, as he did for hundreds of others in the industry. There are people at the top of the TV profession in the UK who owe their start to him."
Jeremy Fox, DRG chairman
In 1980, he relocated to Los Angeles, where he produced and wrote five series of NBC's long-running, Emmy-nominated true crime series Unsolved Mysteries.
He wrote and produced more than 1,000 hours of other entertainment and reality shows, such as ABC's That's Incredible, syndicated human interest programme You Asked For It and Fox's Totally Hidden Video.
"Chris was one of TV's coolest and most fun executives fun to deal with. There was always a little bit of rock and roll in his approach to problem solving.
"He was a delightful man, a pleasure to deal with and someone who got things sorted. He was always calm, wise and respected. He was good company, enjoyed a gossip and definitely preferred a great bottle of Bordeaux to the likes of Bikram yoga."
Andy Harries, Left Bank chief executive
Pye later set up his own LA-based indie, Chris Pye Entertainment, which struck an exclusive two-year deal with Fox. He also exec produced and wrote primetime series for CBS, NBC and ABC.
In 1993, Pye returned to the UK to run Anglia Television and then became head of entertainment at BBC Television. He was later head of commercial and business affairs at BBC Production. He played a key role in setting up BBC America and sat on the board of BBC Worldwide.
"Chris was my boss at the BBC when he was head of entertainment. Every meeting was simply a run-through of the good, the bad and the bewildered that was BBC comedy before he decided it was time for a drink.
"A thoroughly decent man, he once told me that whilst working at Granada he had to fire 42 people in a single day. He decided to do each one face-to-face and by the end of the day, exhausted, he realised he'd fired 43 only to later figure out he'd fired the same person twice as the poor chap returned to pick up his coat. Terrible, but funny. I shall really miss him."
Kevin Lygo, ITV director of TV
In 1999, he became commercial director of Granada Television and ran distribution arm Granada International, prior to joining Sony Pictures Television in 2002 as vice-president of worldwide formats, before taking on a series of non-executive director roles in the indie sector.
These included Dutch firm 2waytraffic – which bought the rights to Who Wants To Be A Millionaire? and was acquired by Sony in 2008 – where Pye served as chairman and deputy chief exec.
Most recently, he was chairman of Imagine Nation, a Dutch-based stage, event and film exploitation company, as well as British boutique financing firm About Corporate Finance and indies Outline Productions, Absolutely Productions and Field Day Productions.
He is survived by his wife Frances and daughter Holly, who is commercial director for Objective Media Group.
"He was a constant source of humour, gossip, advice, intrigue and wonderful insight"
Wayne Garvie reflects on his 20-year friendship with Chris Pye
"I first met Chris when he tried to coax me into joining the BBC in 1998. A clandestine meeting took place in a seedy hotel in Brighton, in his bedroom actually. In a cloud of cigarette smoke, Chris sat at a table, a particularly good bottle of Italian chianti in front of him. He was very persuasive.
"When I started at the BBC, my first meeting with him in his office at Television Centre also featured a cloud of smoke and a bottle of red wine, although this time I think it might have been French, possibly a Burgundy. He always had a bottle in his desk drawer. You would drop in for a chat, a gossip and come away a lot happier. Over the next twenty years, there were many bottles of wine although, thankfully, the cigarettes stopped.
"He would hold court down the road in Albertine's on Wood Lane, with schemes and plans. He was a constant source of humour, gossip, advice, intrigue and wonderful insight.
I once asked his opinion of an entertainment commissioner. He said: 'He's started to have theories. When they start to have theories, you know they've lost it.' He was one of the first Brits to have worked in the US and, back in the UK - he worked everywhere, with everyone and on just about everything.
"He was especially happy to have been inexplicably made redundant at least twice by Sony, which paid for many years of those holidays in Italy looking for truffles. He had the perfect face for a truffle hunter. Although I always thought his idea of truffle hunting was less scampering around the woods and more scampering through the menu of a restaurant in Lucca.
"He was like Charles James Fox, of whom they said he 'astonished his contemporaries by the quantity of his play and the quality of his work'. He and Jules Burns formed a band and made a record. Chris, it turned out, had a voice like a red velvet slipper that had been on a 40-year pub crawl.
"He was utterly unique, a tremendous bundle of energy that never stopped fizzing until now and I'm sad because I won't bump into him and his plastic bag on Chiswick High Road and a 'Shall we have a coffee? There's someone you should meet.'"
Wayne Garvie is president of international production for Sony Pictures Television