A third of producers grappling with prospect of staff cuts
The threat of redundancies is looming at more than a third (35%) of UK indies, according to a Broadcast survey into the damaging impact of the Covid-19 pandemic on the production sector.
More than 70 indies responded to the analysis of the market, with 10% definitely set to implement lay-offs and 25% grappling with the prospect in the near future.
Coupled with the expected reduction in the size of the freelance workforce - a group that has been disproportionately hit by the effects of the coronavirus - producers' move to reduce headcount could lead to a heavily diminished sector.
"Producers are in real trouble," said one unscripted indie boss, who is considering making redundancies. "Neither the broadcasters nor the freelance community truly seem to understand the extent of this."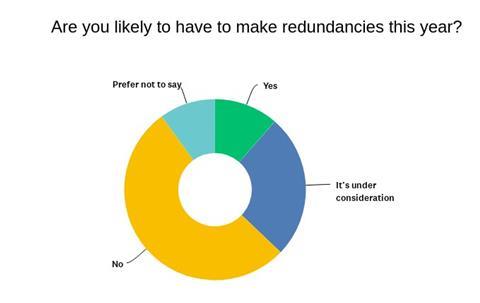 Of those respondents to the survey either committed to or preparing for reducing their headcount, the majority (70%) are based in London and do not belong to a larger group (73%).
Mandatory pay cuts are also common withing the indie sector, with 35% of companies responding to the survey indicating that they have asked employees to sacrifice some portion of their salary.
One indie exec respondent suggested too much focus has been on on-screen talent during the crisis. "The industry hasn't emphasised just how many people are responsible for making a TV show, and therefore how many jobs in all the different areas are to be lost," they said.
Another figure at a top-level unscripted producer warned that time is ticking away because broadcasters remain reluctant to restart productions, despite being given the greenlight by government. They suggested these delays could also adversely affect the workforce.
The first unscripted indie boss suggested the current situation has been caused by years of having to operate on the tightest of margins.
"Distribution earnings carried the sector through the previous storm – the 2008 financial crash – but now the indie sector is even less resistant to shocks and there are fewer cheques in the post for tape and format sales," they said.
A scripted exec, whose company is considering lay-offs, put it succinctly: "We are in unchartered territory. There is no formulaic way to deal with the unknown."
Furlough in fashion across sector
Meanwhile, indies have been liberal in their use of the government's furlough scheme, which closed to new entrants last week and has also been used to support some of the eligible freelance workforce.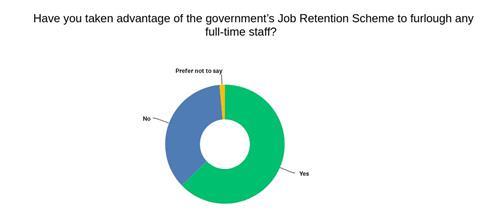 Almost two-thirds (63%) of respondents have taken advantage of the scheme, which pays out 80% of a person's monthly wage bill up to £2,500.
Some 20% of the companies using the scheme have furloughed more than half of their workforce, with one placing 99% of staff on the scheme.