Lygo speech was revealing but more work is needed on Diamond
There weren't too many burning industry issues dominating this year's Edinburgh International TV Festival – where was the debate on C4's potential relocation, the latest M&A rumour, or the spectre of Netflix coming to eat everyone's lunch? – but I still took away plenty of insights.
First and foremost, there needs to be a call to arms. When diversity monitoring initiative Diamond was announced three years ago, it felt like a potential gamechanger.
"The release of the first tranche of Diamond data felt like a spotlight with the dimmer switch turned down low"
I recall Baroness Oona King suggesting it would highlight best practice and shame those lagging behind by "turning on the lights". The release of the first tranche of data felt like a spotlight with the dimmer switch turned down low.
The broadcasters are right that this is a solid start, and the CDN should be praised for getting the project this far. But the whole sector needs to work hard to understand how it can generate a response rate above 25%, to turn Diamond into a genuine catalyst for change.
Commissioners and producers with any knowledge of why their crews and programme-makers declined to take part must feed it back. Freelancers who chose not to fill out the form must do the same. And if the answers aren't clear, people and organisations need to take responsibility to find out why. It is vital that a clearer picture has emerged by this time next year.
Perhaps the greatest insight into channel strategy at Edinburgh came from Kevin Lygo, who offered plenty of gems in among the barbs and quips: ITV loves old viewers just as much as young, and new shows 100 Years Younger Experiment and Last Laugh In Vegas have more than a hint of Marigold Hotel about them; ITV's budget will be maintained in the face of the falling ad market and it believes it can get a few more shekels out of Sky thanks to the success of ITV Encore box sets; and, most importantly, the scheduling risks are here to stay.
Don't be surprised if Lygo tries again to extend ITV's primetime into 10pm (though it won't be with The Nightly Show) and expect several stripped events with a clear "roll up, roll up" call to viewers in 2018.
Finally, there were two tapes that caught my eye at the festival: Sky 1/Primal Media's Carmaggedon and BBC2/Blast Films' Gifted.
The former combines humour and danger in a format that looks like a real-life Robot Wars (even if the producer says not), while the latter couldn't have been simpler: it features two young lads from poor backgrounds talking about their education ambitions.
Gifted promises a macro look at social mobility and a micro look at family life. The two shows couldn't be more different – and perfectly reflect the fantastic creative range of British TV.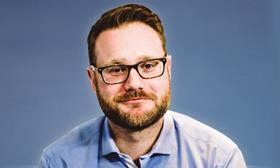 Chris Curtis is the editor of Broadcast