Cutting-edge production techniques helped our series show why homeowners are choosing not to move, says Laura Mansfield
Production company Outline Productions
Commissioning editors Kirsty Hanson; Hilary Rosen, UKTV
TX 8pm, 25 March, Really. Also on W
Series producer Paul Tasker
Production manager Louise Young
Executive producers Laura Mansfield; Helen Veale; Andra Heritage
Production executive Emily Freshwater
Producer/directors Kirsty Seager; Emily Brown; Helen Barker; Lucy Johnstone
Studio director Kyle Prince
Studio DoP Paul Curran
Post-production Clearcut
Distributor Red Arrow Studios International
"Don't you think that pink's too fleshy? Too millennial? No, it's more Financial Times."
I weirdly love those moments in TV when you find yourself having a totally absorbing conversation about something random and seemingly entirely insignificant, but hugely important.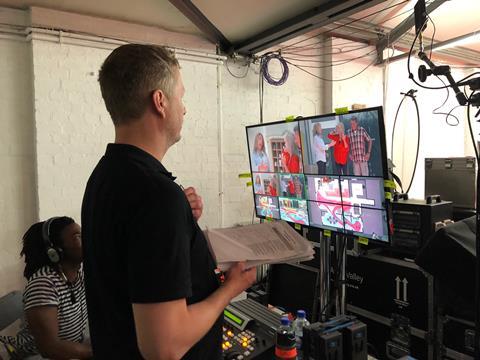 So, it was that myself, our series producer, designer, production manager, director and DoP spent two half days in AV company Anna Valley's Isleworth warehouse walking back and forth staring intently at screens and at our feet on a section of digital LED flooring.
We tried out dozens of different shades, filters and luminance levels of pink, yellow, green and grey to work out which colour was least likely to give you a headache while still looking good on screen and flattering skin tones.
Creating a life-sized digital floor plan as the wow moment at the heart of Outline's new Sarah Beeny-helmed property format for UKTV's Really and W channels was central to our preparations. The broadcaster had greenlit us to go straight to a 20-part series, so all the prep really mattered if we wanted to deliver the ambition of the format on a tight budget.
We wanted to create a standout format which delivered on a competitive budget and brought fact-ent scale, visual drama and surprise to a well-trodden genre, which is typically single-camera and entirely location-based.
Our idea was to supersize the plans of a house and display them in a studio space to bring the problems with the layout to life for viewers and contributors, and then show which areas of the home the family were making use of before revealing Sarah Beeny's design solutions. We could shoot two or three families a day, minimising presenter travel and maximising production value.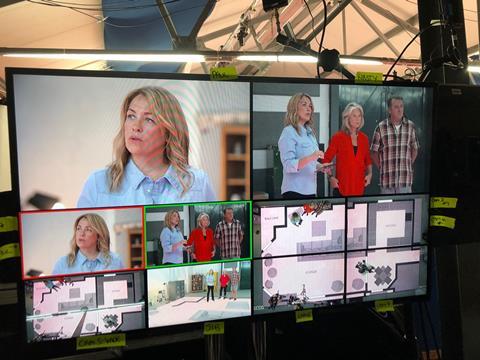 Renovate Don't Relocate is a home makeover show with a difference. We all want a gorgeous place to live that perfectly suits our needs, but seven out of 10 of us are unhappy with our homes. The obvious answer is to move but moving is stressful and expensive. Could rethinking your space be the answer instead?
So, in each episode, Sarah Beeny takes on one household who think their home isn't fit for purpose, from families drowning in toys to the massage therapist having to move the furniture in his tiny flat every time clients come over, to the family whose open-plan living set-up is driving them to their bedrooms.
My tricks of the trade – Laura Mansfield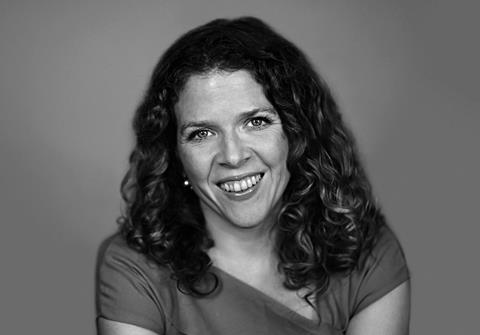 On a first series that will always throw up surprises, you need a positive 'can do' team. Series producer Paul Tasker and PM Louise Young kept their cool and their teams happy and motivated.
Wet flannels for all. It got very hot in that studio with lights, an LED floor and no air conditioning.
Use mobile whiteboards on wheels. At the height of production, we had four on the go – for the status of family makeovers, filming dates, post-dates and where the team were at any one time.
The Samsung Flip is an amazing bit of kit. Now I want one for the office – it's like an interactive whiteboard-cum-TV screen that you can write on and rotates from landscape to portrait.
Sarah installs smart cameras 24 hours a day to watch how the families really live as opposed to how they think they live, and the footage from the cameras show very clearly exactly where things are going wrong.
We used this information to create new floorplans, giving the families a clear plan of changes that they can make, and then we see what work they decide to undertake before Sarah returns months later to see the final results.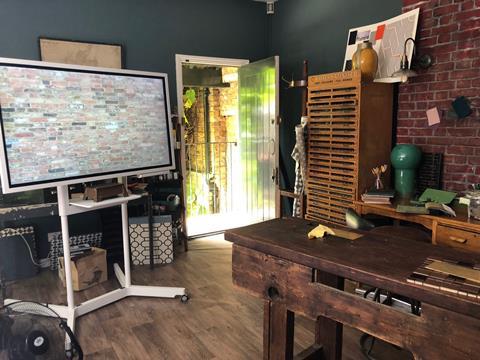 The families' budgets ranged from £3,000 to over £100,000 and ranged from people who'd never put up a shelf to experienced DIYers.
The series threw up challenges galore – casting in just eight weeks, coordinating multiple PDs and remotely supervising makeovers of 20 families, all of whom hired and paid for their own builders. But it's the tech I'll focus on here.
As well as digital floor plans, we wanted to use the latest in smart home technology to find out how families really live in their homes. We met with a number of tech companies, but decided that the Nest Aware and IQ range of indoor and outdoor cameras were our solution.
On a trip to Google HQ, we were impressed by full HD footage and sound, and zoning tools that enabled detailed areas to be targeted and avoided mixing up pets with people (more of a problem than you would think) on the monitoring feed.
Installing, monitoring and appraising the data from the cameras required its own pre- and post-production workflow and a full-time job throughout. GDPR came in during production, so a detailed protocol was set up.
It became clear that the UK has extraordinarily variable broadband speeds, meaning each camera output at a totally different frame rate, from 21.13 frames per second to 25.93.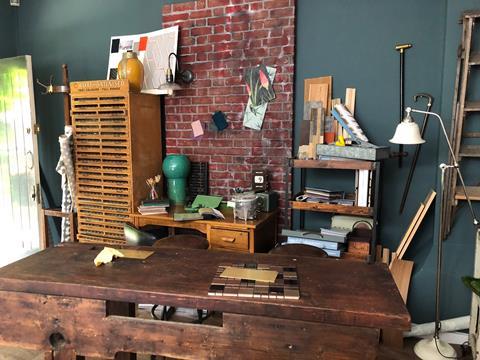 The beauty of the tech at the consumer end is that it automatically alters the settings to give the best possible stream at that time – but this doesn't translate to broadcast. The challenges in this were most apparent when we tried to sync sound – not entirely successfully at first, but the team persevered and found a way to ingest material to be used mute and with sound differently.
We're immensely proud of this ambitious series, which Red Arrow Studios will be distributing internationally, and hope that at a time when moving house is in decline, it will inspire audiences to rethink the space they have.
HOW LED BROUGHT OUR FLOORPLANS TO LIFE
Shaun Wilton - Anna Valley director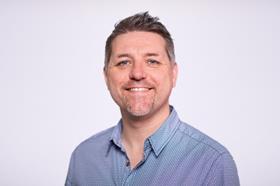 Outline Productions approached Anna Valley to design and provide a technical solution to displaying the floorplans for Renovate Don't Relocate in an interactive way.
The creative team wanted to display architectural designs of the renovations so that Sarah Beeny and the homeowners could explore the space at the actual scale of the proposed final build.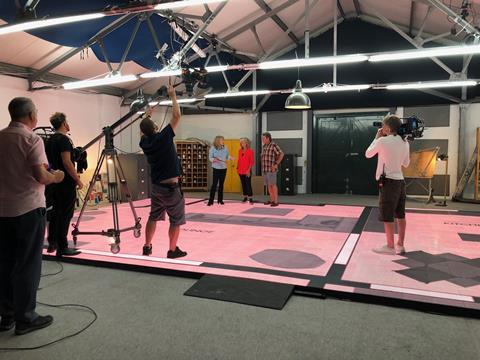 The production team was initially interested in a similar approach to the one we originally designed for Dancing On Ice. This required several projectors, each displaying a section of a larger image, to be precisely positioned to 'build' the bigger picture. Edge-blending software then blurs the lines between each projector's output so that the image appears to be coming from one source.
But projection wasn't a viable solution for Renovate Don't Relocate for several reasons.
Firstly, this effect can only be achieved in a large sound-stage style venue with loads of vertical space, which went against Outline's brief for a more intimate design-studio feel.
Perhaps more significantly, projecting down onto the studio floor would mean that objects placed on the floor – or people moving around the space – would create shadows and disrupt the image.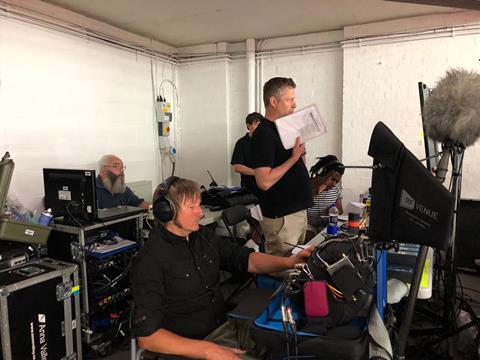 The Anna Valley team proposed that LED flooring be used instead and held workshops with the crew to demonstrate the resolution, brightness and versatility of the flooring, as well as to advise on the technical considerations that need to be considered when shooting these displays.
The final Renovate Don't Relocate set was built out of NX7 LED flooring and measured an impressive 94 sq m. Pixel-matched floorplans and animated heatmaps showing traffic patterns were displayed on the floor using a MacBook Pro input and furniture was moved around on the floor to see how it would fit into the renovated spaces – interaction that would not have been possible with any other approach.
The show was primarily produced using Anna Valley's Sony FS7 studio-style multicamera gallery, while a small overhead camera rig was constructed to capture a birds-eye view of the floorplans.