Guns, meth labs and Kansas' legal system transported The Garden's format from its Luton origins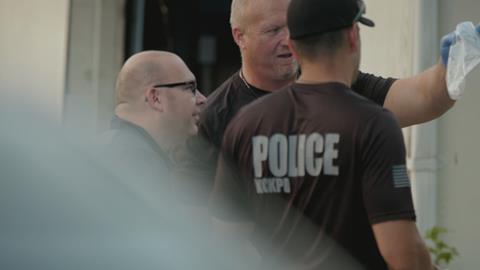 The Garden execs behind the US version of 24 Hours in Police Custody have identified America's legal system and the severity of crimes featured as key differences with its British counterpart.
Incidents involving guns are much more common in Police Custody USA, which starts its four-part run on Channel 4 tonight. Exec producer Emma Tutty said that guns were "involved in some way or another in almost every crime" featured.
The types of crimes exposed are similarly "heightened", compared to those covered in the East Anglian-based original. For example, one episode deals with America's issue with methamphetamine.
"A meth lab is not something you discover in Luton," said co-exec producer Liz Collier.
Meanwhile, the production process was affected by the US' lack of custody suites, which act as a major precinct in the UK show.
Suspects are taken to a county jail in a sheriff's office, before detectives drive them back to the police station to interview, requiring The Garden to install a separate rig in a different location, with additional permissions. It was also able to include phone conversations being from jail.
In the US, suspects are not subject to long-drawn out 'no comment' interviews, an integral of the UK version. As a result of the relative lack of interview room footage, the producers opted to focus more on the stories of the crimes themselves. "It's something we had to build into our storytelling," said Collier.
The Discovery co-production was filmed in Kansas, after the location was identified as having some parallels with its UK home. Both are considered small towns that suffer from "big city issues", according to Collier.
Kansas City Kansas police department offered a sweet spot between a force that was small enough for the characters to have close-knit relationships, while grappling with a high enough crime rate to provide a sufficient number of stories.
"There was always a conversation about how Police Custody could translate internationally," said Tutty. "We didn't want to just replicate the UK show; we wanted the storytelling to move forward and reflect the place that we were in."
Police Custody USA airs tonight on Channel 4 at 10pm. Distribution will be handled by ITV Studios.