Chief executive Marco Bassetti outlines ambition to capitalise on high demand for English-language content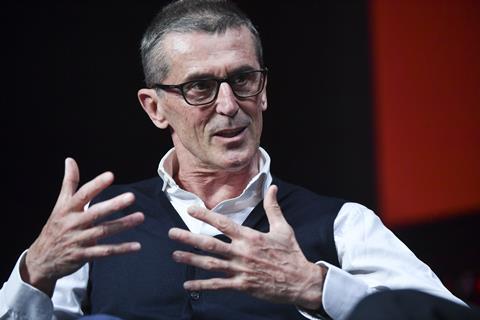 Banijay Group is looking to expand its presence in the UK with a focus on growing its scripted operations, according to chief executive Marco Bassetti.
In his keynote address at Mip TV in Cannes yesterday, the head of the France-headquartered super indie said he wanted Banijay to capitalise on the high demand for English-language content in the international market.
"The English-speaking market is the most attractive market because today there is a lot of appetite for English-speaking tape," Bassetti told delegates.
"When you launch a show in the US or the UK, it has a different type of attraction in other countries. So, the UK is a market where we want to be bigger compared with what we are now."
Banijay already has a substantial presence in the UK with numerous companies under its ownership including Yellow Bird UK, which is co-producing the forthcoming Netflix detective prequel Young Wallander.
The joint venture, which launched in 2017, is also adapting John Niven's novel Straight White Male, after picking up the rights at the end of last year.
Bassetti added that companies like Yellow Bird UK and its US sister were part of a concerted effort to ramp up its scripted business, to capitalise on the influx of buyers in the market for
"We created many JVs, in all the groups, especially in the scripted business, there's an area where we have space to grow. We created four in the UK, one in the US, one in Italy," he said.
"For sure, scripted is a key genre. We grew 30% this year and our goal is to grow more because there is space and appetite. We don't know how for long there will be this bidding war among FAANGs to have scripted shows, but we're very conscious [of the opportunity]."
However, he said that Banijay would continue to make strategic acquisitions around the world as he looks to grow the firm, with Spain, Germany and the US also on his radar. Banijay has long been linked as potential buyer for production powerhouse Endemol Shine Group, with Bassetti having told Broadcast in an interview last year that he believed his firm was "more of a consolidator than a consolidated entity."
"There are many different ways to grow. To go into the market and just buy the first company for sale is not our strategy," he warned.