"It would work on public service broadcasters looking for diversity and educational value"
ABBY HATCHER
Distributor Viacom International Studios
Producer Spin Master; Guru Studio
Length 26 x 22 minutes (each split into two 11-minute shows)
Broadcaster Nickelodeon (US)
A seven-year-old-girl saves the day in Nickelodeon's new pre-school animated series from Paw Patrol producer Spin Master.
Aimed at children aged three to five, CG-animated series Abby Hatcher focuses on an optimistic, kind-hearted child who lives in a hotel run by her parents, which is also home to friendly little monsters called the Fuzzlies.
Created by Rob Hoegee, head writer and story editor on Thunderbirds Are Go and Teen Titans, each episode follows Abby's adventures with her best Fuzzly friend Bozzly as she sorts out the Fuzzlies' mishaps.
Each Fuzzly has its own problem, which Abby helps them to solve. According to Viacom International Studios vice-president of content sales Lauren Marriott, this aspect of the show feeds into the pre-schooler's socioemotional curriculum.
"One of Nick's main criteria is to feature fun, entertaining and inspiring, relatable characters," she says. "Abby Hatcher has been designed to foster empathy, compassion and acceptance in young viewers, and encourage their problem-solving skills."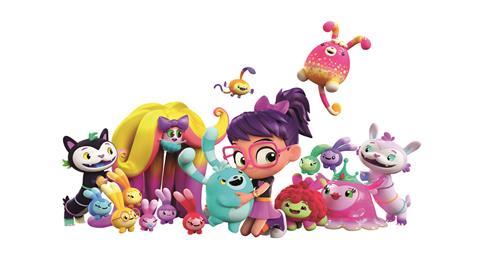 Marriot adds that the show encourages children to celebrate diversity and difference – a common thread running through many recent pre-school hits, from Cottonwood's The Ollie & Moon Show and Paper Owl Films' Pablo to TVO's live-action series It's My Party.
Like Paw Patrol, the series is animated at Toronto's Guru Studio and is overseen by executive producers Ronnen Harary, Spin Master's co-founder and co-chief executive, Jennifer Dodge, the firm's executive vice-president, and creative exec Jamie Whitney, who will also serve as showrunner.
Abby Hatcher launched on Nick Jr in the US on 1 January 2019 and rolled out internationally in mid-February. Marriott expects to attract further interest from international broadcasters.
"It would work on public service broadcasters looking for diversity and educational value, while it will also play well on an entertainment level, in any territories where Paw Patrol plays – so southern Europe, France, Spain and Italy," she says. "We're anticipating that this show is going to be a global success."
Spin Master has produced nine previous TV series, including 2007's Bakugan Battle Brawlers and current hit Paw Patrol.
Kids
1

Currently reading

Hot Picks: Abby Hatcher

2

3