Epic Drama to compete with SVoD giants with bulk period offerings
A new drama offering from European pay-TV operator Viasat World is to compete with the SVoD giants across Central and Eastern Europe by buying in bulk and betting on period drama.
Launched last week, Epic Drama will be made available as a linear and on-demand service in 16 markets and will launch shows including The Miniaturist and series two of Harlots. The service will be available via cable and satellite operators in countries including Greece, Hungary, Poland, Romania and Turkey.
Acquiring for both linear and on-demand presented a "very complicated" rights situation, but was necessary to compete effectively with players such as Netflix and Amazon, according to Viasat World's Karin Heijink.
"The big SVoD players are buying up rights, but are not necessarily active in the region, which has limited the availability for some of the shows," said the vice-president of pay-TV channels and products.
"Although we've seen distributors pushing back on the SVoDs, we have had to walk away from some deals because if we can't have both linear and on-demand rights, there is no value for us."
Targeting programming specifically for the CEE market has distinguished Epic Drama from the global players, as well as its dedicated focus on period drama, which Viasat World found to be in high demand.
Epic Europe
Viasat World operates 27 pay-TV channels, including Viasat Explore, Viasat History and Viasat Life. Epic Drama has originated from a period drama slot on History, with a separate brand in the works since the company split from MTG in October 2015.
"We found that people like to binge watch, and because the SVoD offering across Europe isn't as mature as the UK, people were saying that if they see an episode of a period drama on TV they like, they will seek it out and find it pirated somewhere," said Viasat World president and chief executive Irina Gofman.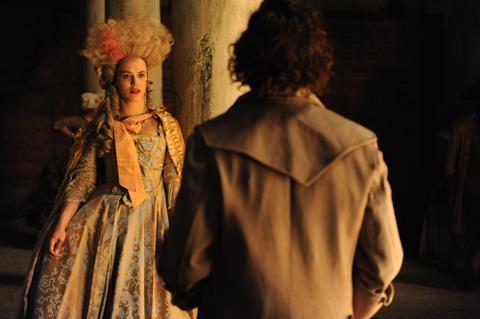 Heijink added that more than 30% of Epic Drama content consists of European productions. The service does not have any US studio output deals.
"A couple of years ago, we would not have had those really high-quality productions out of countries such as Spain, Germany and Sweden to fuel the channel, but now we do," she said.
The service was also made possible via "very strategic deals" with larger distributors interested in high-volume deals, which are typically rare for the CEE region.
Viasat World bought 50 hours of drama, including the forthcoming BBC1 period thriller The Miniaturist, from All3Media International and also secured a 250-hour content deal with ITV Studios Global Entertainment, for shows including Poldark, Mr. Selfridge, Harlots and Murdoch Mysteries.
More than 70% of Epic Drama's content is exclusive to each region, with around 80% of the shows available via its VoD offering.
"It took a lot of negotiation, but distributors were excited about what we are trying to do because there aren't a lot of new channels launching, and they see that this could be a new outlet," said Heijink.
Gofman added: "In countries where pay-TV still has a competitive price compared to Netflix, with channels looking to enrich their portfolio, there is more room for a better balance [between the two]."
The next steps for the service include coming in earlier on projects, with Viasat World "actively looking" developing shows.
"There are so many exciting projects happening here in UK and Europe that we can go in relatively early and buy when things are in pre-production," said Heijink.
"Right now, we are working hard to secure those big shows for the end of 2018 and into 2019."