Norway-based Nevion plans to help broadcasters face the future by transitioning them to a virtualised media production workflow.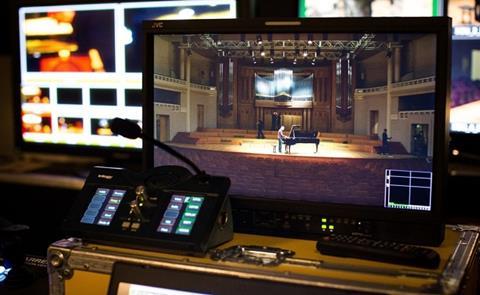 "Our sales guys used to say they would come and visit us at the factory – that was the perception of Nevion. But over the past five or six years we have gone through a fairly significant transformation," says chief executive Geir Bryn-Jensen.
Media transport firm Nevion used to operate two factories but in 2012 it outsourced all manufacturing. "The core business of Nevion is not to manufacture, it is to develop innovative solutions to help media companies become much more flexible in how they produce their content," says Bryn- Jensen.
"And we can do that through software development and building networking solutions." The Norway-headquartered company started out 20 years ago with the aim of "revolutionising" the broadcast industry with a set of compact video routers that would challenge the established range that dominated the market.
"They did it successfully and got a good footprint and market share fairly quickly," says Bryn-Jensen. Today, the company styles itself as "the architects of virtualised media production", providing network and broadcast infrastructure for the transport and management of video, audio and data for clients including BBC, BT, AT&T and NBC Universal.
"Broadcasters are meeting a different type of competition from the new media players. So the source of revenue, from subscription to licensing to ad revenue, is under pressure," says Bryn-Jensen.
"Over the past three or four years, [broadcasters have faced] increasing pressure to produce more competitive content to compete with these new media players. But at the same time, they don't have any more resources to do it, and some even have less with which to do more. That is when we see that the interest in new technologies is increasing – technologies that can help them become more agile and focus more on the content side than the plumbing," he says.
LiveIP project
Nevion is one of the vendors involved in the LiveIP initiative, which is overseen by the European Broadcasting Union (EBU) and Belgian broadcaster VRT.
The latest project, which took place in mid-January, resulted in the remote production of a live music concert at Bozar in Brussels. As well as the software-defined network infrastructure, Nevion supplied its Flashlink CWDM technology, which allowed all the optical bi-directional IP streams to be modulated on one single six-mile optical fibre cable that connected the venue to the LiveIP control room at VRT Brussels.
During the broadcast, approximately 25Gbit/s of IP data was transported in each direction. This was enough to connect four IP cameras, 10 microphones, a VoIP intercom system, control signals such as VSM, camera control and tally, camera return signals and a visual intercom system with the LiveIP control room.
Nevion chief executive Geir Bryn- Jensen describes it as "just another step in the journey towards adopting IP and open standards across the entire broadcast workflow".
The Bozar concert followed a full IP local studio set-up that was demonstrated by the project group in August and showcased at IBC the following month.
The LiveIP projects have used a series of open standards, including SMPTE 2022-6, AES67 and PTP. Axon, Dwesam, D&MS, EVS, Genelec, Grass Valley, Lawo, LSB, Tektronix and Trilogy were also involved in the project.
Nevion's exit from manufacturing was part of its new approach, born out of a reappraisal of how a production environment might be more flexible and agile through the use of generic IT kit and practices.
That included building a professional services division to advise customers, with system architects and project managers who work with regional and local system integrators for large projects.
"Three or four years ago, people were interested [in IP], and they listened, but they said: 'We'll call you'," says Bryn-Jensen.
"A couple of years ago, the interest became a bit stronger, and their source of revenue was put under even more pressure. At IBC and NAB last year, the interest was immense and everybody wanted to talk about new technologies that could help them become more productive and agile in competition with those new, emerging media players."
Nevion has partnered with the EBU and VRT on the LiveIP Sandbox project, which was a "perfect fit" Bryn- Jensen says.
"They wanted to build something that was the core of what we believed in." He describes the two projects to date as a "massive success".
"If anything, there has been surprise that a group of vendors could come together and build something in a collaborative fashion," he adds.
Nevion is now involved in around 10 IP-based projects in Europe and North America, according to Bryn- Jensen. The projects can be split into two camps: established facilities involved in migration exercises that want to add scale by building a software- defined network, and those that are building new facilities that don't want an "old-fashioned MCR, or linear, static production set-up".
"Many broadcasters have invested heavily in infrastructure that is still working. It is not dead. So what do they do with that investment? And that is where the biggest value proposition exists, because all that equipment and gear may be utilised to 5%, 15% or 20%.
"The rest of the time it might be idle, which is a waste. So if you can take that kit and, instead of having it as part of a static production set-up, plug it into a software-defined network, then you can make that asset available to any production anywhere.
"And that is where you can increase utilisation to 80% or 90%. We label that as one of two dimensions of virtualising media production," he says.
"The other dimension is to move that purpose-built gear to a generic piece of kit that can do anything you want, whenever you want. That is the second piece of what we talk about when we discuss virtualisation. That is probably a bit further ahead until it is all generic hardware, but it is getting there. We are getting there."
The aim of AIMS
Nevion was one of the founders of the Alliance for IP Media Solutions (AIMS), a group of equipment manufacturers that joined forces last year to promote the adoption of IP-based workflows by endorsing the work of the Video Services Forum (VSF), which is supported by the Society of Motion Picture & Television Engineers (SMPTE) and the European Broadcasting Union (EBU).
"Over the past few years, we have been pretty opinionated about IP and pushed it a lot, sometimes almost against a customer's will," says Bryn- Jensen.
"But the resistance in the customer community is related to standards. They ask: 'Will you do one thing, Evertz another and Grass Valley something else? Will I be locked in? Is this sustainable? Are you going head-to-head to create your own de facto standards?'
"The answer to those questions is 'no', we want to promote open standards – open IT networking standards and the interfacing between baseband video and audio, data and the IP networks."
Bryn-Jensen says AIMS is not in opposition to Aspen, another framework for video, audio and metadata IP workflows led by Evertz with support from AJA, Cinegy, ChyronHego and Ross.
"I have massive respect for what they did with Aspen, but it is based on old Mpeg transport streams, which is not the path you want to go – that is taking a few steps back."
AIMS is focusing on the development and adoption of open protocols for media over IP, with an emphasis on VSF TR-03 and TR-04, SMPTE 2022-6 and AES67.
Bryn-Jensen describes TR-03 as "the missing piece to make it all come together". He says: "There are no better alternatives and we support it because we believe it will be a huge benefit to the customer community if we all go that route.
"We believe it is a good thing if the most influential vendors and competitors come together and build credibility of the IP future and comfort among the customer community."
Other members of AIMS include Grass Valley, Imagine Communications, Lawo and Snell Advanced Media (SAM.